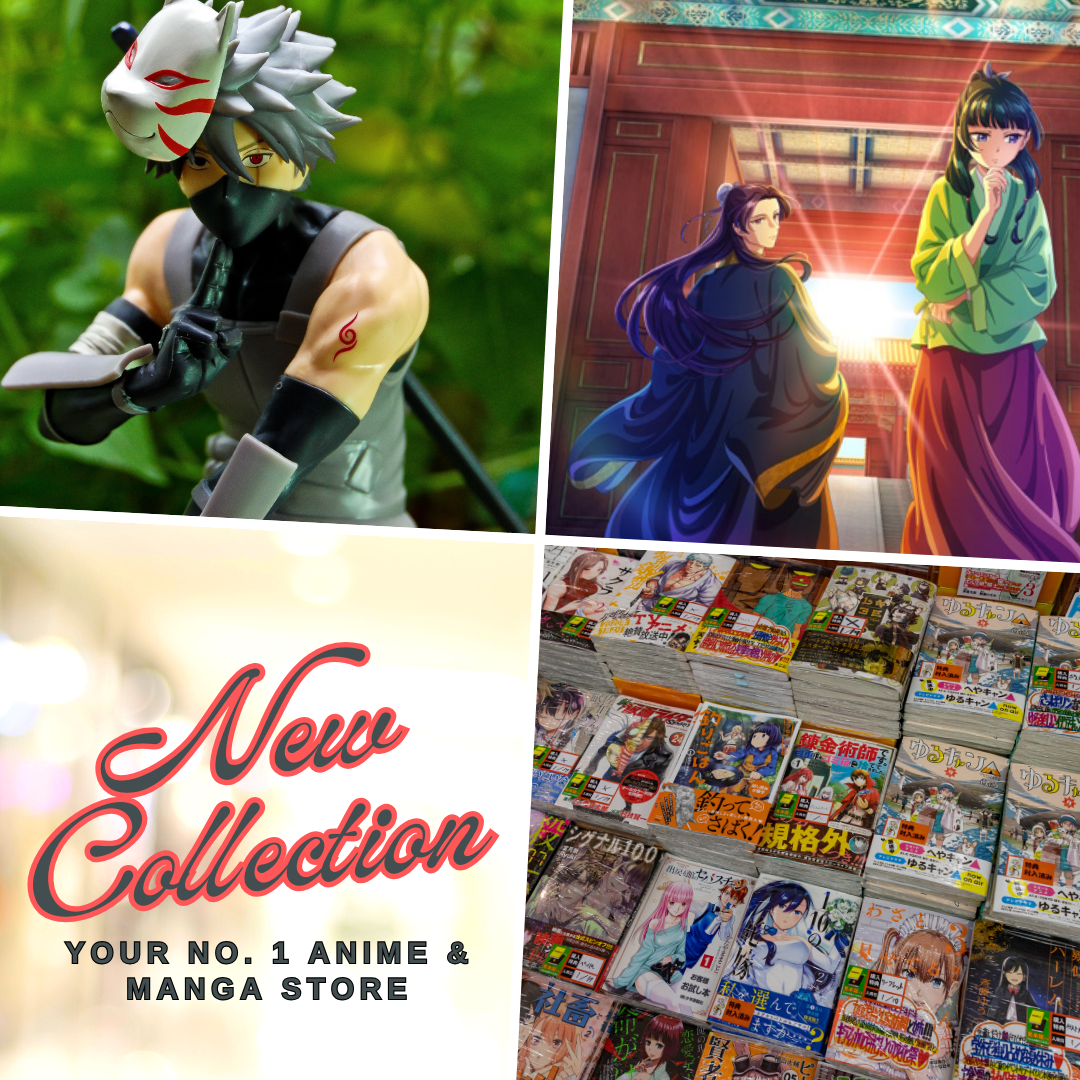 Immerse yourself in a world of darkness, mystique, ambiguity, and excitement with the newly released anime Undead Girl Murder Farce. This captivating series has already made its mark as one of the standout premieres in the summer 2023 seasonal lineup, leaving viewers craving for more. With its intriguing blend of investigative and mystery narrative, supernatural elements, and action-packed antics, Undead Girl Murder Farce promises to be a thrilling ride that will keep you on the edge of your seat. Let's dive into the details of this captivating anime.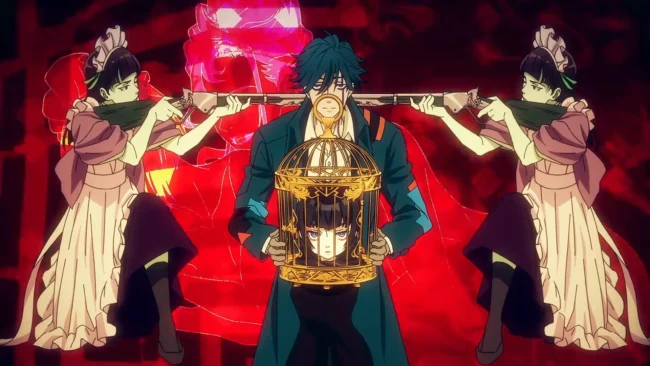 Undead Girl Murder Farce, adapted from the novel by Souhei Kawakita, takes place in the 19th century—a world teeming with vampires, golems, werewolves, and other paranormal creatures. The story revolves around Aya Rindo, an immortal beauty trapped in a disembodied head, and her companions: the half-human, half-demon "Demon Killer" Tsugaru Shunichi and her loyal maid, Shizuku Hasei. Together, they embark on a supernatural detective journey as "The Cage User," solving mysterious cases while Aya searches for her lost body.
Released on July 6, 2023, Undead Girl Murder Farce is brought to life by Studio Lapin Track, known for their work on Sarazanmai. Currently available for streaming on Bilibili TV, Crunchyroll, and Ani-One Asia, this anime has garnered immense attention for its unique blend of genres and its captivating storyline.
Now, if you're eager to explore more anime that captures the essence of Undead Girl Murder Farce, you've come to the right place. We have curated a list of our top recommendations—anime that share similar elements of darkness, mystery, supernatural encounters, and thrilling narratives. Get ready to embark on a journey filled with suspense, intrigue, and unforgettable adventures.
UN-GO
Unleash your curiosity in the captivating world of Un-Go, an anime released in 2011 by Studio Bones. Adapted from a novel by Ango Sakaguchi, this series, directed by Seiji Mizushima, effortlessly blends various genres including drama, mystery, psychological, supernatural, and science fiction.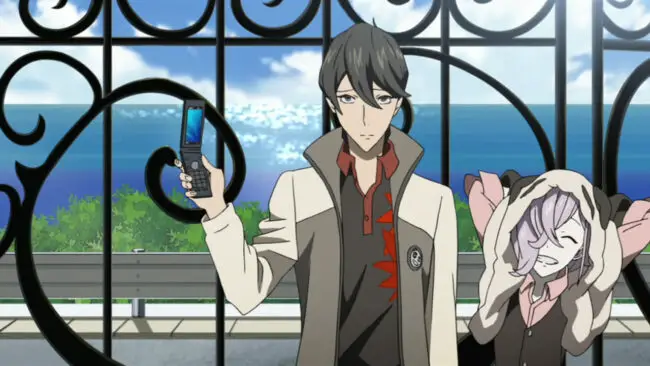 Meet Shinjurou Yuuki, known as the "Last Great Detective" by some and the "Defeated Detective" by others. In a near-future Tokyo teeming with dark forces, Shinjurou's talent for solving mysteries has made him a target. With the shadowy underworld threatening his existence, even the supposed "good guys" aren't on his side. Yet, Shinjurou isn't alone in this treacherous landscape. Assisted by his uniquely gifted associate Inga, he ventures forth, slicing through the veils of secrecy that shroud the truth.
Prepare for a battle of intellect and intrigue as the ultimate clash between clues and deduction unfolds in Un-Go. The stage is set for a riveting exploration of mysteries in this captivating anime like Undead Girl Murder Farce.
Mars Red
Be enthralled by Mars Red, a captivating vampire anime animated by Signal.MD in 2021. Created by Bunou Fujisawa, this series offers an exhilarating blend of action, drama, sci-fi, and supernatural elements, promising an exciting and immersive experience.
Set in 1923, Mars Red reveals a world where vampires have long existed. However, their numbers are increasing, accompanied by the emergence of a mysterious artificial blood source known as Ascra. In response, the Japanese government formed "Code Zero," a specialized army unit tasked with eradicating the vampire threat. To track and combat the vampires, Code Zero employs the very creatures they hunt.
Led by Lieutenant General Nakajima, this unit, previously involved in information warfare, is now dedicated to solving the vampire crisis. With the assistance of the S-class vampire Deffrot, Code Zero delves into the escalating vampire population, determined to halt its growth and prevent societal collapse.
Join Code Zero on their mission to unravel the mysteries behind the vampire resurgence and restore balance before it's too late.
JORAN THE PRINCESS OF SNOW AND BLOOD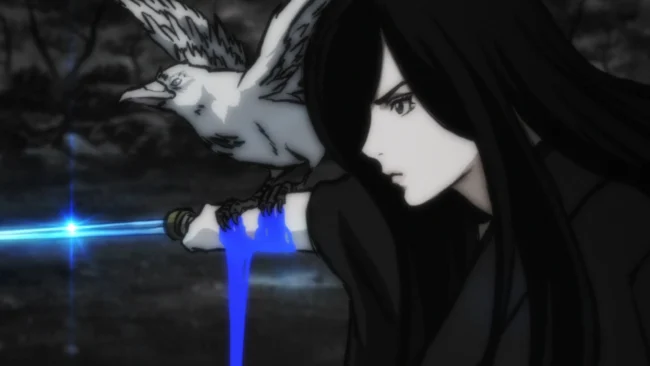 Prepare for an exhilarating journey into a world of vengeance and supernatural battles with JORAN: The Princess of Snow and Blood. Animated by BAKKEN Record, this original anime, directed by Susumu Kudou, offers thrilling fight sequences infused with captivating supernatural elements.
Set in 1931, Japan is under the absolute control of 94-year-old Prince Tokugawa Yoshinobu. While remnants of the Meiji era's culture still linger, the country is also witnessing the rapid development of scientific technology and the esoteric cosmology of Onmyodo, creating an intriguing blend of tradition and modernity. However, beneath the surface lies Kuchinawa, a dissident group plotting the assassination of the prince and the downfall of the regime.
Tasked with eliminating these dissidents is Nue, a secret government executioner group. Sawa Yukimura, a member of Nue, has a personal vendetta against the Kuchinawa boss. Having witnessed the murder of her entire family, she has dedicated her life to seeking revenge.
With a gripping storyline filled with political intrigue and action-packed battles, JORAN: The Princess of Snow and Blood delivers a compact and intense viewing experience. Follow Sawa as she confronts her past and fights to bring justice to those who have wronged her.
Mouryou no Hako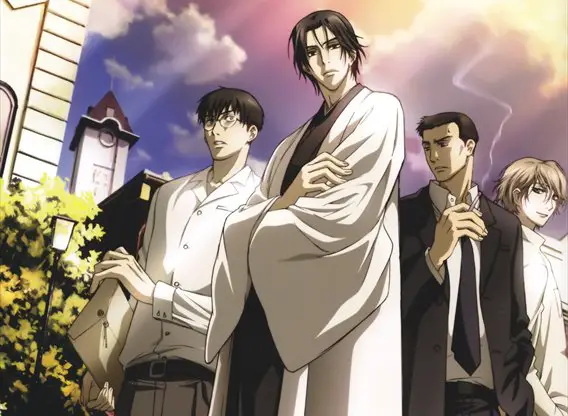 Experience a gripping journey into the depths of mystery and suspense with Mouryou no Hako. This intriguing anime, which aired in 2008, delivers a thrilling plot that will keep you on the edge of your seat. Animated by MADHOUSE and adapted from a novel by Natsuhiko Kyougoku, this series takes viewers on a delightful ride with character designs provided by CLAMP and direction by Ryousuke Nakamura.
Set between August and October of 1952, the story revolves around a series of unusual crimes taking place in Musashino and Mitaka. It begins with the attempted murder of 14-year-old Kanako Yuzuki, her subsequent abduction from a mysterious research "hospital," and a string of similar abductions followed by the discovery of severed limbs meticulously placed in custom-fitted boxes throughout the surrounding towns.
News editor Morihiko Toriguchi and crime fiction writer Tatsumi Sekiguchi take it upon themselves to investigate these bizarre occurrences, seeking the assistance of onmyōji Akihiko Chūzenji. Concurrently, Tokyo police detective Shutaro Kiba, defying jurisdictional boundaries, searches for Kanako. Additionally, the lawyer handling Kanako's grandfather's estate hires private investigator Reijiro Enokizu to locate her. As their paths intertwine, they uncover unsettling truths and dark family secrets that add to the complexity of their investigation.
Let us all unravel the enigmatic puzzle that lies before them as Mouryou no Hako dives deep into a world of chilling discoveries. Follow these compelling characters as they navigate a labyrinth of intrigue, unearthing shocking revelations along the way.
Moriarty the Patriot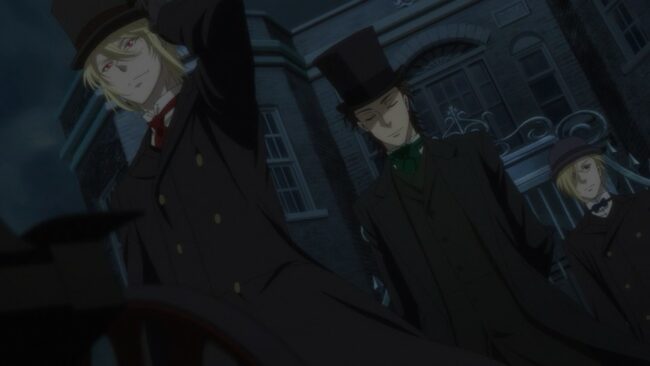 Be captivated by the nerve-wracking and compelling tale of Moriarty the Patriot. Set in the late 19th century, this anime delves into the dark and twisted world of James Moriarty, the Lord of Crime, as he unveils the sordid underbelly of Britain's high society.
Released in 2020, Moriarty the Patriot is an enthralling project animated by Production I.G. It is an adaptation of the manga by Ryousuke Takeuchi and is brought to life under the direction of Kazuya Nomura.
In this gripping narrative, the British Empire's nobility holds power while the working class suffers under their oppression. William James Moriarty, driven by sympathy for the downtrodden, seeks to dismantle the oppressive system entirely. Frustrated by the systemic inequities, Moriarty employs strategic planning to bring about sweeping change across the nation. Not even the famed consulting detective Sherlock Holmes can stand in his way. It is a time for crime to revolutionize the world!
We should all prepare for a thrilling and thought-provoking exploration of justice, morality, and the battle between the shadows and the light. Moriarty the Patriot will immerse you in a world where the lines between good and evil blur, as Moriarty's quest for justice takes center stage.
Related Post: 10 Anime Similar to Moriarty the Patriot
The Case Study of Vanitas
Enter the enchanting world of The Case Study of Vanitas, a vampire anime that aired in 2021. As one of the top recommendations for fans of Undead Girl Murder Farce, this anime will evoke a sense of excitement and familiarity. Adapted from the manga by Jun Mochizuki and directed by Tomoyuki Itamura at Studio Bones, The Case Study of Vanitas offers a captivating and thrilling viewing experience.
Set in 19th-century Paris, the story follows the young vampire Noé, who embarks on a quest to find the elusive Book of Vanitas. However, his journey takes an unexpected turn when he is attacked by a deranged vampire. A human named Vanitas intervenes, rescues Noé, and heals the afflicted creature. Vanitas, the self-proclaimed doctor in possession of the book, entices Noé to join him in a mad crusade to "cure" the entire vampire race.
Although allying with someone who wields such arcane power may be perilous, Noé finds himself faced with a choice. As the boundaries between friend and foe blur, he must navigate the treacherous path laid before him.
What awaits us in this anime like Undead Girl Murder Farce is a mesmerizing blend of mystery, fantasy, and action as The Case Study of Vanitas unfolds. Explore the intricate world of vampires and witness the extraordinary partnership between Noé and Vanitas. Brace yourself for a thrilling adventure that will keep you on the edge of your seat, questioning the true nature of your mission.
Related Post: Top Anime Recommendations Likefor The Case Study of Vanitas Fans
Black Butler
Step into the dark and intriguing world of Black Butler, an anime adapted from the manga created by Yana Toboso. Animated by A-1 Pictures in 2008, this series weaves a tale of revenge and mystery. With the series composition by renowned anime scriptwriter Mari Okada and direction by Toshiya Shinohara, Black Butler brings Victorian-era Europe to life.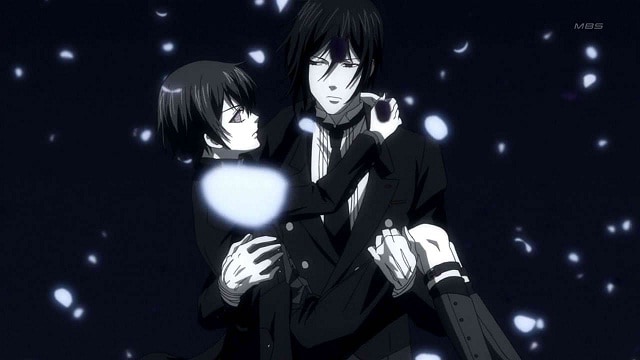 In a cruel twist of fate, a young boy loses everything he holds dear to a sinister conspiracy. At the moment of his death, he strikes a deal with a demon: his soul in exchange for vengeance. Now known as Ciel Phantomhive, he becomes the head of the Phantomhive corporation, managing business affairs and carrying out clandestine missions for the Queen of England. Assisting him is Sebastian Michaelis, a demon butler whose abilities surpass those of any ordinary servant.
Follow Ciel and Sebastian, along with their loyal servants, as they delve into the dark secrets surrounding the murder of Ciel's parents. The story takes a gripping turn as they uncover the tragic events that unfolded in the aftermath.
This anime like Undead Girl Murder Farce highlights a captivating journey filled with suspense, supernatural encounters, and intricate plot twists. Black Butler explores themes of revenge, loyalty, and the pursuit of truth in a beautifully rendered Victorian setting. Witness the bond between a young noble and his demonic butler as they navigate a world of shadows and uncover the chilling truths that lie in wait.
In/Spectre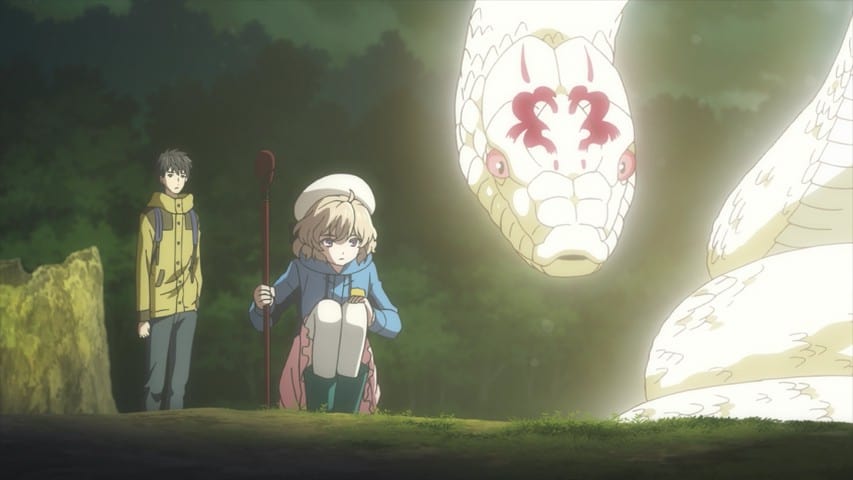 Embark on an intriguing journey into the world of In/Spectre, an anime that shares similarities with Undead Girl Murder Farce through its dynamic dialogue and an unlikely duo at the center of the story. Animated by Brain's Base and released in 2020, this series brings to life the captivating novel by Kyou Shirodaira under the skilled direction of Keiji Gotou.
Meet Kotoko Iwanaga, who, at the age of 11, was abducted by youkai, supernatural beings from the spirit realm. In exchange for her right eye and left leg, she became the "God of Wisdom," bridging the gap between humans and youkai. Now, six years later, Kotoko has become a go-to consultant for youkai seeking solutions to their problems.
Enter Kurou Sakuragawa, a 22-year-old university student whose recent encounter with a kappa led to the end of his relationship. Sensing an opportunity, Kotoko seizes the chance to get closer to Kurou, harboring hopes of a future together. However, as she gets to know him better, she realizes there's more to Kurou than meets the eye. With her newfound partner by her side, Kotoko enlists his help in navigating the supernatural realm and resolving the mysteries that arise. All the while, she secretly hopes for Kurou's affections to deepen.
Join Kotoko and Kurou as they unravel enigmatic cases, confront otherworldly challenges, and explore the depths of their own hearts. The journey awaits, filled with thrilling surprises and unexpected revelations.
Gosick
Let us all enter the dark and enigmatic world of Gosick, a captivating anime that shares similarities with Undead Girl Murder Farce. Based on the light novel by Kazuki Sakuraba and directed by Hitoshi Nanba at Studio Bones, Gosick takes viewers on a journey of intrigue and romance.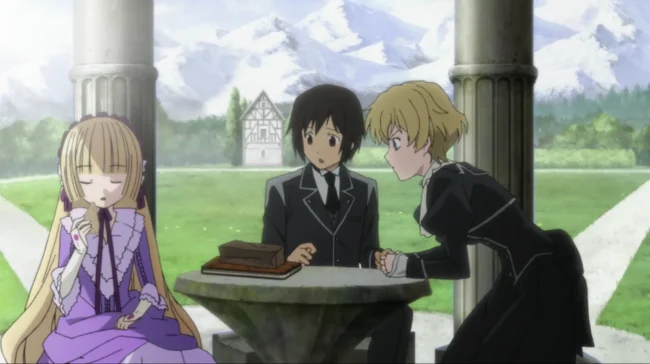 Set in the 1920s, the story revolves around Kazuya Kujo, a Japanese exchange student who forms an unusual but compelling friendship with the doll-like genius, Victorique. Both considered outcasts, they find themselves delving into unsolved mysteries within their school. As they take on more cases, a sinister plot begins to unfold in the shadows, enveloping them in a web of secrets.
Released in 2011, Gosick presents a mesmerizing narrative complemented by the series composition of Mari Okada. Prepare to be captivated by the intricate mysteries, the blossoming connection between the two protagonists, and the dark secrets that lurk beneath the surface. Join Kazuya and Victorique as they navigate a world filled with puzzles, danger, and unexpected twists.
Mononoke
Be entranced by the supernatural and mystic world of Mononoke, a dark and captivating anime that leaves you yearning for more. Animated by Toei Animation and released in 2007, this original series is helmed by the talented director Kenji Nakamura.
Mononoke serves as a spin-off of the Bakeneko story arc from Ayakashi: Japanese Classic Horror. Set in feudal Japan, the story follows the enigmatic Medicine Seller as he confronts various spirits known as "Mononoke." Armed with a vast knowledge of the supernatural and a collection of specialized tools, he embarks on a quest to vanquish these entities. However, his ability to slay the Mononoke hinges upon his ability to uncover their true form (Katachi), understand the truth behind their appearance (Makoto) and unravel the reasons behind their peculiar behavior (Kotowari).
Delve into a world shrouded in mystery and intrigue as Mononoke weaves its compelling narrative. Witness the Medicine Seller's battles against supernatural forces and unravel the secrets that lie within feudal Japan. Brace yourself for a mesmerizing journey filled with stunning visuals, enigmatic storytelling, and an exploration of the supernatural realm unlike any other.
Mononoke promises to captivate your imagination as you accompany the Medicine Seller on his quest to uncover the truth behind these ethereal beings. Get ready to delve into a realm where secrets lurk in every shadow and the boundaries between the human and spirit worlds blur.
Last Updated on September 13, 2023 by Yu Alexius