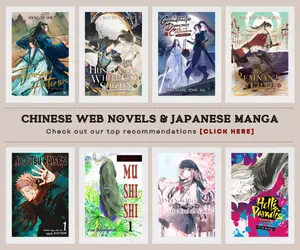 Looking for an anime streaming platform legally had always been a hassle especially here in the Philippines where fans can only watch their favorite series on free TV. With the rise of modernization and the reach of global technology expanding, it has been accessible for Filipino viewers to watch entertainment shows on various streaming platforms. For anime fans, it's a pleasure that we can finally enjoy our favorite series or movies legally online and with this, we are also helping the anime community and industry's growth in one way or another.
To anime fans, the existence of streaming platforms like Netflix, WeTV, iQIYI, and even the YouTube Channels – Muse Asia and AniOne had been a blessing. Now, anime viewers can watch their favorite shows online knowing that they're watching them legally and not by any underhanded means. In this post, I will be discussing another anime streaming platform in the Philippines that fans should start checking out too, I am talking about TrueID.ph where you can watch anime and various shows through its app or on its website. TrueID is a digital product of TrueID Philippines, it's a content curation site where visitors can both watch and read their favorite digital content.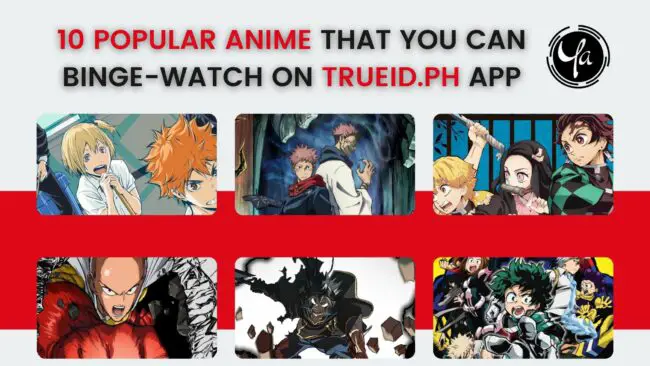 For anime viewers, the TrueID app is a haven for watching some of the old-school anime as well as the most popular ones out there. You can download the app on Google Playstore, and its official website is also accessible on both desktop and mobile devices. First things come first, let's take a look at what are the anime that we can watch on the TrueID.ph app to help you prepare your watchlist as you navigate through the app after installing it.
Jujutsu Kaisen
Studio MAPPA's most popular anime from 2020-2021 is first on our list. Anime viewers can watch Yuji Itadori, Megumi, Nobara, Gojo-sensei, and the rest of the gang as they delivered a hilarious shounen stint but filled with insanely well-animated fight scenes that spark some real fire of excitement in the eyes of the viewers in every episode. | Click Here to Watch Jujutsu Kaisen
Demon Slayer
Get ready to relive the fever and excitement that many anime fans had experienced from 2019. Demon Slayer: Kimetsu no Yaiba is definitely among the most popular anime of its time, and it is one of the biggest titles that you can watch on TrueID. | Click Here to Watch Demon Slayer
Food Wars
It's about time to prepare the ingredients and drool at all the humor and fantastic story that Food Wars has to offer. The popular anime about young chefs competing against each other had ended last year but for anime fans who haven't watch it yet, it's not too late to start watching it and you can check it on the app anytime you want. | Click Here to Watch Food Wars
My Hero Academia
This anime about the superheroes in training had never failed in delivering an exciting and action-packed adventure. The heavy dosage of adorable humor and character interactions are already a bonus. This is the shounen anime that definitely suits the preferences of the new generation of anime viewers. | Click Here to Watch My Hero Academia
Black Clover
Here's another relatively new yet popular anime, albeit it's been released several years ago. Black Clover had the usual tropes of many generic shounen anime but it does have its own share of an interesting story and fun adventures of mages and warriors to showcase. | Click Here to Watch Black Clover
The Seven Deadly Sins
The humor and action in this anime had always been its strength, but the enticing lore of the Seven Deadly Sins just never gets old. The journey of Meliodas, Elizabeth, and his crew had been a journey worth checking out by every anime fan of all ages. | Click Here to Watch Seven Deadly Sins
Haikyuu!!
Next on the list of popular anime that you can watch on the TrueID app is the best sports anime in recent years, Haikyu!! This is an enticing treat for the fans of volleyball. It offers an exquisite yet relatable glimpse on volleyball, both as a game and a sport; and how it became an instrument for a wonderful story of young hearts to begin. | Click Here to Watch Haikyuu!!
One Punch Man
If you're simply looking for hilarious anime that could make you laugh your heart out, One Punch Man is a must for you. This popular anime had been among the biggest series of 2015 from studio Madhouse and highlights an intense yet entertaining story of a low-key superhero and his daily routine as a hero for fun. | Click Here to Watch One Punch Man
Hunter x Hunter
Considered as one of the best and highest-rated anime of all time, Hunter x Hunter is a must-watch for every viewer of Japanese animation. It is a story of adventure, of longing for purpose and fulfilling one's dreams through various experiences in the youthful eyes of protagonists. | Click Here to Watch Hunter x Hunter
Naruto
One of the big three of shounen anime, Naruto is one of the most familiar series that you might easily get recognized when scrolling through the TrueID app. Get your brains ready to learn some more ninjutsu and related stuff, and enjoy all the actions and hilarious moments that one could get from it. | Click Here to Watch Naruto
If you think these are all enough? There's plenty of treats that you can still check on the app and TrueID.ph website. Feel free to navigate through it and explore the other anime titles in their archives.
Last Updated on November 8, 2022 by Yu Alexius