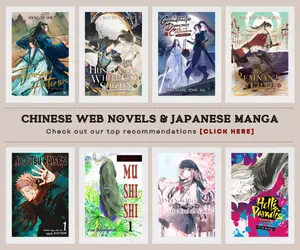 Hey guys, I have just finished watching The King's Avatar Season 2 anime adaptation and it has been a fantastic experience albeit there might be some boring moments at some point. As a reader of the novel, I understand that some parts of the adapted scenes are boring and repetitive especially with all the dungeon quest, PK, and in-game antics that Ye Xiu has done to strengthen his guild and teams. Nevertheless, I think the entire season 2 of The King's Avatar was successfully adapted.
While other people may think that it has been rushed and skipped some parts, I think it is appropriate as no one wants to watch every episode with Ye Xiu just killing and messing around with other players in the in-game world of Glory, after all, he is not a showy and boastful character; that shouldn't be the point of this season instead, the journey that he had to finally get ahold of the team he is planning to build.
The King's Avatar Season 1 had been a fantastic introductory of the Glory's in-game world, the OVA that aired in 2018 showed us a glimpse of the Glory's Professional League. The King's Avatar: For the Glory, movie highlighted the humble beginning of Ye Xiu and the Excellent Era. Now, The King's Avatar Season 2 has set the story's in motion and built that foundation of Ye Xiu's upcoming team, Happy.
Oh wait, I felt like I am going to do a review of The King's Avatar Season 2 but in fact, it's not my motive this time of writing this post. Instead, I'll go a bit personal and point out how The King's Avatar as a story, Ye Xiu as a character, and Team Happy as a family had inspired me as an anime blogger, a Chinese anime blogger specifically this past few years. I felt like I had finally found my goal, a reason to keep holding to what I am doing right now. To be honest, I've been blogging randomly before without any plan or desire of what to do with this blog – Yu Alexius.
I've been a fan of various anime websites out there and I only started this blog on a whim of thinking that I want to have an anime site without even thinking about what should be my contents, what should I do to grow, and I even reached the point that I ended up getting tired.
I almost stopped writing in this blog in 2016, I have mentioned a general overview of my experience as an anime blogger in this blog's 4th-anniversary post. I have finally found a glimpse of light when I discovered The King's Avatar in 2017. The first thing that comes to my mind is that Chinese animation is barely discussed in the anime community. There are only a few websites and people talking about it. I believed that there are many hidden gems in the donghua industry and that the whole world must see them.
If there can be one more person to spread the world, wouldn't that be awesome? What if that one person could be me? And that's it? I have finally shifted most of my time and attention in discovering Chinese animation, albeit I am still a noob about it until now and I could only think of delving deeper into it and discover more.
Fast-forward to 2019, I have watched The King's Avatar live-action adaptation and this is where I felt like I have to make a plan or whatsoever. It has been a moment in my life where I felt like I have found my purpose. Yes, the story of Ye Xiu as he tries to return to the professional league and established his new team inspired me to dream of a dream – that one day I'll have my own team or group that discusses anime. Yeah, I know I am still far from it but I want to build a digital publishing platform that helps spread the word about Chinese animation, and anime in general.
I am no genius like Ye Xiu, but just like how he had established Team Happy, I think I'll be able to find my team too, might be stupid but I think Team Yu Alexius sounds good (haha). I have some friends in real-life who love anime and had been writing about it occasionally but I still can't convince them to work with me in realizing this dream. I don't know if it will happen or not, but I believed that every successful story always starts with a simple dream and one small step.
And while I am still far from what I had envisioned as the finished line, I am grateful that I have already started some baby steps and one of the reasons that inspired me to do it is definitely The King's Avatar and master Ye Xiu himself. That is why I always had this donghua as a special one, I saw a lot of Chinese anime with a better story now, but still, no one can't top it. Possibly, that is why it is still my no. 1 favorite Chinese anime all this time.
And yeah, if you had reached this point of this post, you might have endured my little rant and random talk. Do you also have an anime that inspired you on a very personal level? Let me know about it, I might try to check it out too.
And that's it. Thanks for reading and I wish you guys a good day.
Last Updated on February 14, 2022 by Yu Alexius