Fans of the danmei genre of Chinese animation shall be glad about another upcoming donghua titled Dinghai Fusheng Records in 2021. A prequel to one of bilibili's most successful works this year, The Legend of Tang or also known as Tian Bao Fuyao Lu.
As a boys-love Chinese anime, I am expecting that a lot of bl fans out there will look forward to see this if we will simply rely on the popularity of danmei donghua this 2020 such as Heaven Official's Blessing, Scumbag System, and The Legend of Tang.
In this post, we'd like to discuss some things that we should know about Dinghai Fusheng Records before its slated released next year.
Dinghai Fusheng Records Overview
The upcoming 2021 Chinese anime is adapted from 2019's danmei-historical novel of the same title – Dinghai Fusheng Records or Ding Hai Fu Sheng Lu. It is written by author Fei Tian Ye Xing who also wrote The Legend of Tang. The novel was published on jjwxc.net which is famous for publishing Chinese web novel content. If you wanted to read the novel there's an ongoing English translation of Dinghai Fusheng Records on the Chrysanthemum Garden website.
Aside from the upcoming Dinghai Fusheng Records anime adaptation, the novel was also adapted into various mediums such as an audio drama and currently has 1 season with 20 episodes. If you wish to
listen to Dinghai Fusheng Records audio drama, you may check it at the Missevan site.
There's also an ongoing manhua adaptation of the novel and had been released in bilibili.
To have a better idea of what this upcoming donghua has to offer, we have here its synopsis for your reference.
Synopsis
Three Hundred years ago, all mana – the spiritual qi of Heaven and Earth – disappeared from the land, leaving exorcists and monsters alike powerless. They called it the "Silence of All Magic".

Since then, unbeknownst to the people, the resentment of those who died in wars, plagues, and famines steadily built up, giving birth to demons that would bring further turmoil to the troubled land. But there is hope – Cheng Xing, the last exorcist in the world, a 16-year old boy who bears a magical artifact called the Heart Lamp, must embark on a journey to bring back the spiritual qi of Heaven and Earth. To help him along his path, his fate is connected to a rare star that brings him an uncanny amount of luck; however, this also means that when the star disappears in 4 years, he is destined to die, giving him only a few years to accomplish his task. Fortunately, he is not meant to do it alone – the Heart of Lamp leads him to his fate Protector, a man who is destined to guard and walk alongside him.

The thing is, his Protector has his own life to live and isn't exactly happy with suddenly having this job foisted onto him…
As someone who had been enchanted by The Legend of Tang which is returning for its second season in 2021, I am excited to see what Dinghai Fusheng Records has to offer. The action, fantasy, and historical vibes are some of the things that will be highlighted in this donghua, however, I do hope that we might also get some legit danmei (boys-love) vibes here. In fact, I am amazed that we still get plenty of bl donghua despite how controversial this kind of genre is in local industry and culture in China.
Animation Studio, Release Date & Trailer
Here we have a familiar name if we will discuss Dinghai Fusheng Records animation studio, it's Shanghai Foch Film Culture Investment. If you think you had heard it before, it is because this studio had produced some of the well-known Chinese anime in recent years such as Full-Time Magister, Stellar Transformations, and Music Up! 2. While it's different from its sequel The Legend of Tang which has been animated by Sparkly Key Animation, I am still excited to see its own unique appeal.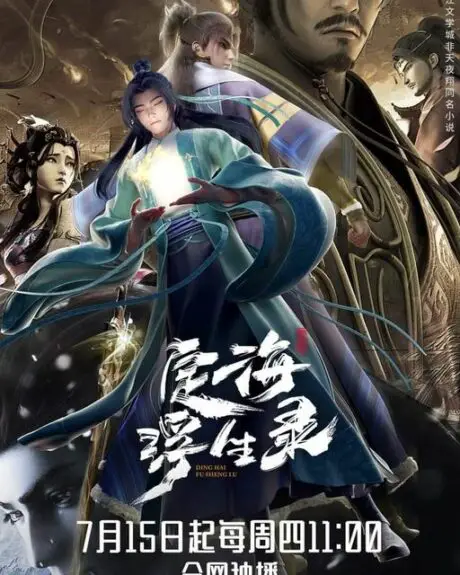 Dinghai Fusheng Records release date had been scheduled for July 15, 2021 and will be streamed on bilibili.
Here's also the trailer of Dinghai Fusheng Records which has been released during the event of bilibili on November 21, 2020 where they unveiled their upcoming donghua lineup.
Where to Watch Dinghai Fusheng Records?
Now, we all know that bilibili will stream the donghua on their platform once it will be released next year. It will be also added to its YouTube channel account – Anime Made by bilibili. However, people are asking, is there any way to watch this donghua aside from those platforms? Legally, yes if bilibili will tie up once again with another anime distributor company such as Funimation just like what they did with Heaven Official's Blessing this 2020. However, we all know that some subbing groups and sites also translate Chinese anime like Mundo Donghua, izfanmade, Kurina Official, Guodong Subs, and a whole lot more. So, we can expect either one of them to add Dinghai Fusheng Records to their archives for 2021.
Related Post: Top Recommended 3D Donghua That Fans Should Check
Last Updated on November 19, 2021 by Yu Alexius