Hey guys, I am back for another review and this time I will share my thoughts on Crystal Sky of Yesterday, one of my favorite Chinese anime movies that were released last 2018. The film's original title is Zuo ri qing kong or Crystal Sky of Yesterday in English. It reminds me of Makoto Shinkai's works especially with how vivid and beautiful the animation quality was, and the visuals are pure aesthetics. Upon taking a look at the trailer, the first thing that comes into my mind is Makoto Shinkai's 2013 film Garden of Words (still one of my all-time favorites), and Kyoto Animation's Violet Evergarden. The plot is just like any other coming-of-age story out there but the entire experience of watching it just brought back so many nostalgic moments which I will discuss later in this post.
Crystal Sky of Yesterday anime film is based on a comic by Yijian Gong. It was directed by Chao Xi and was released in China on October 16, 2018.
Synopsis
Tu Xiaoyi, Yao Zhetian, and Qi Jingxuan are high school students in a small town, Lanxi, in southern China. This is a story about dreams, friendship, family and first love in their youthful days.
The movie is almost perfect despite having inconsistencies and noticeable flaws. In general, Crystal Sky of Yesterday was able to capture the beauty and conflicting life of being an adolescent and it was so realistic and simplistic as it could be. What's amazing about it is that it is conversing with our emotional self, our sentimental self. It could've been better, but the simple approach the film used to appeal to the viewers both visually and emotionally is impactful. There's a lot of gaps that need to fill but it only shows how complex the story is if we reflect on it thoroughly, and let us bring forth the conflicted emotions and memories we had from our teenage years too.
The story follows three teenagers: Tu Xiaoyi, Yao Zhetian, and Qi Jingxuan from their high school days as they struggle and work hard to graduate, discover more about their own self and their desires, their dreams; and their special yet conflicted friendship, and sacrifices.
Animation, Graphics & Music
Animation-wise, Crystal Sky of Yesterday could be easily compared to Makoto Shinkai films. On my end, I think it closely resembles Flavors of Youth, another Chinese anime that was made in collaboration between Haoliners Animation League, and Comix Wave (the studio behind Your Name., though Shinkai is not involved in this project). The attention to detail especially on lighting could be easily seen, and the visual effects on "water" simply remind me more of the Garden of Words.
Aside from the beautiful animation, Crystal Sky of Yesterday also thrives in its audio effects and music. Yes, sound editing for the film reminds me of some films by Shinkai, especially his recent film "Weathering With You." But what really stands out for me and I think was stunning was when they used the opening theme song of 90s anime Slam Dunk during one of the scenes from the film where Tu Xiaoyi and Qi Jingxuan played basketball – oh that scene was just perfect.
In regards to noticing inconsistencies in the animation, can you guys believe that the movie was made by various animation studios from China at that time? Yes, almost if not all big players in 2D animation in China contributed to making the film. Crystal Sky of Yesterday was quite a big production at that time and this aspect did affect the animation quality that leads to inconsistencies but I believed it just makes the film even more interesting and you can just easily ignore it. It feels like watching a showcase of what the Chinese animation industry could offer.
Setting & Characters Development
The story is a high school drama and one that would give us a relatable vibe. I don't know about you guys but as a 90s kid, this story just resonates with my heart in the most spectacular way. It brings back many good memories, or maybe I just felt like a senile at 28 right now. And just like what Cuchallain stated in his review:
Read: Crystal Sky of Yesterday Makes the Ordinary, Beautiful 昨日青空评论
The anime is summoning our best and worst memories from one of the most important stages of our life. It's nostalgic, emotionally conflicted yet simplistic.
We have one of the main characters Tu Xiaoyu talks about how he met Qi Jingxuan, how their friendship started, and their interaction with another character Yao Zhetian. The story revolves around their dreams, their effort to graduate, their budding friendship, and everything that you can remember from your typical high school life. The conflicted romantic feelings they feel, and their sacrifices.
Among the characters, I had been charmed by Qi Jingxuan, the hot-headed high school boy that reminds us that there's more to life than just the four corners of the classroom. Furthermore, he is a hottie too. We also have Tu Xiaoyi, our main protagonist who reminds me of my own self a lot. Every character is dealing with their own personal struggles and battles, as they went through with adolescent life which is a battleground that they need to conquer in order to become an adult. The film talks about the characters' highs and lows, their successes and failures, their regrets as they deal with societal expectations.
There's a bit of sadness in its story but wasn't emphasized. While it's far from being a tear-jerker film, it could be among the sad yet romantic coming-of-age anime movies we had in recent years.
Thoughts & Reflections
On a personal note, I hold Crystal Sky of Yesterday as a dear anime movie. For me, it's not just a movie for entertainment but it is a reflection of the past that I had shared with people I had met in my life from my high school days. While the entire experience of watching the film is purely aesthetic, it appeals to me emotionally, rather than satisfying me visually. I felt like the movie did have a perfect built-up in the beginning yet slowly loses the momentum later on when it tries to delve deeper and tackles various adolescent issues and couldn't handle it anymore. It got overwhelmed that it wasn't able to pinpoint what it was supposed to deliver. So, it looks like it fell short of reaching its climax and eventually jump to its denouement without giving us tidbits of information on what actually transpired. In this instance, it left me craving for more, it left me a bit empty despite all the built-up.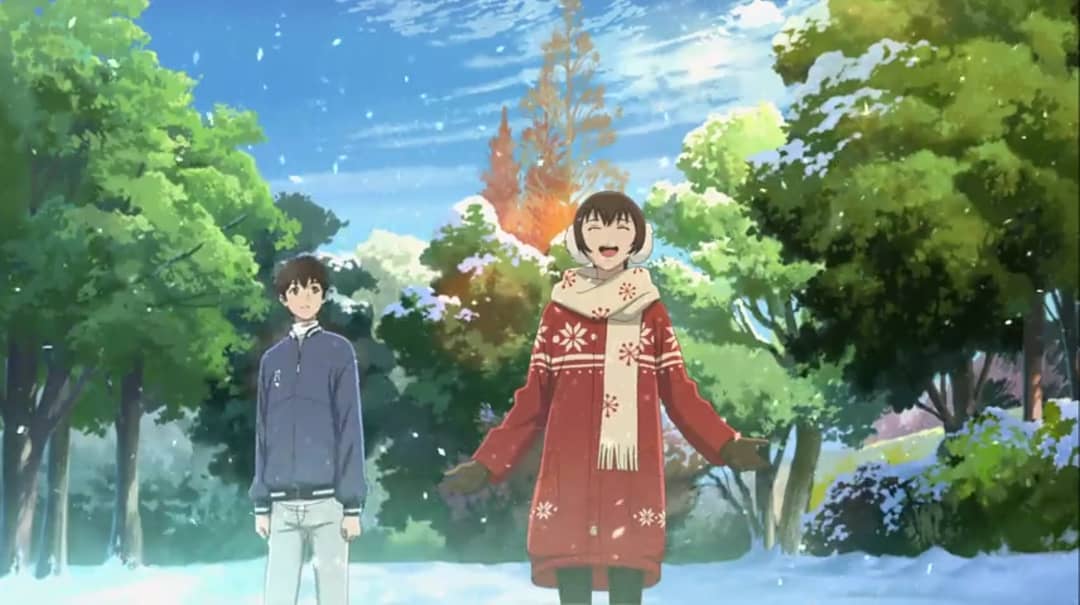 When you finally finished the film, that's where you felt like it has been rushed. It's far from being revolutionary or record-breaker, but the fun and enjoyment factor is there. It was able to visually entertain us, it succeeded in driving our eyes to produce some tears. It just reminded us that we, too, had our own Crystal Sky of Yesterday to look back at and reminisce.
Related Post: Top Chinese Anime Movies That You Should Watch
I have listed Crystal Sky of Yesterday as one of my recommended donghua for beginners, you can check it here: "Chinese Anime Movies" starter pack. And that's it for my Crystal Sky of Yesterday anime film review. Have you guys watched the movie already? Please share your thoughts about it in the comment section below.
Last Updated on November 5, 2022 by Yu Alexius