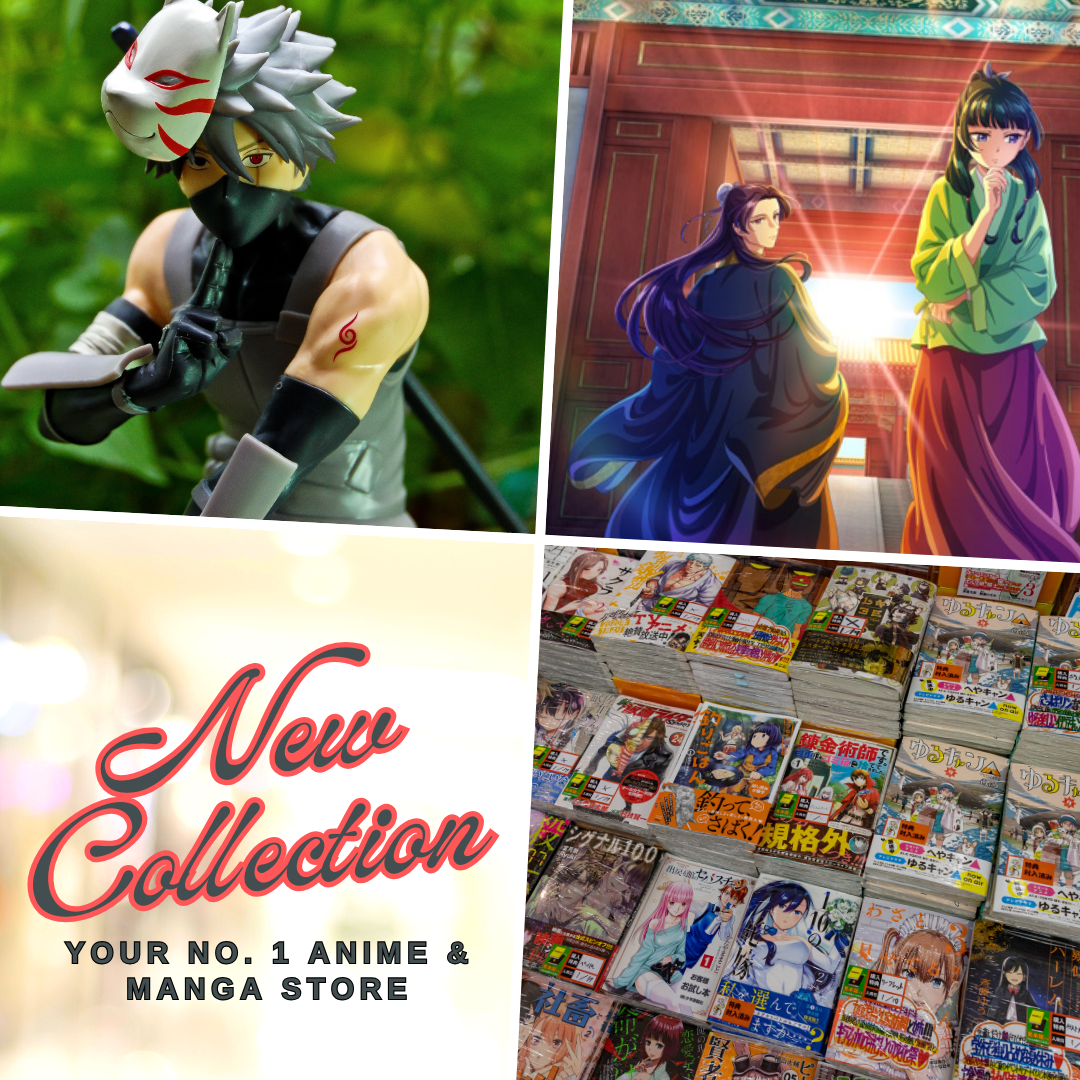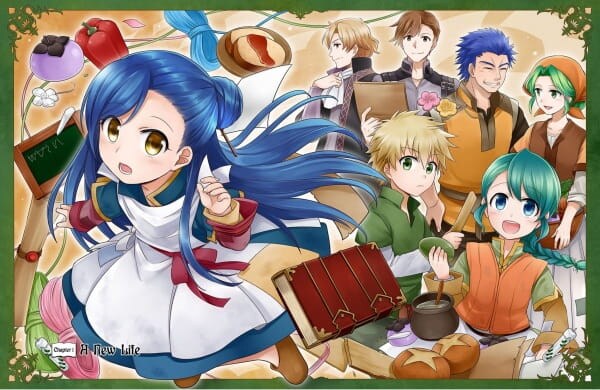 Maine, Lutz, and the rest of the gang from one of the most adorable and relaxing slice of life 
anime from the fall 2019 lineup
 is coming back this April and that is in the upcoming Ascendance of a Bookworm season 2. If I have to recall my experience of watching this anime last year, it all started a little bit dull but slowly rise to the top among my list of favorite anime from that season. Well, who wouldn't fall in love with Main – our main protagonist who got transmigrated into another world and the only desire she has is to read books but in search of books to read, she had a life-changing experience in this unknown new world. Yes, Ascendance of a Bookworm is another isekai anime story but is quite unique and that sets it apart from the rest of other isekai stories nowadays. While we seldom see some actions, Main's innovative idea of bringing the concepts and inventions from her world of origin into this new fantasy world had been a fascinating one and I am always enthralled of seeing that WOW factor from the faces of the people around her every time she shared new ideas to them.
Ascendance of a Bookworm
had ended quite dramatically last December and we were left hanging since then, as we are craving to see how Main will conquer her terminal illness – the Devouring. How her life will change now that she entered the temple as one of the maidens. Obviously, we are also excited to see more inventions from her as she shared it with Lutz, Benno, and the rest of the merchants that we also loved.
In this post, I will share some details about the 
upcoming anime Ascendance of a Bookworm season 2
 including its release date, what to expect from its story, the cast & staff, and some teaser videos to further add excitement as we wait for the anime's return on April.
Ascendance of a Bookworm Overview
The isekai fantasy slice-of-life anime is based on Japanese light novel series titled Honzuki no Gekokujou: Shisho ni Naru Tame niwa Shudan o Erandeiraremasen (Lover of Books: I Can't Choose the means to become a Librarian) by author Miya Kazuki and illustrated by You Shiina. The novel originally runs from September 2013 until March 2017 at Shousetsuka ni Narou. Meanwhile, the light novel was published by TO Booksand run from January 2015 to present, with a total of 22 volumes as of writing.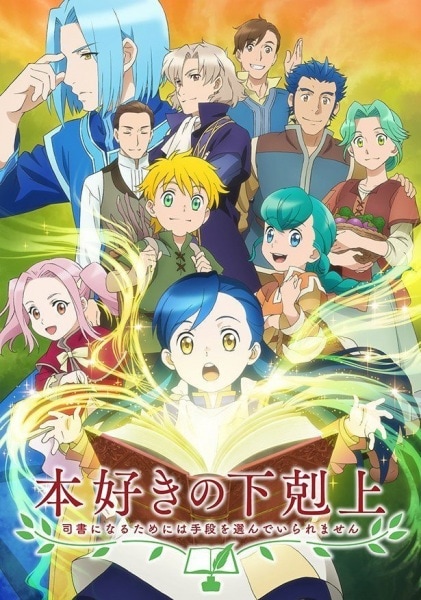 Ascendance of a Bookworm 1st season visual
Ascendance of a Bookworm
also gets a manga adaptation which was divided into 3-parts. All published by TO Books but the first 2 manga were illustrated by Suzuka, and the 3rdby Ryo Namino.
The anime adaptation of Ascendance of a Bookworm premiered on October 3, 2019, from Ajia-do Animation Works which run with 14 episodes. The season 2 or its 2ndcour is slated to air this April 2020.
Ascendance of a Bookworm Plot
Urano Motosu loves books and has an endless desire to read literature, no matter the subject. She almost fulfills her dream job of becoming a librarian before her life is ended in an accident. As she draws her last breath, she wishes to be able to read more books in her next life. As if fate was listening to her prayer, she wakes up reincarnated as Myne—a frail five-year-old girl living in a medieval era. What immediately comes to her mind is her passion. She tries to find something to read, only to become frustrated by the lack of books at her disposal. Without the printing press, books have to be written and copied by hand, making them very expensive; as such, only a few nobles can afford them—but this won't stop Myne. She will prove that her will to read is unbreakable, and if there are no books around, she will make them herself! [Written by MAL Rewrite]
Ascendance of a Bookworm Season 2 Release Date
The anime is scheduled to return on April as part of the spring 2020 anime lineup. It's amazing that we don't need to wait that long for the sequel to finally premiere and sometimes, the wait could actually kill the excitement. Thus, Ascendance of a Bookworm is among my most anticipated sequel this 2020 as it is coming back fresh from its previous season which ended last December. Ascendance of a Bookworm season 2 release date is on April 5, 2020. However, prior to the season 2 release – there will be two OVA episodes titled A House to Call to Ms. Coleena, and Yustux' Master Plan for Downtown Infiltration – both will be released on March 10, 2020.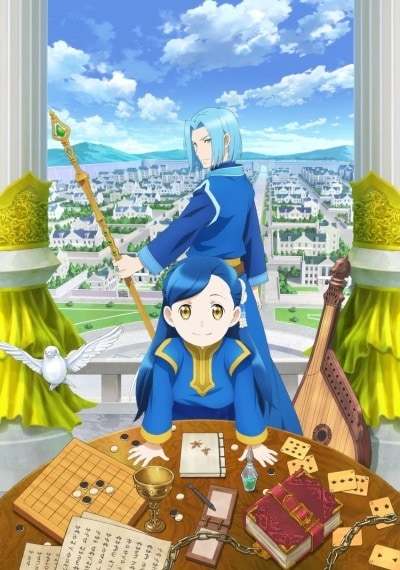 Ascendance of a Bookworm Season 2 Announcement Poster
Staff & Cast
The staff and cast from the previous season are returning to reprise their respective roles and duties which include the following:
Staff
Director: Mitsuru Hongo (Outlaw Star, Shamanic Princess, World Trigger)
Series Composition: Mariko Kunisawa (Aikatsu!, One Week Friends)
Sound Director: Jun Watanabe (AJIN, Little Witch Academia)

Chief Animation Director: Kenichi Endou

Color Design: Miyoko Ichinose (Deltora Quest, World Trigger)
Character Design: Toshihisa Kaiya (Angel Beats!, Haikyuu!)
Art Director: Ryoka Kinoshita (Digimon Adventure, Testament of Sister New Devil)
Sound Effects: Hiromune Kurahashi (Amagi Brilliant Park, Big Order)
Music: Michiru (BEM, Given)
Studio: Ajia-do Animation Works (Vampire Hunter D, How Not to Summon a Demon Lord)
Ascendance of a Bookworm Season 2 Poster
Cast
Myne: Yuka Iguchi (Nishi Keiko from A-Channel+smile, Shiina Kuroko from Aho Girl)
Lutz: Mutsumi Tamura (Yadomi Jinta from Anohana, Koushirou Izumi from Digimon Adventure)
Benno: Takehito Koyasu (Gastro from Assassination Classroom, Doyle Hector from Baki)
Turi: Megumi Nakajima (Lyra from Fairy Tail, Luna from Grancrest Senki)
Gunther: Tsuyoshi Koyama (Ogre from Akame ga Kill!, Boax from Arete Hime)
Otto: Satoshi Hino (Toma from Amnesia, Noiz from Dramatical Murder)
Frida: Aya Uchida (Sylph from Black Clover, Kaban from Kemono Friends)
Eva: Fumiko Orikasa (Aoba Maki from 6 Angels, Kuchiki Rukia from Bleach)
Ralph: Hitomi Nabatame (Nyau from Akame ga Kill!, Ise Nanao from Bleach)
Mark: Tomoaki Maeno (Son Hak from Akatsuki no Yona, Decim from Death Parade)
Ferdinand: Show Hayami (Aizen Sousuke from Bleach, Nakiri Azami from Food Wars)

Gustaf: Hiroshi Naka
Trailers & Teaser Videos
Now, what should we expect from Main? On my end, I am simply craving to see her revealed more ideas and inventions, while also striving to have her dream of making and reading books come true. Obviously, there is still a long way for her in order to reach that but I am really excited to see how she will achieve her goal especially now that she's fighting the Devouring. I am also looking forward to what will be the contribution of Ferdinand to her life in this new fantasy world since it seems like that the first season is just a flashback of her earlier years in this new world.
Anyway, let's all mark our calendar on April 4, 2020, and be ready for the 
Ascendance of a Bookworm season 2
 and we will see how Main will continue her journey. Please let me know what makes you excited to see in the new season, and what are your thoughts about this anime series so far?
Last Updated on March 7, 2021 by Yu Alexius