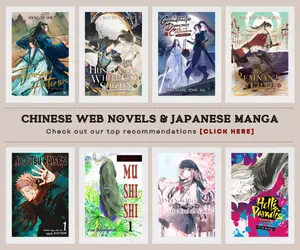 Beautiful music, fascinating visuals, lovely animation, interesting plot; is there anything I could ask for while watching I'm JoyBo? Definitely yes, this new Chinese anime with the original title of Wo Shi Jiang Xiaobai has more to offer than what it already had revealed. A very simple animation with breathtaking scenes while accompanied with casual catchy songs playing on the background. With its respective catchy elements, I'm JoyBo is a very promising Chinese anime. It may not be on the same level of animation with other Chinese anime this 2018, I had no doubt deep inside my heart that it's my second best Chinese anime to date just behind The King's Avatar. This might be a very early remarks but I always trust my instinct and once an anime got attached to my heart, it'll definitely stay there and I believe I'm JoyBo will be staying there for a long time.
I'm JoyBo Synopsis
A story happened on Joybo: One lost memory; One glass ball he carried around; One letter after one letter comes from ten years ago; One girl in his illusions; One girl he met in reality…All these pieces come together telling an accident decade ago. This is a written fate between one boy and two girls. They meet again, the truth buried behind all the regrets and sorrows will be revealed.
I'm JoyBo's Promotional Video
I had always been subjective in most of my review because I believe that what truly matters is the adventure, the feeling of fun, excitement, sorrow and entertainment that an audience experience while watching anime and captivate them shall rule over any technical shortcomings the show may have.
The cliche is always there, the plot isn't even something special to begin with but what makes it exciting the pace of the story despite of its predictability. Possibly, another factor is the fact that these characters in the story were relatable, they mirror a certain part of the viewers personality or mishaps. It isn't necessarily a feel trip experience as what it actually looks like. In fact, it's quite laid back and similarly flow in the same way as of today's slice of life anime in Japan. The big deal is probably the relationships between the characters, it's well written and realistic. In my own observation based on the available episodes that I had seen (up to episode 6 so far), the character development in the story is going to be surreal and exciting to follow. The dialogues among characters are interesting enough to keep you on your seat and wanting for more.
The OST is enthralling and somehow painfully sad. On my end, I actually enjoyed listening to I'm JoyBo's opening theme because the song is pretty catchy. It was titled, "Bu Xiang Bing (不想病)" by Er Hou Sheng. It's really decent and simply give a lively atmosphere in the story even more once it started to play in the background. If you hadn't seen the opening sequence or hear the song yet, you should check the video below. I believe this should be enough to captivate you and crave to dive deeper into the world of JoyBo and author Torry.
I'm JoyBo Opening Sequence
I'm JoyBo's ending theme
The animation is pretty dull however it is tolerable and I, myself find it good and a relief from seeing the usual animation style from other series. Although, some scenes looks quite odd, I guess such imperfections on this anime simply makes it even better and uniquely special.
The feels! I'm JoyBo offers a relaxing set up for budding romance and at the same time, a different approach on the concept of tragedy. This anime is both adorable and painful that together produced a nostalgic atmosphere and refreshing ambiance for the viewers to savor the story even more.
It's a very entertaining and fun anime to follow, but could be better. Nonetheless, I'll stick with this anime until it officially concludes, not just because it's fun but because it has a potential.
Last Updated on March 24, 2021 by Yu Alexius