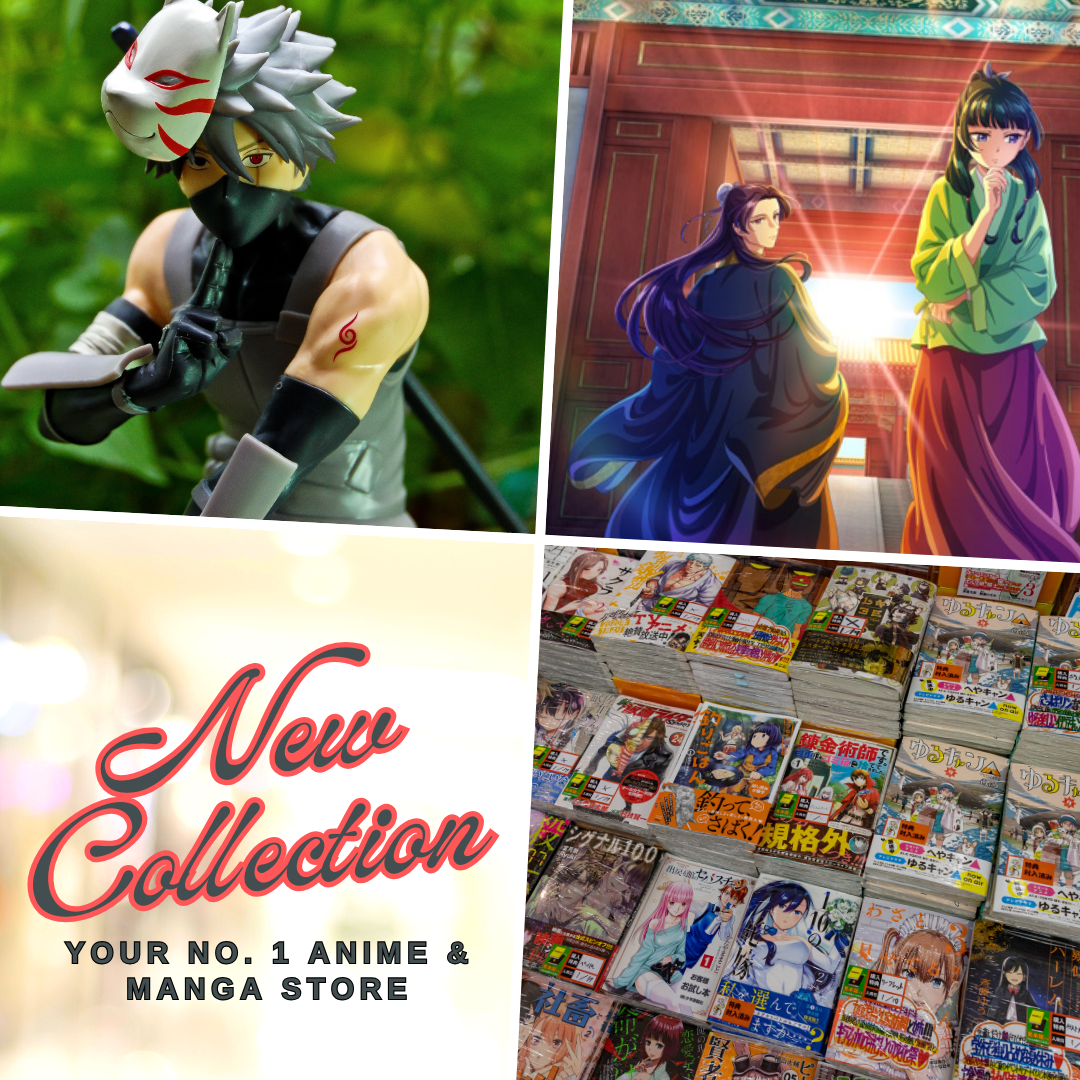 The summer of 2023 has gifted us with a delightful array of anime shows, ranging from the highly anticipated Jujutsu Kaisen Season 2 and the nostalgic return of BLEACH, to the uproarious journey of Zom 100: Bucket List of the Dead and the heartwarming drama of My Happy Marriage. This season has never failed to captivate us with its diverse offerings, and even within the generic fantasy genre, certain shows reign supreme. Reign of the Seven Spellblades, brought to life by the talented team at J.C. Staff, is undoubtedly one such gem.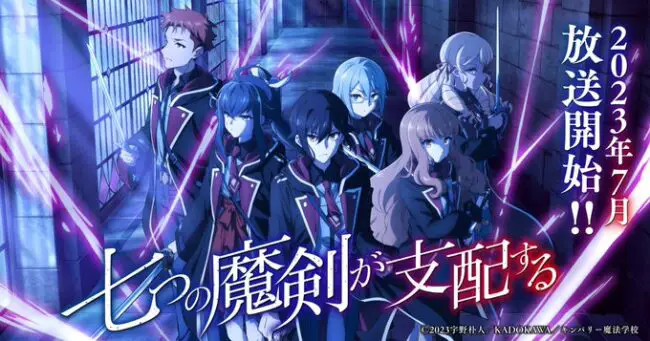 While it may seem like just another boy-meets-girl story set in a fantasy world within a magical school, Reign of the Seven Spellblades is far more than a mere Harry Potter wannabe. Its captivating storyline and compelling characters draw us in, leaving us yearning for more.
Synopsis
As the curtains rise on this enchanting series, a boy and a girl cross paths in the esteemed Kimberley Magic School. What awaits them there is a breathtaking spectacle of blooming cherry blossoms and mystical creatures. However, unbeknownst to them, this academy is a shrine to living demons, where survival is far from guaranteed. Brace yourself for a spellbinding journey through a world of spellblades and magic!
Reign of the Seven Spellblades promises thrilling action and mesmerizing magic that will leave viewers exhilarated and entranced. If you're hungry for more and eager to explore similar shows with captivating plots and dynamic characters, we've got you covered. Here are our top recommendations for anime that share the charm and allure of Reign of the Seven Spellblades, offering you a captivating adventure beyond its realms.
The Irregular at Magic High School
"The Irregular at Magic High School," directed by Manabu Ono and animated by Madhouse, originally aired on September 28, 2014. This captivating series is an adaptation of Tsutomu Satou's light novel series.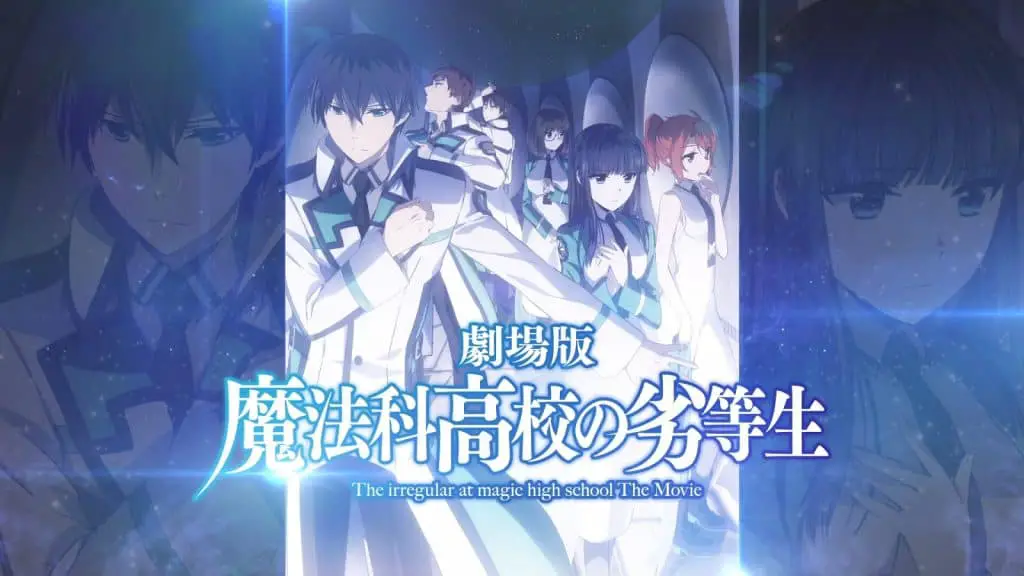 In a world where magic is real, The Irregular at Magic High School introduces a unique approach to spellcasting. Instead of traditional chants and spells, magic users rely on Casting Assistant Devices (CADs). These devices are infused with Psions, thought particles without substance, which activate the CAD and allow the users to perform magical rituals.
The story revolves around siblings Tatsuya and Miyuki, who enroll at Magic High School. However, their differing abilities and norms create a space between them. While Miyuki excels and holds an honored status, Tatsuya posed himself as an underachiever. The complex dynamics between the siblings, coupled with the magical backdrop of the school, set the stage for an intriguing tale of rivalry, secrets, and the challenges they must overcome.
The Irregular at Magic High School offers an enthralling blend of magic, action, and sibling dynamics that will leave viewers on the edge of their seats, eagerly anticipating each new episode.
The Misfit of Demon King Academy
"The Misfit of Demon King Academy," directed by Shin Oonuma and Masafumi Tamura and animated by SILVER LINK., made its debut as part of the summer 2020 anime lineup. This action-packed fantasy series is an adaptation of a light novel by Shuu, with character designs by Yoshinori Shizuma.
The story follows Anos, the powerful Demon King of Tyranny, who has triumphed over humans, spirits, and even gods. However, weary of constant conflict, Anos decides to reincarnate himself in search of a more peaceful existence. Upon awakening two thousand years later, he is met with a surprising realization—the world has become excessively peaceful. His descendants have grown weak, and the realm of magic is in a state of serious decline.
Determined to reclaim his rightful place, Anos enrolls in Demon King Academy. To his astonishment, he discovers that his magical power is unparalleled, surpassing all measurements. This uniqueness, however, causes the faculty and fellow students to label him as a misfit. Undeterred, Anos forms a bond with Misha, one of the few students who befriends him. Together, they embark on a journey to defy expectations and rise through the ranks of the demon hierarchy.
The Misfit of Demon King Academy delivers a thrilling blend of supernatural action and fantastical elements, exploring the themes of power, friendship, and personal growth. With its charismatic protagonist and an intriguing twist on the traditional demon king narrative, this series offers an exhilarating adventure that keeps viewers eagerly anticipating each episode.
The Eminence in Shadow
"The Eminence in Shadow" is an anime that premiered as part of the fall 2022 seasonal lineup. Animated by studio Nexus and adapted from a light novel by Daisuke Aizawa, this intriguing series was directed by Kazuya Nakanishi, with a series composition by Kanichi Katou.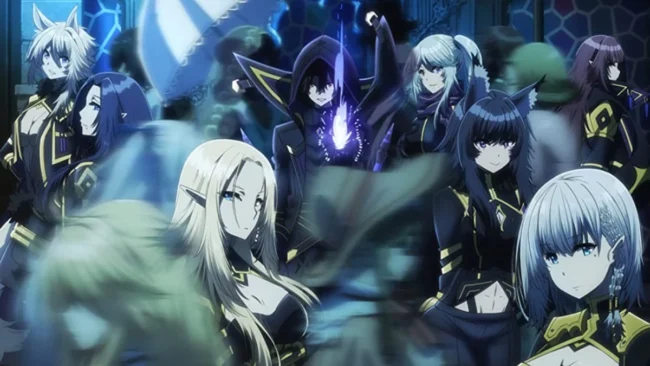 In a world where some individuals don't quite fit the mold of the bold, attention-seeking hero or the archetypal villain, some prefer to operate in the shadows, manipulating society with their intellect and cunning. This is the role that Cid, our protagonist, aspires to play when he finds himself transported to another world. With his gift for storytelling, Cid concocts elaborate tales and emerges as the unlikely leader of the underground organization known as the Shadow Garden. Their mission? To combat a menacing cult that Cid himself fabricated.
However, there's a twist that even Cid's wild imagination failed to anticipate—his fictitious cult turns out to be real, and they are far from pleased that his power fantasy has interfered with their nefarious plans. Now, Cid must navigate the complexities of the world he created, facing off against a genuine threat while managing the consequences of his own fabrications.
The Eminence in Shadow offers a unique and captivating premise, exploring themes of imagination, deception, and the clash between reality and fiction. With its blend of humor, action, and unexpected twists, this series keeps viewers on the edge of their seats, eagerly anticipating the next episode to unravel the secrets that lie within the shadows.
The Iceblade Sorcerer Shall Rule the World
"The Iceblade Sorcerer Shall Rule the World" is an action and adventure anime that was part of the Winter 2023 anime lineup. Animated by CLOUDHEARTS, this exciting series is based on a light novel by Nana Mikoshiba, with character designs by Riko Korie.
The story unfolds at the prestigious Arnold Academy of Sorcery, known for educating society's most elite individuals. However, a significant change occurs when the academy admits its first commoner student, Ray White. Despite facing contempt from his peers, Ray manages to forge unexpected friendships with a diverse group of classmates who embark on various escapades together. However, the challenges of navigating teenage drama are just the tip of the iceberg, as Ray harbors a secret—he is the most powerful sorcerer known as the Iceblade Sorcerer.
The Iceblade Sorcerer Shall Rule the World takes viewers on a thrilling fantasy journey, filled with action and adventure. As Ray grapples with the pressures of hiding his true abilities while dealing with the complexities of teenage life, the series explores themes of power, friendship, and self-discovery. With its blend of supernatural abilities, captivating characters, and an enticing plot, this anime promises an exhilarating ride for fans of fantasy and action genres.
MASHLE: Magic and Muscles
"MASHLE: Magic and Muscles" is an anime that brings its own unique humor and flavor to the magical genre, while still drawing inspiration from works like Harry Potter. Animated by A-1 Pictures, this series made its debut on April 8, 2023. It is based on the manga of the same title by Hajime Koumoto. Tomoya Tanaka directed the anime, with Yousuke Kuroda contributing to the series composition.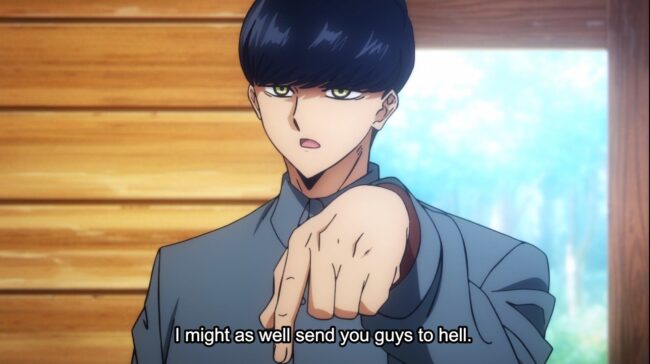 In a world where magic is a common occurrence, "MASHLE: Magic and Muscles" takes place in a deep, dark forest. Here, a determined young boy named Mash Burnedead can be found tirelessly working out. However, he harbors a secret—he is unable to use magic.
All Mash desires is a quiet life with his family, but his world is turned upside down when people suddenly start targeting him. Before he knows it, he finds himself enrolled in Magic School, where he sets his sights on becoming a "Divine Visionary," the epitome of magical excellence.
Will Mash's formidable muscles prove to be a match for the best and brightest in the wizarding world? With its off-kilter and unconventional magical fantasy, MASHLE: Magic and Muscles promises a hilarious and action-packed adventure where the power of sheer strength and physicality triumphs over any spell.
Prepare to be entertained as the curtain rises on this whimsical and captivating series that offers a fresh and amusing take on the world of magic and the unconventional hero who challenges its norms.
Related Post: Our Top 10 Recommended Anime Like MASHLE: MUSCLES AND MAGIC
Seirei Gensouki: Spirit Chronicles
"Seirei Gensouki: Spirit Chronicles" is an isekai anime that deserves a spot on our list of anime like Reign of the Seven Spellblades. This fantasy and adventure series, which aired in 2021, is based on a light novel series by Yuri Kitayama. It is brought to life through the animation efforts of TMS Entertainment and WAO World, with Osamu Yamasaki serving as the director and overseeing the series composition.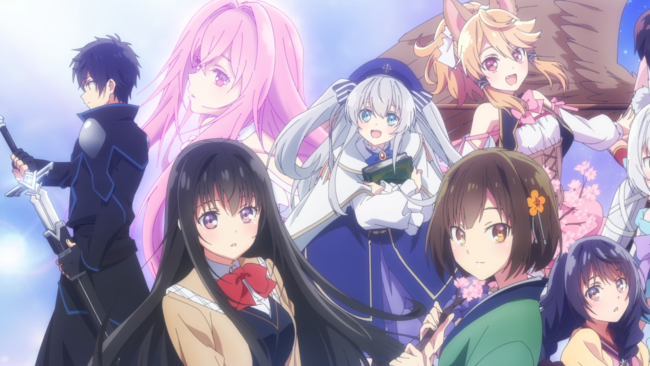 The story follows a boy named Rio, who has memories of two lives intertwining. Orphaned at a young age when his mother was killed, Rio struggled to survive in the slums. However, one day, he awakens to the memories of Haruto Amakawa, a boy who died while dreaming of being reunited with his childhood friend. Rio discovers that he has been reincarnated into a world of swords and sorcery.
After inadvertently helping thwart a kidnapping attempt on a princess, Rio finds himself enrolled in a prestigious school where noble children gather. Determined to rise from the lowest rungs of society, Rio must navigate the complexities of a hierarchical society while forging new connections and bidding farewell to those he meets along the way. As he fights to overcome the constraints of fate, Rio's journey is filled with new encounters, personal growth, and the pursuit of his true destiny.
Seirei Gensouki: Spirit Chronicles delivers a captivating blend of fantasy, adventure, and reincarnation themes. With its intriguing premise, well-developed characters, and a richly imagined world, this anime offers viewers an enthralling and emotional tale of resilience, friendship, and the pursuit of one's true path.
The Dawn of the Witch
"The Dawn of the Witch" is a 2022 fantasy anime produced by Tezuka Productions. Adapted from a light novel by Kakeru Kobashiri, the series is helmed by Satoshi Kuwabara, who serves as the director and is in charge of the series composition.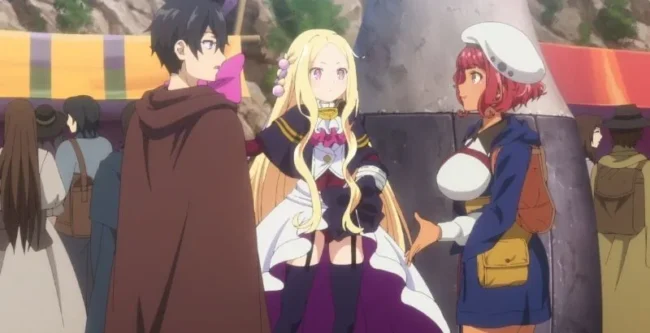 True to its title, this anime shares thematic elements with "Reign of the Seven Spellblades," focusing on magic and witches.
The story revolves around Seville, a student at a magic academy who suffers from amnesia, unable to recall his past or identity. As he grapples with his lack of memories, his time at the academy feels empty and devoid of purpose. Struggling with academic performance due to his lack of motivation, Seville constantly ranks at the bottom of his year.
However, everything changes when the school headmaster, Albus, assigns Seville to a dangerous special training mission. Seville is tasked with spreading the use of magic in an area where witch hunts are still prevalent. It's a time when society has not fully accepted witches and their magical abilities, as the wounds of the war between the church and witches remain fresh.
The Dawn of the Witch delves into the nascent era of witchcraft, following Seville, a seemingly ordinary young man, and his companions, who all carry their own emotional scars. As they embark on this journey, they not only discover their true selves but also navigate a world grappling with the aftermath of a conflict between magic and religious authority.
This anime weaves a compelling narrative of self-discovery, friendship, and the societal struggles surrounding the acceptance of witches and their powers. With its enchanting world-building and captivating character development, The Dawn of the Witch invites viewers to immerse themselves in a story of resilience and personal growth amidst a changing world.
Tokyo Ravens
"Tokyo Ravens" is an anime series that offers a refreshing departure from magic school settings, yet delves into the fascinating realm of exorcism—a theme that holds genuine relevance to Japanese culture. This series, which aired in 2013, was animated by Studio 8-bit. It is based on a light novel by Kouhei Azano, with direction by Takaomi Kanasaki.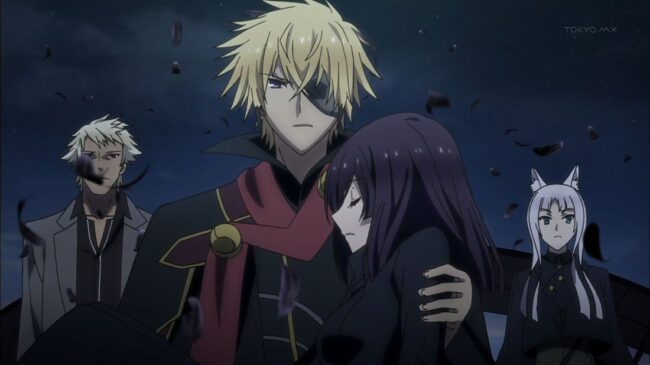 The story revolves around Harutora, who was born into a family of onmyouji renowned for their mastery of the occult. However, unlike his esteemed lineage, Harutora lacks any magical abilities, destined to lead an ordinary life. That is until a girl from his past emerges and alters the course of his future.
Tokyo Ravens combines elements of supernatural exorcism and Japanese folklore, painting a captivating tale of a protagonist grappling with his identity and the legacy of his family. As Harutora confronts his own limitations and discovers hidden truths, he becomes entangled in a world filled with spirits, mysticism, and ancient rituals.
With its unique blend of Japanese cultural elements and engaging storytelling, "Tokyo Ravens" offers viewers an immersive experience that goes beyond the traditional magic school narratives.
Vermeil in Gold
"Vermeil in Gold" is a fantasy anime that graced the summer 2022 lineup. Animated by Staple Entertainment, this series is an adaptation of the manga of the same title by Kouta Amana, with direction by Takashi Naoya.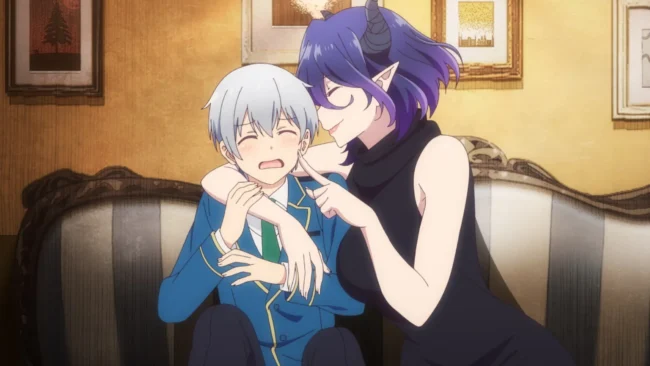 The story follows Alto, an unfortunate student at the Royal Ortigia Magic Academy, whose academic performance leaves much to be desired. Instead of taking a conventional approach to salvage his grades before graduation, Alto decides to summon assistance from another realm. Little does he know that he has bound the legendary she-devil Vermeil into service as his familiar. While Vermeil possesses immense power that could potentially turn Alto's academic fortunes around, there's a catch—her magic can only be replenished through a kiss.
As Alto navigates the challenges of his studies, he must also contend with the complications that arise from his childhood friend, Lilia, becoming jealous of his connection with Vermeil. With romantic tension and magical hijinks, Alto finds himself in a chaotic situation where maintaining a balance between his academic aspirations and personal relationships becomes increasingly difficult.
Vermeil in Gold offers a delightful blend of fantasy, humor, and romance. With its engaging storyline, endearing characters, and playful dynamic between Alto, Vermeil, and Lilia, this anime promises an entertaining and light-hearted adventure. Prepare for a journey filled with magical mishaps, unexpected romance, and the pursuit of academic success amidst a backdrop of supernatural enchantment.
Classroom of the Elite
"Classroom of the Elite" is a popular anime that immerses viewers in a battle of intellects, where high school students compete against each other in a highly engaging and twist-filled storyline. Adapted from a light novel by Shougo Kinugasa, this series made its debut in 2017. Seiji Kishi and Hiroyuki Hashimoto serve as the directors, contributing to the drama and psychological aspects that make the watching experience even more captivating.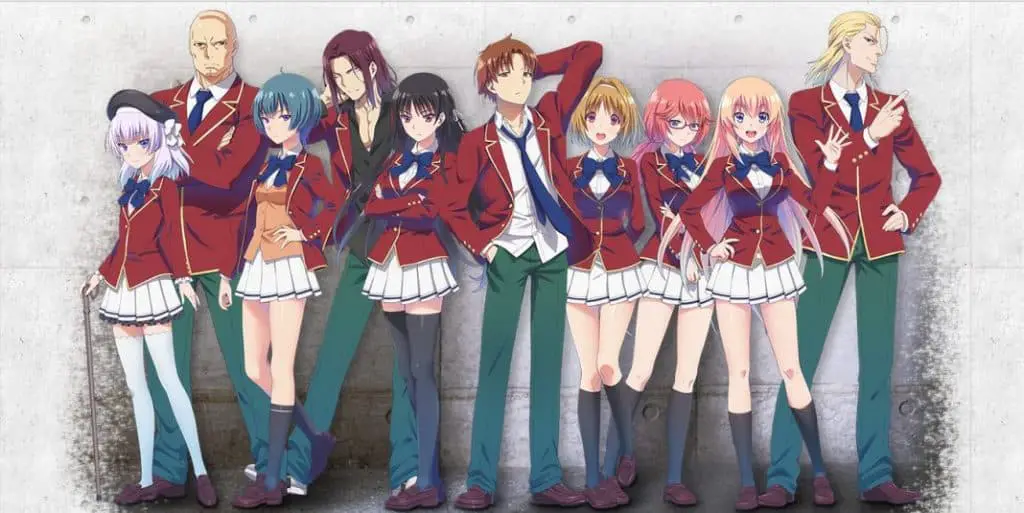 Set in Koudo Ikusei Senior High School, a prestigious institution with state-of-the-art facilities, the students enjoy seemingly unlimited freedom to express themselves through their appearance and personal belongings. At first glance, Koudo Ikusei appears to be a utopia. However, the truth lies beneath the surface—only the most exceptional students receive favorable treatment.
Enter Kiyotaka Ayanokouji, a student assigned to D-class, where the school assigns its "inferior" students intending to ridicule them. Due to a particular reason, Kiyotaka was placed in D-class after being careless during the entrance examination. However, his encounter with Suzune Horikita and Kikyou Kushida, two fellow students in his class, begins to catalyze a transformation in his situation.
Classroom of the Elite offers a thrilling narrative that delves into the dynamics of a highly competitive academic environment. As Kiyotaka navigates the complex social structure and hidden agendas of his classmates, the series explores themes of social stratification, manipulation, and personal growth. With its intriguing plot twists, strategic mind games, and character-driven drama, this anime provides an enthralling experience for viewers seeking a blend of intellectual challenges and gripping storytelling.
Prepare to dive into a world where cunning and intellect reign supreme as Kiyotaka and his classmates navigate the intricate web of their high-stakes academic journey in "Classroom of the Elite."
Last Updated on July 16, 2023 by Yu Alexius