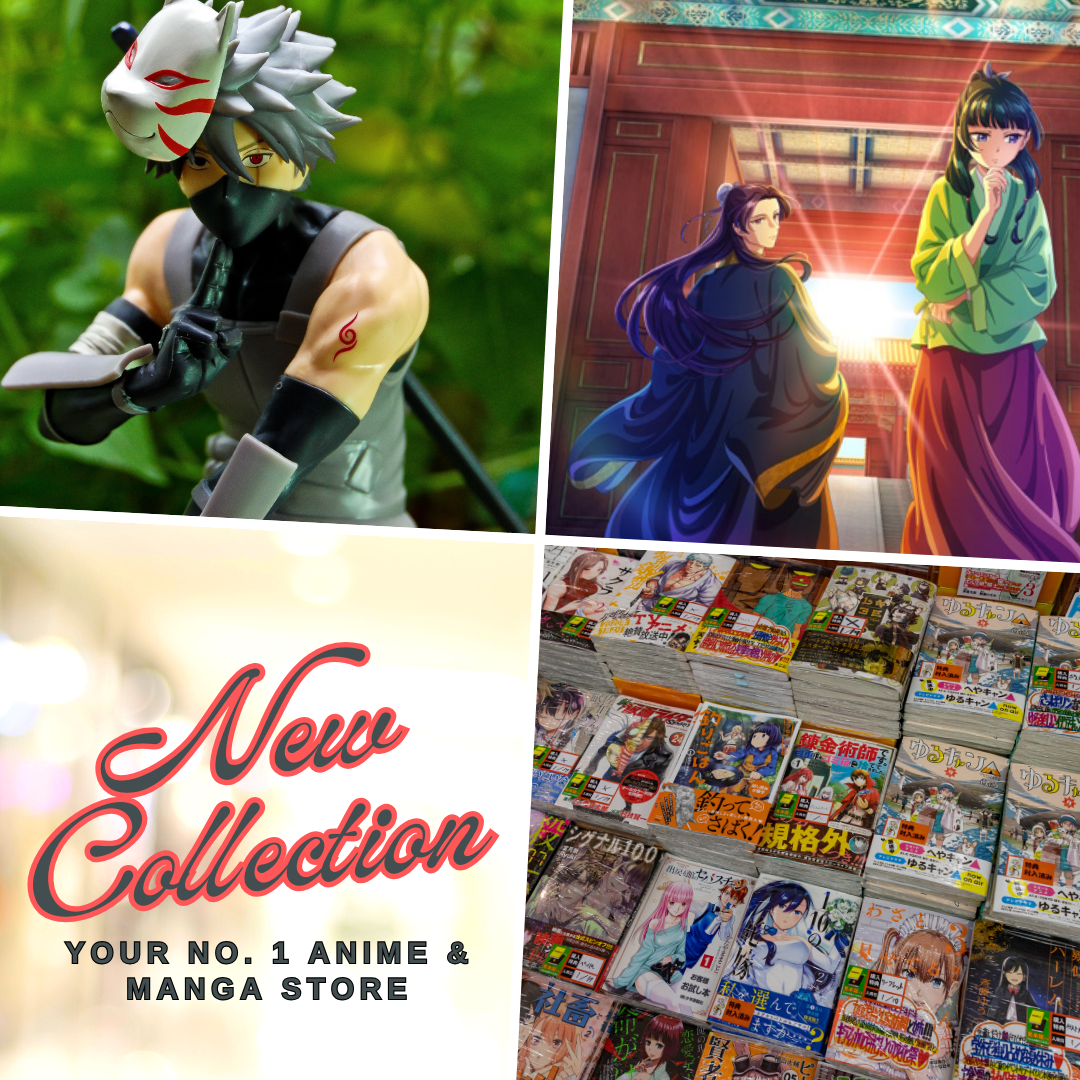 One of the anime that I truly find intriguing is no other than Magi, an adaptation from Shinobu Ohtaka. The story itself is fantastic and the world in itself where the story took place is grand and brings the fantasy genre to life in its most spectacular form.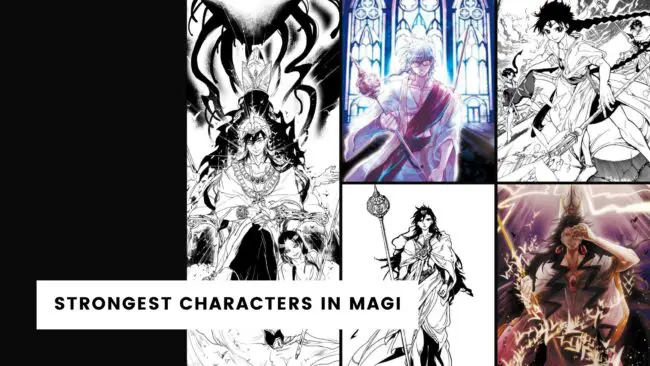 Having been influenced by legend and folktales, Magi: The Labyrinth of Magic is like a gorgeous accumulation of so many tales, and Shinobu Ohtaka beautifully narrated and illustrated them in various ways – from its visually stunning character designs, familiar and interesting names, and how the story evolved as a battle between what is good and what is evil but with no finite boundary where the margin between the two truly lies.
In this regard, many often asked who are the strongest characters in Magi because just like any other big shounen anime out there, Magi have plenty of characters that truly showcase strength and superiority. The method of combining powers with the so-called Djinn through Djinn Equip is probably one of the best anime transformations and plots that I've ever seen.
Well, many might have been asking some questions such as who is stronger Aladdin or Sinbad? Is Aladdin the strongest in Magi? Is Sinbad stronger than Solomon? Most of us will simply get answers from fellow fans too, especially those in the community forums among Magi fans such as those on Reddit.
Therefore, we came up with this list of the 10 most powerful characters in the Magi series that we thought fit the bill perfectly. If we talked about the most powerful king vessels, the list might be quite different but we are taking the discussion to a grand level and including the almighty entities like magi and those from the old Ancient world of Solomon.
Sinbad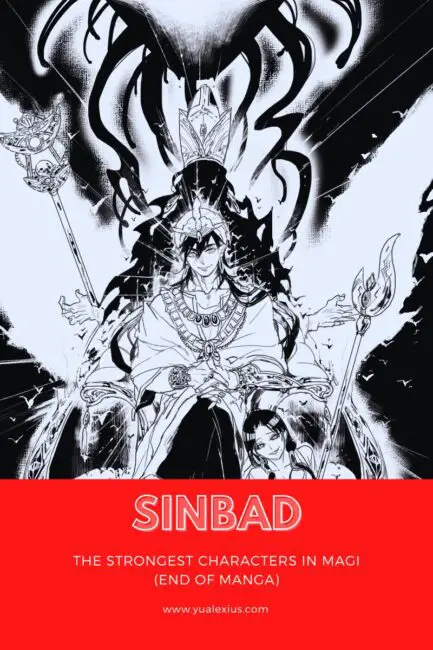 This is subject to argument but I'll go with Sinbad at number one as the most powerful character in Magi. He has acquired godhood and while his ideals might be arguable, he is a king that fought his way up to the top. He has defeated countless powerful opponents and even David who is already a god.
David Jehoahaz Abraham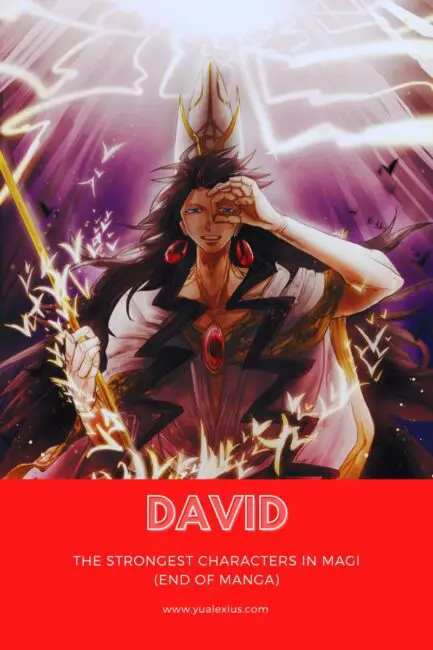 The father of Solomon and a great conqueror. David is the leader of the Magicians from Alma Torran, the old world, and one of the characters that acquired godhood in the series. He also became the magi of the God Sinbad. He is cunning but this downfall might have been his obsession to achieve godhood that leads him to fall into depravity.
Uraltugo Noi Nueph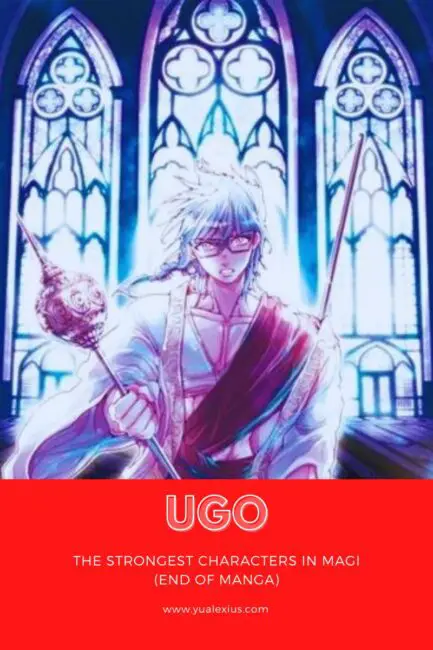 Simply known as Ugo. The only entity in Magi who is closest to god and can withstand them is no other than Ugo who pretty much assumed almost all the burden and responsibility that Solomon left behind after his sacrifice. Ugo is the guardian of the Sacred Palace and acts naturally as the god of the New World that Solomon has created. He fought Sinbad valiantly and even the god David. Fighting with those gods is testament enough to make Ugo one of the strongest characters in Magi and one in the upper echelon of this list.
Solomon Jehoahaz Abraham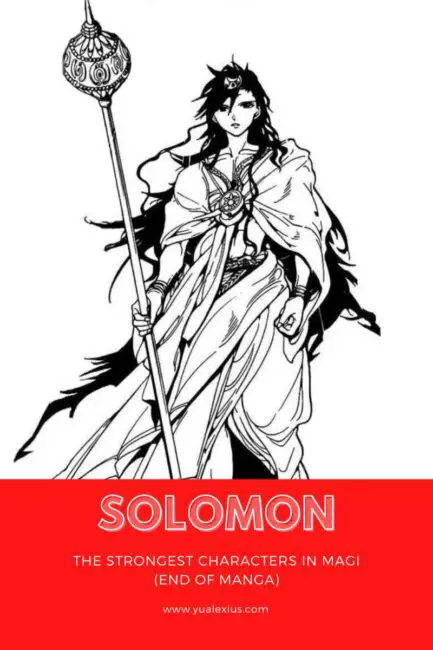 With his power and control over the Law of Physics, Solomon is basically a god in his own right and sits in the 4th place on our list of the strongest characters in Magi. He is the son of David and the father of Aladdin. He sacrificed his life to help Alma Torran who is on the brink of destruction and created the New World. He is a wise ruler whose ideals far more surpassed anyone in the story but failed to completely realize it.
Aladdin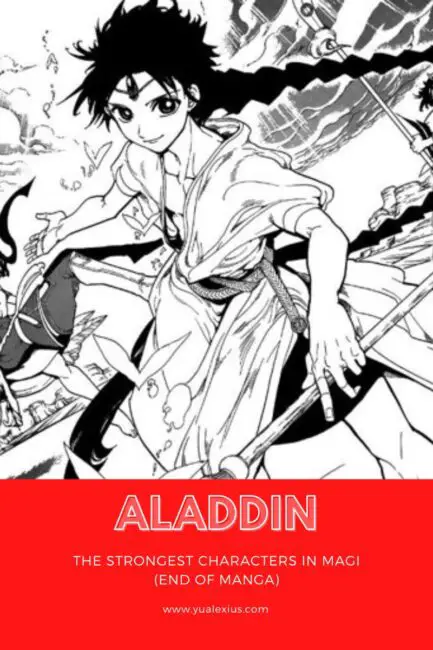 The son of Solomon and with all the powers he has inherited from his father, Aladdin just has so much potential in him. Later on, he even surpassed his father in terms of strength and wisdom, and he eventually put an end to the depravity that sprang from Sinbad and David altogether. Basically, Aladdin became the strongest magic user in the Magi who haven't achieved the status of a god.
Arba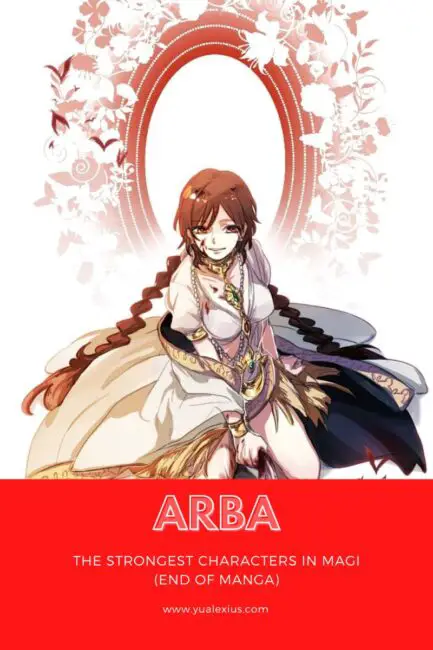 Not only she's one of the strongest magic users in Magi but Arba is also a powerful swordsman, the strongest of Alma Torran. She taught Solomon swordsmanship and even without relying on her powerful magic, she can handle a fight with her physical strength. She also has a strong regeneration power and as a Magi, she was the strongest in the New World before Aladdin awakened the true power of the Wisdom of Solomon.
Judar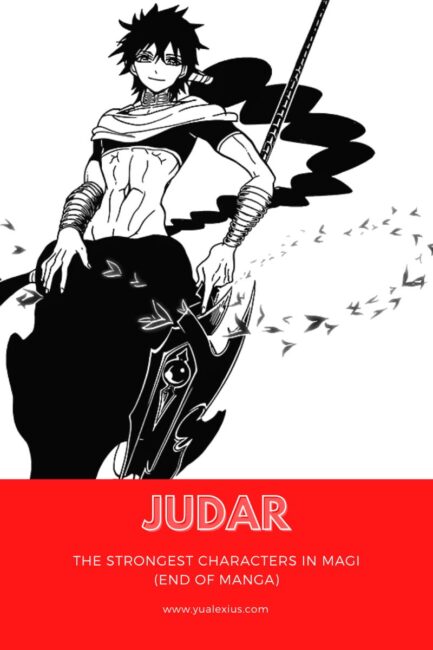 The next Magi on our list is Judar, magi that specialize in Ice Magic and who has a dark story to tell. An archnemesis of Aladdin in the early part of the story, Judar is the magi of the former Kou Empire and Ren Hakuryuu. Together with his king, he fought valiantly against Arba who possessed the body of Ren Gyokuen. He is initially stronger than Aladdin in the start and doesn't mince words even insulting the other magi such as Yunan and Scheherazade.
Yunan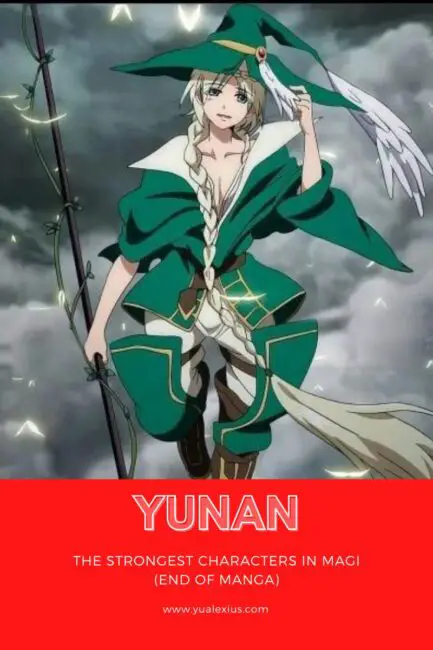 The traveling magi and one who I think is shrouded in mysteries all this time until he fully unveiled his strength when he fought Arba. Initially thought by everyone as Sinbad's magi, Yunan is no one's magi. He, who had been reincarnated a lot of times with his memories of his past life intact, Yunan is a special magi who acts rather laid-back. In his fight against Arba, despite he lost badly, he definitely possessed so much power that we haven't seen from other magi like Aladdin, Scheherazade, and Judar. Albeit, we haven't heard how well is he during the time skip.
Ren Hakuryuu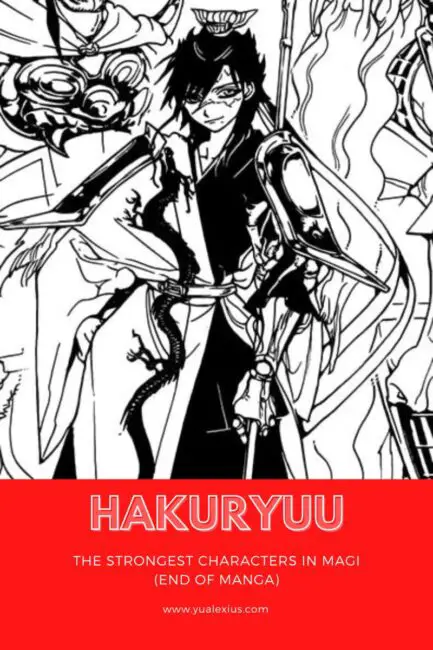 Naturally, the numbers 9 and 10 in this list can be changed depending on which point of view you'll take. But for me, I'll go with Ren Hakuryuu who fought against Arba and seemingly killed her body as Ren Gyokuen. Hakuryuu has two Djinn at his disposal and while initially, he is below in power compared to his cousins, especially Ren Kouen, Hakuryuu's growth makes him a contender as the strongest king vessels in Magi with the exception of Sinbad.
Alibaba
I often put Alibaba and Hakuryuu together in terms of strength and they're pretty on par with each other but when it comes to raw talent and opportunity, Hakuryuu might have more luck than him. But I hate to admit it, I am not a huge fan of Alibaba but it is noticeable how strong he became as the manga progresses and even surpassed those characters who used to be stronger than him. He is quite similar to Solomon in having rather impossible ideals but he stays true to himself and hasn't deviated to the wrong path unlike what happened to Sinbad.
Last Updated on January 29, 2023 by Yu Alexius