One of Youku's most successful donghua of 2022 is coming back for another season and we have plenty of things to look forward to in its return in Tomb of Fallen Gods Season 2 on which we follow a quest for the truth and discover a path filled with blood and heroism.
The announcement that Tomb of Fallen Gods is getting the 2nd season has been after the finale of its 1st season which took place on October 27, 2022.
Synopsis
Shenmo Cemetery is the resting place of ancient Gods and Demons. An inconspicuous grave, surrounded by the tombs of giants, lies at the side. Suddenly, a young man emerges from the grave. Chen Nan, who had last felt the embrace of death, finds himself surrounded by the graves of Deities whose names shook the old Xiuhuan and Mohuan Continents. What happened to them? Why was he buried here as well? He finds that ten thousand years have passed, and the world has changed much in the meantime.

Source: Novel Updates
Tomb of the Fallen Gods or also known as Shen Mu is adapted from a Chinese web novel by Chendong whom you might be quite familiar with as the author behind the popular donghua Perfect World (Wanmei Shijie) from Tencent Penguin Pictures and Shanghai Foch Film. He is also the author of the upcoming donghua Shrouding the Heavens (Zhe Tian) which was previously announced by Tencent Video Animation as part of their upcoming donghua releases.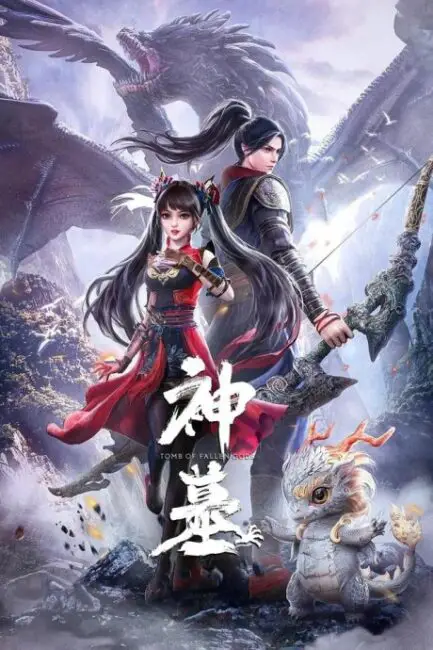 For those who haven't watched the donghua adaptation of Tomb of the Fallen Gods, the series aired from July 21 until October 27 of 2022 and offers quite a different yet still familiar vibes to many fans of Chinese animation, in particular, the xinxia (high fantasy) genre fans should have enjoyed it.
The novel was also adapted into a live-action drama in 2021 and was dubbed The Warrior from Sky or The Warrior's Graveyard which stars Wang Zhuo Da, Li Ming Xuan, Ci Sha, and Zhang Di.
Animation Studio & Release Date
Now that Tomb of Fallen Gods Season 2 had been announced, it's about time to check out the team behind it. We have Wonder Cat Animation as its main studio. If you may not know, Wonder Cat Animation is known for producing high-quality donghua such as the later episodes of A Record of a Mortal's Journey to Immortality, the underrated martial arts donghua Dragon's Disciple, and the recently released sci-fi The Infinitors.
Joining it in the animation Tomb of Fallen Gods is studio Rocen, the studio behind the long-running historical period-drama donghua – Painting Rivers and Lakes.
Unfortunately, no release date had been announced for the donghua yet. We will keep you all posted once we get new updates about it.
Where to Watch the Donghua?
Now, you must be wondering where you can watch the donghua upon its return for its 2nd season. You can start by following or checking out its official outlets on Weibo and Youku as the production committee had been posting trailers, promotional videos, and news about the series prior to its release date.