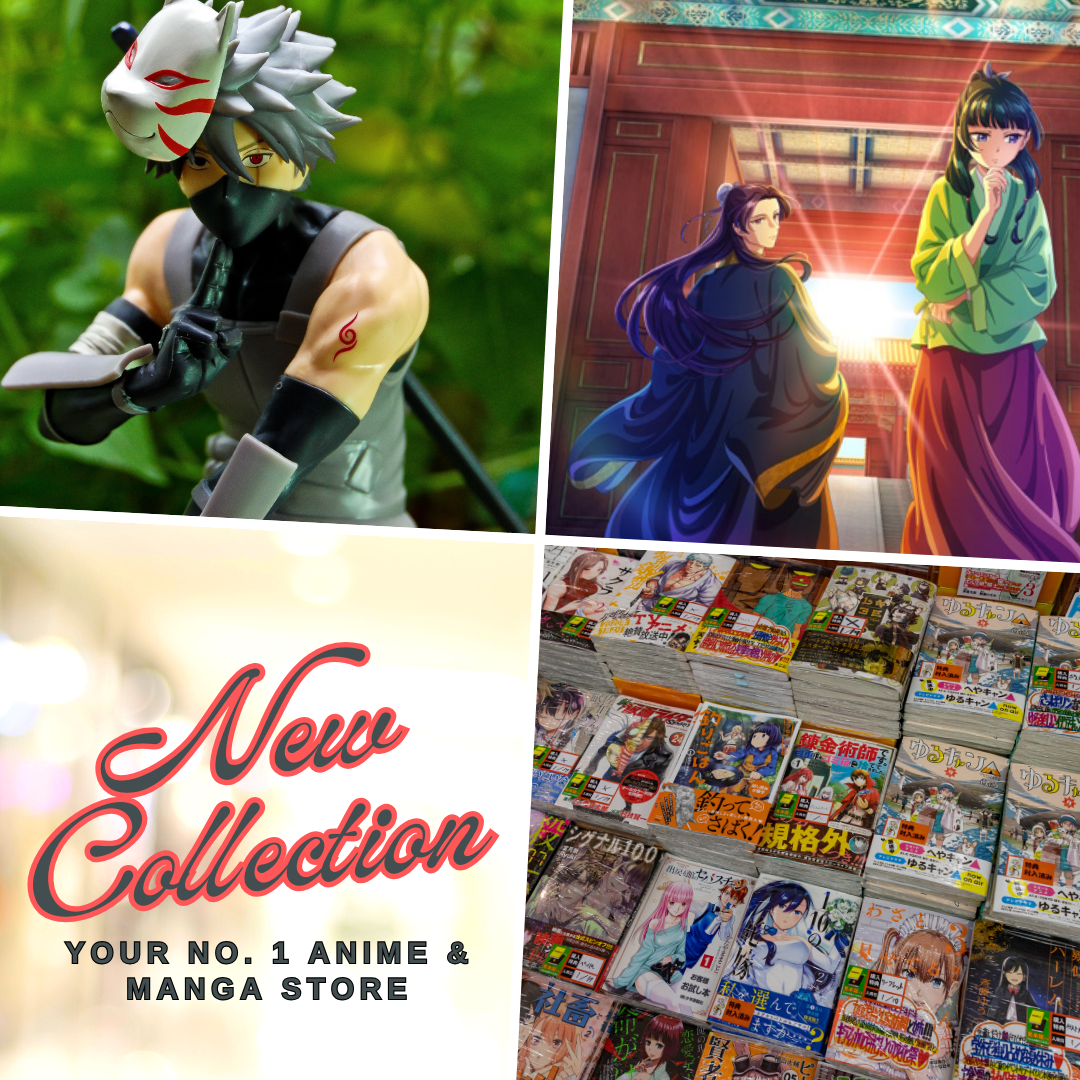 A story of freeing from slavery and raising your status to be on the same level as your master might be quite a common plot. However, this kind of story is eventually something that we can all relate to at some point as life itself is like being bound to this world. Good thing, fiction can be strange at times, and such are the peak moments that I often enjoy with high fantasy stories (xinxia) or also known as Immortal Heroes from many Chinese anime out there.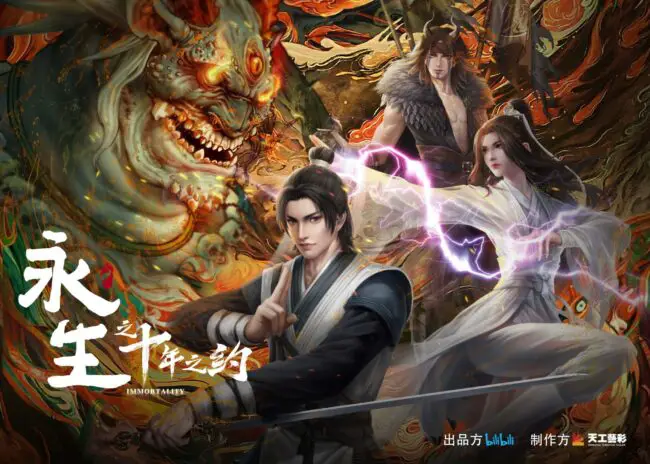 Every year, we often get stories about cultivation and exciting adventures, a story of revenge or simply craving to get stronger and reach the top of the world, such is the case in many xinxia as it offers the viewers a fantastic adventure no matter how generic the story can be and I must admit, this year is no less than that, we get plenty of good stories but one that truly marks in my mind is this new donghua (Chinese anime) from Bilibili called Yong Sheng or also known as Immortality.
It's one of Bilibili's earliest offering this 2020 which was released in the last week of January and had run for 12 episodes it had been a spectacular ride, for myself specifically as it brings a beautiful fusion of wuxia (martial heroes) and xinxia (immortal heroes) with its well-written and well-paced story with pretty decent animation compared to many subpar shows in the same genre.
Yong Sheng Season 2 (Immortality) Updates
Now, many people might have been asking this question, is Yong Sheng Season 2 already announced or confirmed? Will the donghua get another season? Will a tiny thread of silver lining for Hongyi remain after that rather anticlimactic finale? So many questions are raging in our minds and I am among the fans who had been quite surprised by how the finale turned out but overall, I believed that it has been a good ride.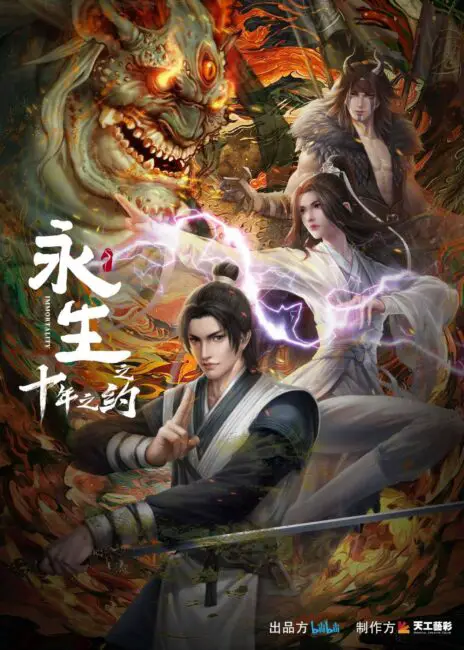 Just like many donghua, I only believed that Yong Sheng has just started with its 1st season and has been a good introduction to its world and we definitely need another season 2 to fully dive into it and delve deeper into its story and the conspiracy of the immortal and demonic sects. Above everything else, we are excited about how Fang Han will continue his journey after all that happened in the previous season and how his relationship with Fang Qingxue develops.
Yong Sheng Season 2 had been officially announced during the Made by Bilibili 2022-2023 event. Immortality Season 2 is one of the 49 titles that Bilibili had announced during the event on which it'll be among the highly anticipated sequels along with The Daily Life of the Immortal King Season 4, Fairies Album Season 4, Rakshasa Street Season 3, and Link Click Season 2 to name a few. The announcement has also unveiled a new PV and concept art for the donghua shown below.
As of writing, Yong Sheng has accumulated a total of 100 million views on its official page in Bilibili.
Animation Studio & Release Date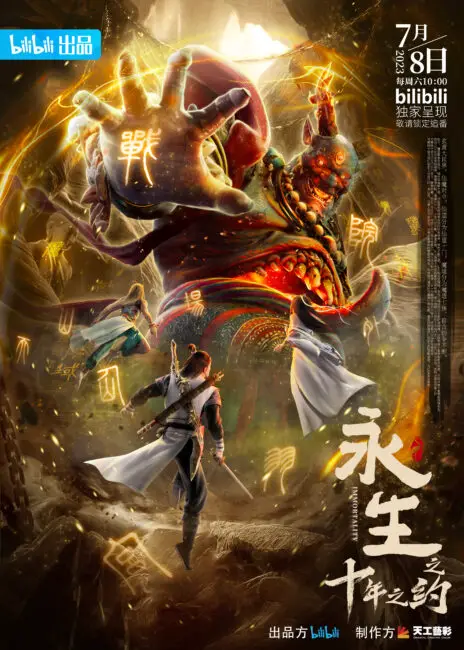 Oriental Creative Color is coming back as the production team of the series. Immortality Season 2, also known as Yong Sheng: Shi Nian Zhi Yue is also scheduled for release on July 8, 2023, that is based on the latest announcement from Bilibili which was accompanied by a new key visual and promotional video featuring Fang Han, and Fang Qingwei.
Meanwhile, for those who haven't watched Yong Sheng yet, I urge you to check it out. I, myself had been surprised by it although it took me quite a while before I start watching the series. It looks plain on the surface but it sure does have better quality than many Chinese anime nowadays. The animation was gracefully done with gorgeous graphics and decent fight scenes.
The character designs are absolutely beautiful which reminded me of A Record of a Mortal's Journey to Immortality since they both feature quite a realistic appearance of characters that resemble real people in the real world.
Although, the series definitely fooled me by having bad guys who appeared to be good as my expectations had been betrayed by initially liking some of the evil characters. I think that is one of the strengths of the donghua by providing so many surprises to the viewers.
Yong Sheng was adapted from a Chinese web novel of the same title by Meng Ru Shen Ji (who also wrote the novel where the donghua Dragon's Disciple had been adapted from). The adventure and drama donghua was animated by Oriental Creative Color.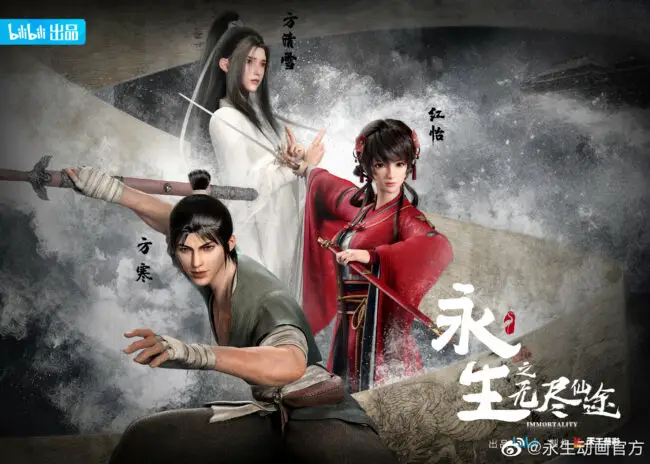 Synopsis
Fang Han, a humble family slave, always held the belief that "I would rather be a beggar than a slave", traversing the world only by himself. With an unyielding stubbornness, he cracked the mystery of supernatural powers and forged his body into an immortal body. He worked hard to step into the fairyland, and eventually became the peak king.

Source: bilibili
The donghua also features familiar voice talents in its cast such as Liu Sicen who voiced the MC Fan Hang, Zhang Yumeng as Hong Yi, and He Wenxiao as Fang Qingxue. Popular donghua voice talents such as Liu Cong and Lu Lifeng are also in the lineup providing voices for the characters of Yan (the Dragon Spirit) and Yuan Jiankong, respectively.
If you wish to watch Yong Sheng, the donghua had been streamed officially on Bilibili: IMMORTALITY as well as on its YouTube channel. And while we are waiting for Yong Sheng Season 2, you might want to check this list of donghua and anime similar to keep the hype alive.
Last Updated on June 17, 2023 by Yu Alexius