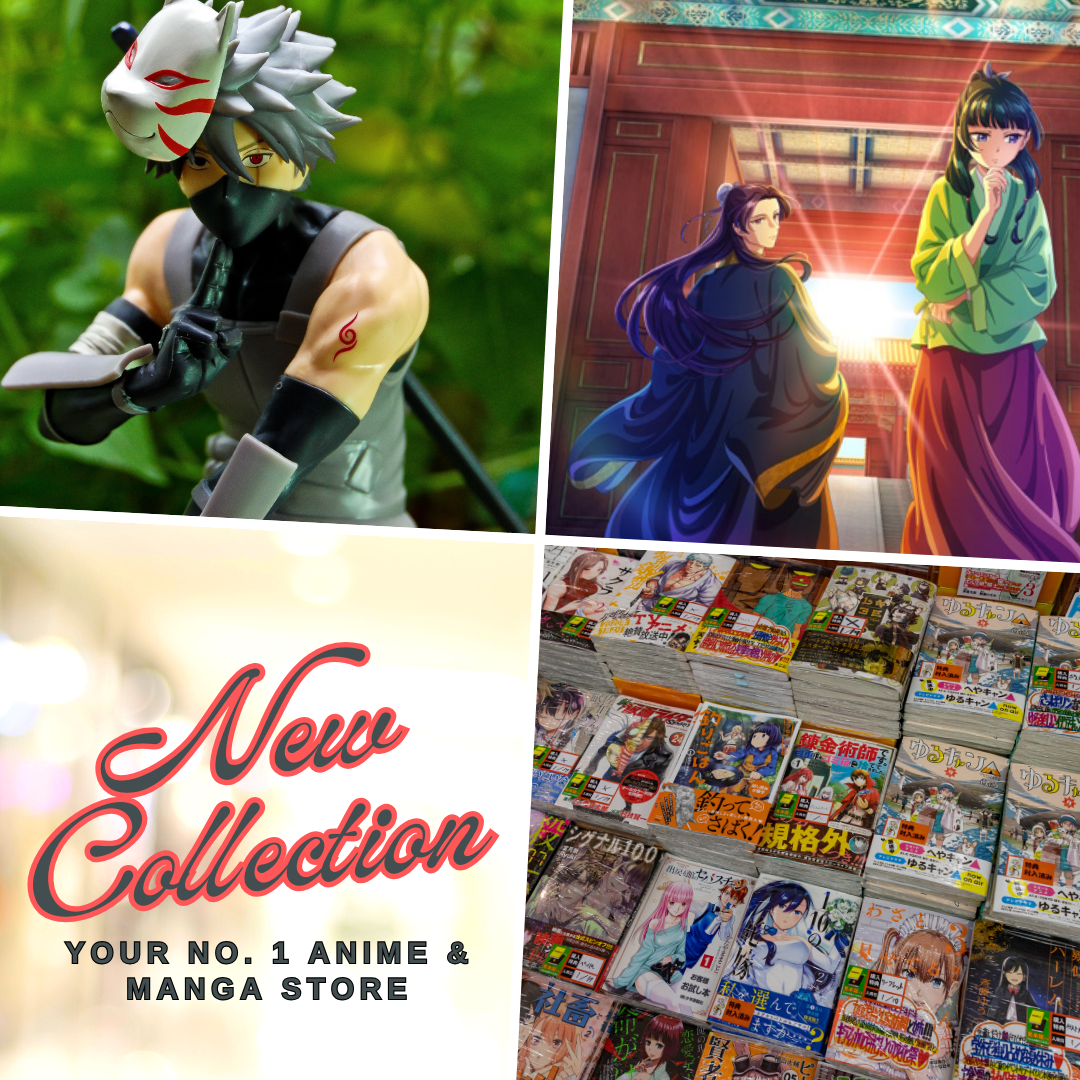 This is the 4th installment of our series of top 10 anime of 2021 by genre and we shall discuss the shows that gave us a fantastic ride and hilarious moments despite how hard this year might have been to many of us. Anime as a form of art, as a form of entertainment, had helped us go through life with positivity and sometimes with a cheerful outlook due to comedy stories that never fail to bring smiles to our faces, even in dire situations, even if the jokes themselves can be boring at times. We still end up laughing and that's sufficient enough to remember which anime had made our year funny and enjoyable.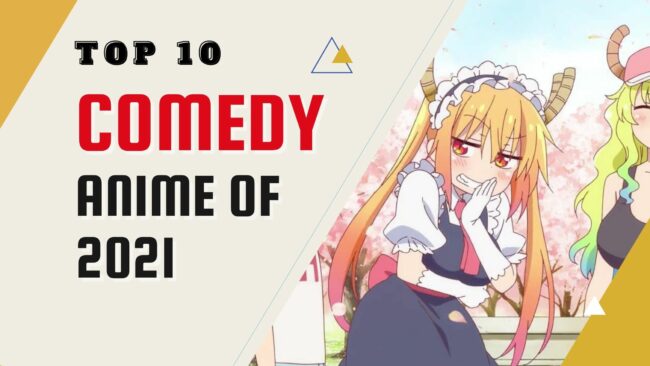 Top 10 Comedy Anime of 2021 (Year-end Review)
In line with this, we hereby present our top 10 comedy anime of 2021 – these are the best titles that give us a good laugh from the various seasonal lineup. Without further ado, let's start the list as follows, and let's begin with the unexpected hilarious supernatural cliches we enjoyed this Fall.
Mieruko-chan
This is an anime that will either give you a laugh or scare the hell out of you. For many anime fans, this is a total ride of absurdity and hilarious moments while for some, it is a light dose of supernatural cliches and some drama. On my end, I don't know if I'll laugh, cry or get scared but I definitely felt all of those emotions. Nonetheless, Mieruko-chan is a really funny story with ghosts and apparitions, and a decent amount of family and friendship drama.
Miss Kobayashi's Dragon Maid Season 2
Our favorite and adorable dragons from Kyoto Animation had made 2021 a year to remember. KyoAni is back after the devasting and tragic fire incident from 2019 and we're glad that Miss Kobayashi's Dragon Maid Season 2 is among their earliest projects since then. Tohru and the gang never failed to give us a splendid run from start until the end with a perfect fusion of drama and humor. Nonetheless, it's just crazy to see almighty dragons acting like humans and all imitating our dumb shenanigans.
Related Review: Miss Kobayashi's Dragon Maid Season 2 was great, with definite bright and dull spots spread out evenly.
Dragon Goes House-Hunting
Imagine watching a dragon doing a comedy show? This is what we all got from this hilarious and obviously one of the best comedy anime of 2021. Dragon Goes House-Hunting is funny, and can still be wholesome at times while delivering a lot of dumb yet relatable jokes, and what's even amazing is that this dragon can execute the humor effectively. I swear dragons does not only excels in fantasy anime but also comedy. It may look mediocre at best, but what truly matters is that it was able to bring smiles to the faces of the viewers through its effective parody and gag show.
The Slime Diaries: That Time I Got Reincarnated as a Slime
Let's take a break from all the action and politics and simply enjoy an isekai life with slime and his newfound sanctuary. There's familiarity in the unknown, this is a different look at our favorite characters from That Time I Got Reincarnated as a Slime, this time, we see Rimuru-sama and his daily life together with his new friends and allies. It was all good vibes!
Koikimo: It's Too Sick to Call this Love
With its odd plot and premise, and a bit shocking to people from different cultures, Koikimo can be hilarious, cute, romantic, or disgusting. Nevertheless, it was no doubt that it was able to deliver the funny moments that we all need. All the light humor and relatable cliches of a romance with an age gap, and a little exaggeration make it a worthwhile experience and undeniably a favorite romance and comedy anime of 2021.
Heaven's Design Team
Now, here's a rather unique and absolutely funny anime from 2021. It does not have any plot at all, just staff from heaven presenting how they invented Earth's creatures as we know it. It is a fun slice-of-life anime and somehow makes sense a bit since it just shows how bizarre our world is. It's more like a legend or myth retold in hilarious narrative and address peculiar issues that always ended up as gag antics.
Horimiya
It's romantic, it's dramatic, but it can be hilarious too! Horimiya delivers a light and heavy dosage of humor in every episode and mixed it evenly along with its timely and relevant message and its heavy-oriented drama. In the end, the anime is a colorful mixture of different genres and comedy is one where the series excels at its best.
Tsukimichi: Moonlit Fantasy
It has been a smooth run for Tsukimichi and it's the isekai anime that we may not know that we all deserve. It has the usual funny and parodic approach of KonoSuba while not truly falling completely without a serious plot. Tsukimichi is shounen at heart with all the usual antics that we often get like a harem, powerful main character, and good production quality. The series sits in the middle of much popular isekai anime, making it a bit familiar yet still unraveled at some point. It's quite the messy type but in a good way, and it works perfectly in bringing fun and enjoyable moments with plenty of exciting twists unfolding in every episode.
Komi Can't Communicate
Now, the humor in this anime surely came from all the cute moments that it served. It reminds me of the feels from watching anime like Horimiya, Oresuke, Kaguya-sama: Love is War and many more. The characters can be annoying and over the top, and I think they make the anime even more hilarious and further annoying at times. Nevertheless, it's cute, adorable, and absolutely gorgeous art with a good premise.
The Dungeon of Black Company
Silver Link is always one of the best studios when it comes to comedy and fantasy anime and this series from the summer lineup might've been one of the underrated gems this year. The Dungeon of Black Company is hilarious and infectious as it gets. Don't blame capitalism, but this anime is rather unique on its own and sets itself apart from the majority of isekai stereotypes. It is a satire at its core and corresponds with the Japanese corporate culture and I think many people could relate to it. It's great that we are not getting a lot of fanservice and treated anime fans with real comedy.
Honorable Mentions
Meanwhile, here are some more comedy anime of 2021 that deserves to be mentioned or recognized in this post as together, they made our year an exciting and hilarious ride through many seasons.
Hamefura: My Next Life as a Villainess: All Routes Leads to Doom! Season 2
Welcome to Demon School Iruma-kun Season 2
Zombie Land Saga Revenge
Mushoku Tensei: Jobless Reincarnation
My Senpai Is Annoying
Life Lessons with Uramichi Oniisan
Girlfriend, Girlfriend
Mother of the Goddess' Dormitory
The Great Jahy Will Not Be Defeated!
The Case Study of Vanitas
Don't Toy With Me, Miss Nagatoro
Jujutsu Kaisen
Redo Of Healer
Last Updated on September 30, 2022 by Yu Alexius