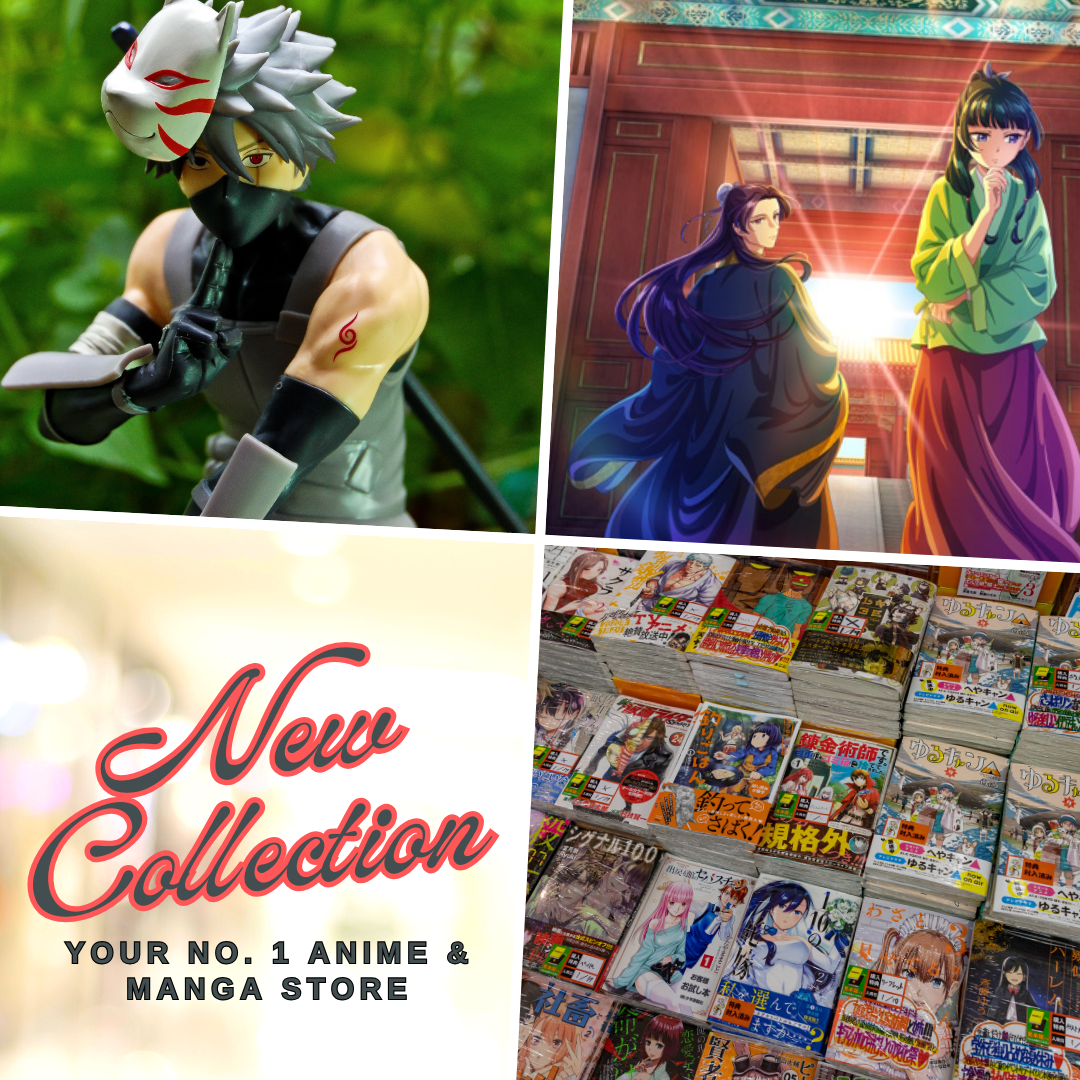 Have you ever wondered which of our favorite characters from a donghua shared the same voice actors? In one way or another, you might have spoken to yourself, "Oh! This voice sounds familiar, have I heard it before from other Chinese anime?" For many of us, it's always amazing to learn some facts, whether it's big or small, essential or not because at the end of the day, knowing about these details gives us some kind of satisfaction and somehow filled up our curiosity.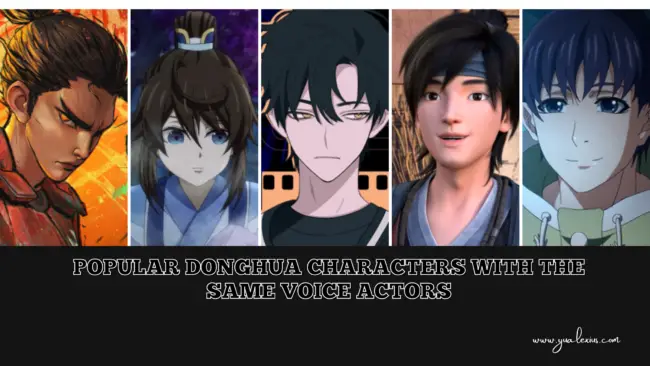 In Japanese animation, it's always amazing how fans can easily identify the voice of their favorite seiyuu (voice actors) even though they are playing other characters. What's even more amazing is when you found out that your favorite voice actors can be versatile in bringing the anime characters to life. Imagine, having a softie character who also happens to share the same voice actor with an eccentric, boisterous, and war freak character. Sometimes, it's just unbelievable how some voice actors can give life to different anime characters with so much authenticity from their other works.
The same thing can be said with Chinese animation too. We have plenty of talented voice actors in the donghua industry and while their profile may not be as big as their counterpart from Japan, they definitely have plenty of things to boast from this side. Since we are talking about anime characters that shared the same voice actors, I will be sharing in this post 10 characters from a Chinese anime (donghua) that voiced the same actor. I'm telling you, some of these characters might surprised you. So, without further ado, let's start the list as follows:
Ye Xiu and Wei Wuxian | Zhang Jie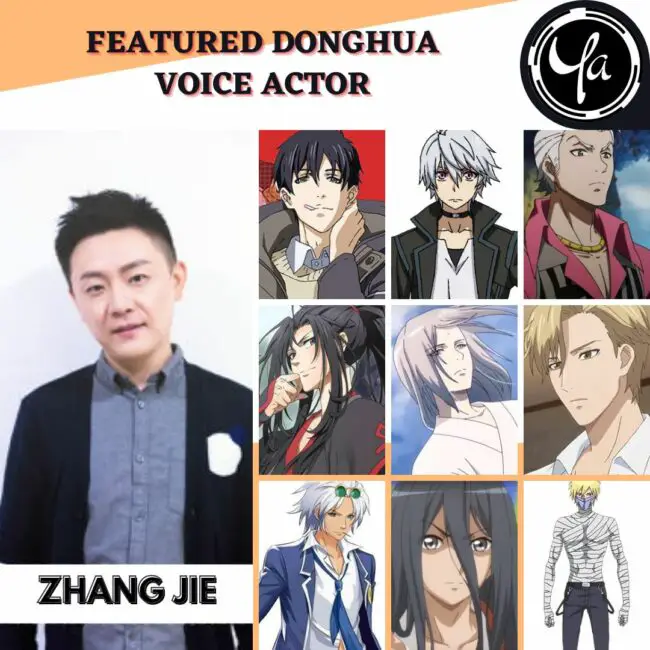 First on our list is the powerhouse main characters of Chinese animation, Ye Xiu from The King's Avatar and Wei Wuxian from the Grandmaster of Demonic Cultivation. Zhang Jie had voiced two of the most extremely popular and beloved Chinese anime main characters and he did an exemplary job doing it.
Lan Wangjie and Li Jinglong | Jiang Bian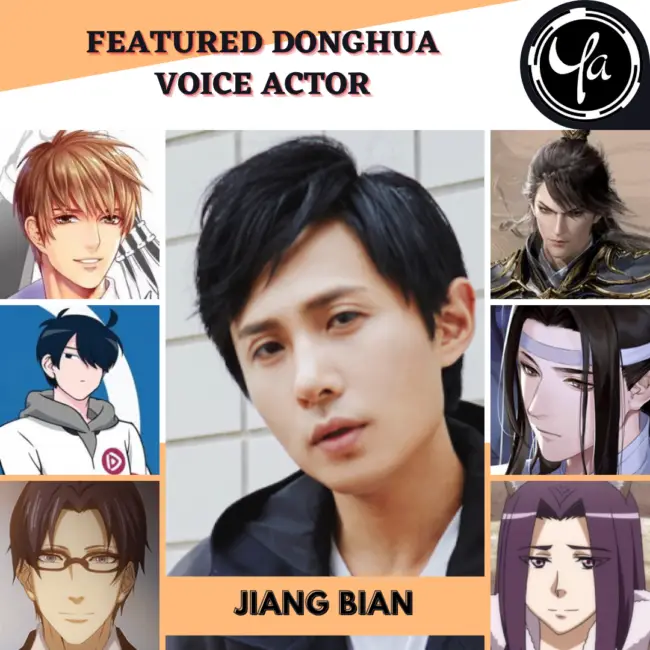 Jiang Bian excels in portraying the serious type of donghua characters and here's two of his most popular portrayal. Lan Wangjie from the Grandmaster of Demonic Cultivation, and Li Jinglong from the Legend of Exorcism; and both characters were from a danmei story, or what anime fans have usually known as boys-love.
Xie Lian and Yan Zhengming | Jiang Guangtao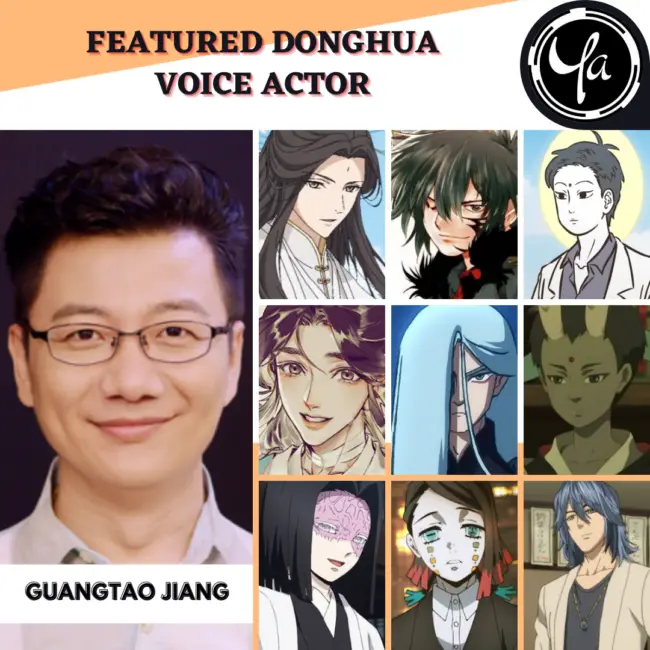 Next on our list is one of the most prominent donghua voice actors in China right now, he was also the mentor of Zhang Jie and that is Jiang Guangtao. He voiced one of our beloved main characters from a danmei series and that is Xie Lian from Heaven Official's Blessing, which had been my best Chinese anime of 2020. Aside from Xie Lian, Yan Zhengming will also borrow his voice in the upcoming Chinese boys-love anime, Liu Yao: The Revitalization of the Fuyao Sect which is adapted from a danmei novel by Priest.
Cheng Xiaoshe and Bai Xiaochun | Shanqing Su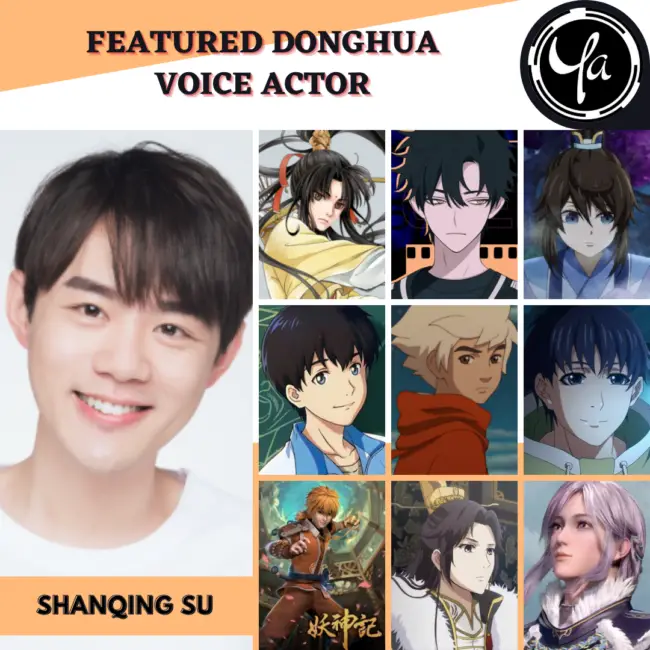 The recently concluded LINK CLICK from bilibili had put the entire donghua community in awe as it delivered a spectacular ride from start to finish. Personally, it became one of my persona favorites and definitely, among the best Chinese anime that I had seen and it can even compete against the best of Japanese animation. So, why am I talking about LINK CLICK? It's because Cheng Xiaoshe, one of its main characters is next in our discussion and I am simply sharing that he had become a big and popular donghua character now and I hope many people will still discover LINK CLICK. He also shared the same voice actor with another popular character and that is brother Bai Xiaochun from A Will Eternal, one of the best donghua that premiered n 2020 and had just concluded recently. So, who is the voice actor behind them, that's is Shanqing Su, he also gives voiced other big names such as Li Nie from Tales of Demons and Gods, and Jin Ling from the Grandmaster of Demonic Cultivation.
Su Mucheng and Luo Su | Xinzhu Tong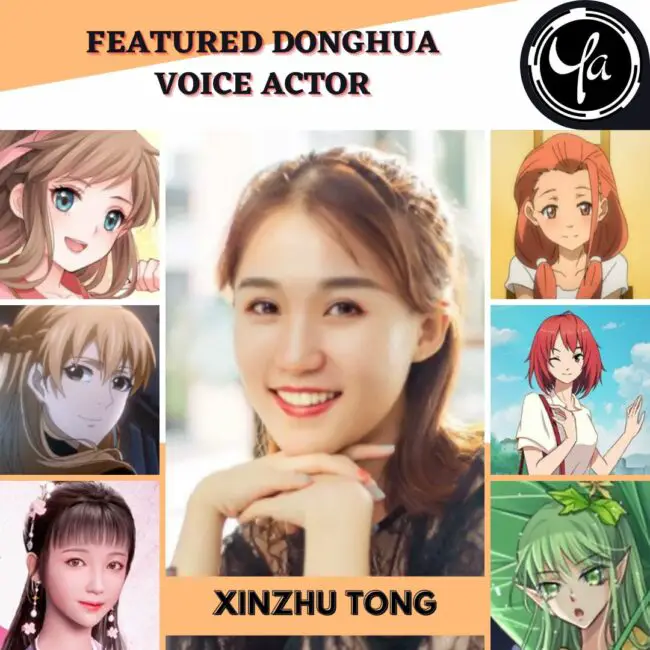 We have the first female voice actor in our list here and that is Xinzhu Tong who brought the characters of Su Mucheng from The King's Avatar, and Luo Su from The Demonic King Who Chases His Wife to life.
Lu Guang and Jin Guangyao | Tianxiang Yang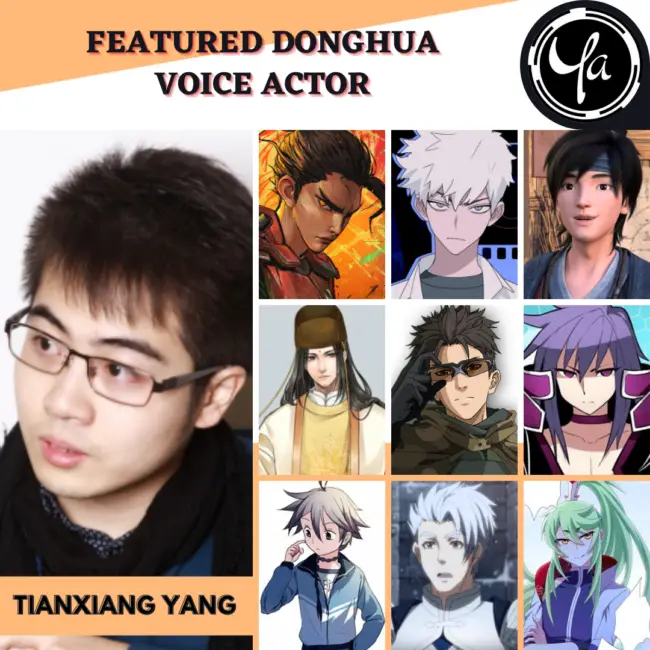 Alright, so here's the other main character from LINK CLICK, Lu Guang which had been my favorite shared the same voice actor to the adorable yet one of the antagonists of the Grandmaster of Demonic Cultivation, and that's Jin Guangyao. Both characters were voiced by Tianxiang Yang who is also known for his works on two of the biggest animated films from Light Chaser and these are New Gods: Nezha Reborn as Li Yunxiang, and White Snake as Axuan.
Bao Rongxing and Wu Xie | Jiven Teng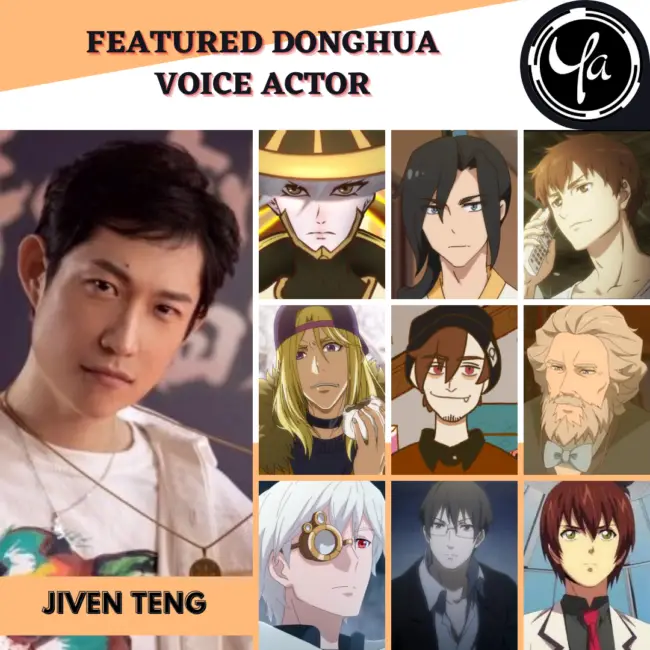 Jiven Teng had been one of the popular donghua voice actors today and he had plenty of big series in his profile. He usually plays the supporting roles but they are fan favorites such as Bao Rongxing (Steamed Bun Invasion) from The King's Avatar, and Ira Blood from All Saint's Street. However, he also had some lead roles and that includes Wu Xie from The Lost Tomb Chronicles donghua adaptation this 2021, and Zixin Zhong from the bilibili original series The Country of Rare Treasure.
Shen Qingqiu and Yan Wushi | Lei Wu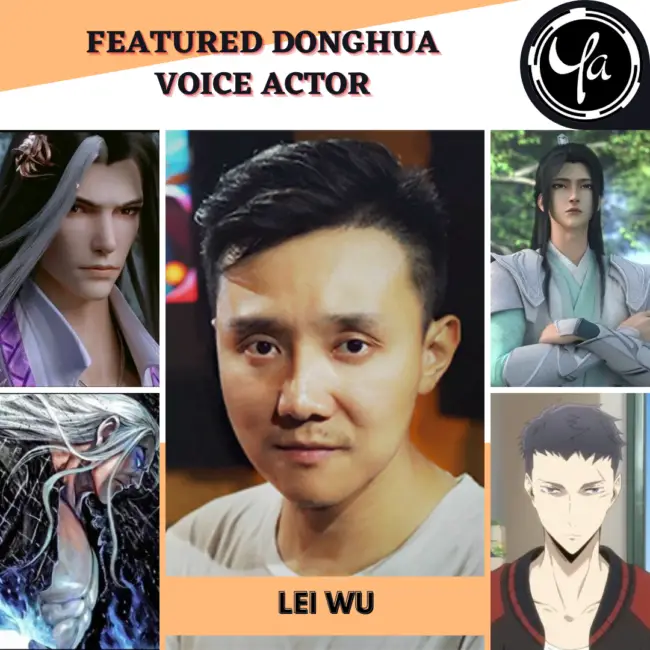 Alright, would you want to join me in shouting, DADYYYY…  to the next set of characters in our list? Yes, Lei Wu is the voice actor that brought some of the hottest characters from any donghua to life. His portrayal of the badass and tsundere Jiang Yuduo had already stolen my heart. However, his biggest roles were playing the Shen Qingqiu or Shizun from the Scumbag System, and Yan Wushi from Thousand Autumns. I actually loved these three characters and they are all from a danmei (boys-love) series, so I must say Lei Wu sure knows how to satisfy BL fans out there. Yan Wushi to be specific was smoking hot, he definitely did give him a dominant ambiance through his voice, while Shen Qingqiu does have a bit of reservation and relies on the humor of the story, making his character adorable and light.
Liuyun Nangong and Yuan Ding | Hao Xianghai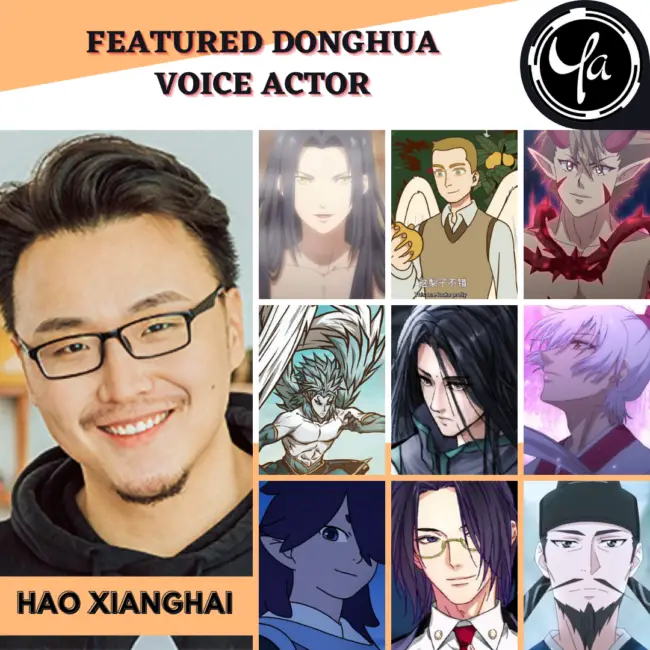 Also known as Slayerbom, Hao Xianghai had voiced many characters from various bilibili series which include Fog Hill of Five Elements, White Cat Legend, and the Manual of Hundred Demon. However, I think his biggest roles were those from Tencent such as Lynn Angel in All Saint's Street and Yuan Ding in Planting Manual. He also voiced Fengxi from The Legend of Hei prequel movie, and the insanely hot mess that we had from the Demonic King Who Chases His Wife, Liuyun Nangong.
Chen Guo and Madame Yu | Guanlin Ji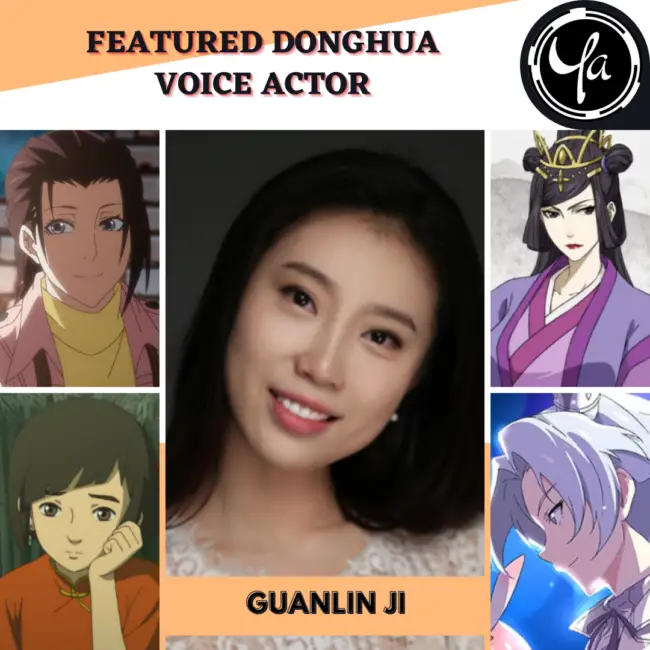 So, let me finish this list with a woman, a donghua voice actor that gave us an adorable sister, and a fierce mother. Guanlin Ji had voiced Chen Guo from The King's Avatar, our favorite boss and probably one of the main sources of comic relief from the series. From being the funny and die-hard Ye Qiu fan from The King's Avatar, he became a fierce and cold-hearted mother in the Grandmaster of Demonic Cultivation, such versatility that Guanlin Ji had shown. Yu Ziyuan or Madame Yu was one of my favorites from the series and her presence and sharp tongue were a scene to behold despite the way she treated Wei Wuxian.
Alright, so these are all our list of donghua characters that share the same voice actors. If you wish to learn and discover more, you may check my Facebook page, I have compiled them in an album in this link, Chinese Anime (Donghua) Voice Actors Archive.
So, let me ask you guys, which of these voice actors are your favorites? Which had to give you so much fun and surprises by voice different types of characters? Share your thoughts with us in the comment section below and don't forget to subscribe to our newsletter to get the latest updates from us right in your email's inbox.
Last Updated on November 8, 2022 by Yu Alexius