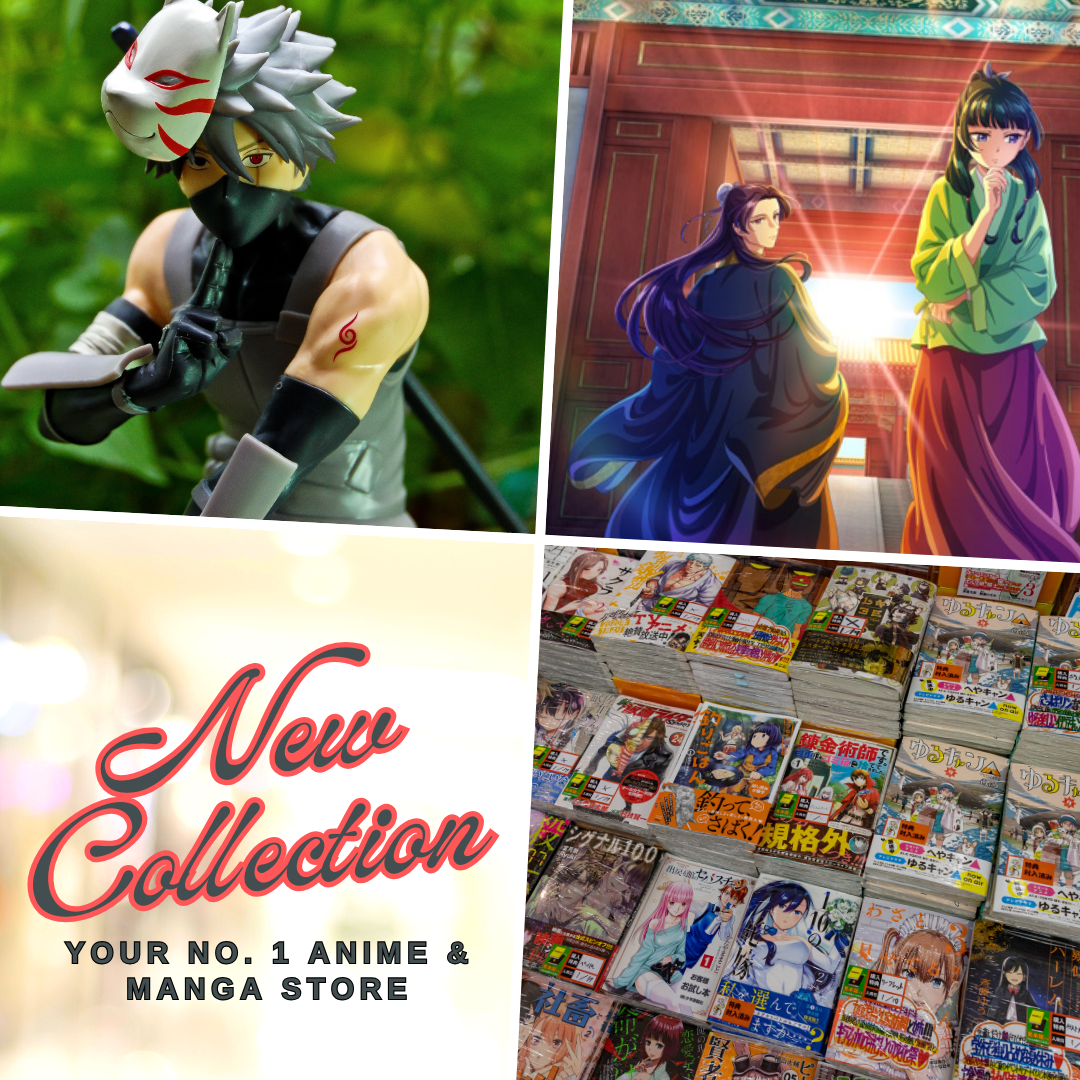 Society's quite judgmental about certain norms that had been set for so long that often led to contradicting philosophies. For example, the huge age gap between couples is still not widely accepted by the majority even though it's been around for so long. The romance cliche of the spring 2021 anime lineup had led me to post about this topic and thus, we get a list of the best anime with an age gap as its elements.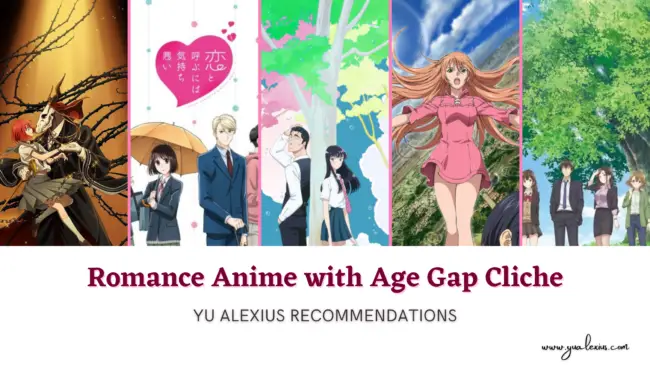 What? Is there any romance anime with age gap this season? That might have been the expression for some of you who are not watching the spring 2021 anime lineup. So, the answer is yes, and guess what? It's not only one, but we have two anime that involves a romantic affair between two characters with unsettling age gaps for some viewers. While it doesn't start to be romantically intimate from the start both these two anime are amazing and entertaining.
Romance Anime with Age Gap Cliche
It's Too Sick to Call this Love, Koikimo
Koi to Yobu ni wa Kimochi Warui | Alright, so I am starting this list with Koikimo, one of my favorite anime from this season. This is a hilarious ride with plenty of cute moments to savor in every episode. We've got a corporate man in this 20s who's chasing the classmate of his younger sister after having been saved once from falling off the stair. There are so many funny scenes yet romantic at the same time that will make the hearts of the romcom geeks crave for more.
One rainy day, salaryman Amakusa Ryou is saved by a high school girl he doesn't know at the station. He later finds out that the girl is Arima Ichika. Ryou is somewhat of a womanizer and to repay her for saving him, he suggests giving her a kiss or going out on a date with her, in which Ichika tells him he's creepy. This, however, opens a new door for Ryou and he falls madly in love with her. Ever since then, Ryou tries to overly express his feelings to Ichika. Ichika just keeps insulting him and says he's being creepy, but he just seems to take it as her way of showing affection towards him… (Source: Crunchyroll)
Higehiro: After Being Rejected, I Shaved and Took in a High School Runaway
Hige wo Soru. Soshite Joshikousei wo Hirou. | Now, here's another rom-com anime from this year and while it has the same premise as Koikimo, it is more on the mild and dramatic side of the stick. We have a salaryman here who let a runaway high school girl stay in his place. The girl offered her body to him but he didn't get tempted. I think Higehiro is an anime that stands in between so many boundaries and does not simply involve romance but also a bit of moral, and there's plenty of life lessons to learn from it in small details.
On his way home from drinking his sorrows away after being rejected by his crush, the 26 year old salaryman, Yoshida, finds a high school girl named Sayu sitting on the side of the road. Yoshida is completely drunk out of his mind and ends up letting Sayu stay at his place overnight. Not having the heart to put Sayu out on the streets since she ran away from home, Yoshida allows her to stay at his place… And so began the awkward, irritable, and slightly heartwarming relationship between a runaway high school girl and a salaryman living together. (Source: Crunchyroll)
After the Rain
Koi wa Ameagari no You ni | One of the best romance anime we had from 2018, Love is Like After the Rain brings us the story of the manager and his employee who happens to be a high school student too. For me, this anime is a rather delicate and cute story to follow and there's still some kind of sincerity, honesty, and wholesome vibes that I get from this.
Akira Tachibana was once the ace of a track club, but an injury forced her to quell her passion for sports. Masami Kondou, a divorced father, had ambitions of being a writer and now manages a restaurant, where Akira works. It is the intersection of Akira and Masami's seemingly disconnected lives that makes each of them reconsider and redefine everything about themselves. (Source: Sentai Filmworks)
The World is Still Beautiful
Soredemo Sekai wa Utsukushii | I don't see people talk about this anime anymore but the romantic cliche from it is still as rampant until today. We've got a young emperor who forced the princess from a small island kingdom to an arranged marriage and while their love story itself didn't start promising, it sure evolves into something special. We have a teenage princess with the power to call forth the rain, and a young king who has the same vibes as Ciel Phantomhive from Black Butler.
Nike, the fourth princess of the Rain Dukedom and one who holds the power to call forth the rain, travels to the Sun Kingdom to marry Sun King Livius for her country, despite her own reluctance. She soon discovers that the King, who conquered the world in only three years after his ascendance to the throne, is still a child!! Furthermore, for trivial reasons, he has demanded that Nike call forth the rain…!?
The Ancient Magus' Bride
Mahoutsukai no Yome | The biggest age gap in this list might be this unusual couple we had here, the teenage Chise, and the centennial Elias. For fans of the fantasy genre, this could be one of the most magical anime experiences you could ever have and it has the perfect blend of drama, action, magic, romance, and comedy. What we have here a special relationship between a true magus and his bride, his student, his property that he had purchased from a bizarre underground auction.
Chise Hatori has lived a life full of neglect and abuse, devoid of anything resembling love. Far from the warmth of family, she has had her share of troubles and pitfalls. Just when all hope seems lost, a fateful encounter awaits her. When a man with the head of a beast, wielding strange powers, obtains her through a slave auction, Chise's life will never be the same again. (Source: Seven Seas Entertainment)
Garden of Words
Kotonoha no Niwa | Here's a very common age gap cliche in anime, the teacher and student relationship which we all know, do exist in the modern-day. Garden of Words follows the craving of the young teenage boy to the majestic adult world, and a young teacher who's trying to start on her own but got stuck at some point. Together, they find solace in each other presence, in that tiny single shed surrounded by greens amidst the bustling noise of the city.
Some people revel and play in the rain; others dread it and hide at the first drop. For high school student Takao, a summer shower is a source of artistic inspiration… but when he skips school in order to sketch in a rainy garden, Takao finds an even greater muse in Yukino, an older woman who seems adrift in the world. Despite the difference in their ages and lives, they strike up a comfortable relationship that slowly evolves as they randomly meet in the same garden whenever it rains. But with the rainy season coming to a close, Takao wonders if there's enough time left to put his feelings into actions and words. (Source: Sentai Filmworks)
My Wife is a High School Girl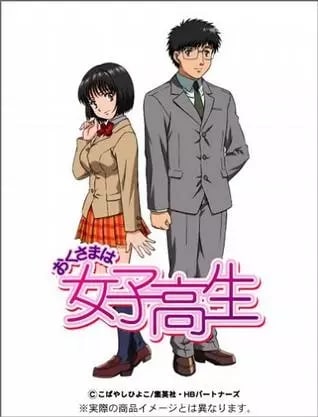 Oku-sama wa Joshi Kousei | They're married but they can't consummate their married life until the wife graduated from school, that's the twist of My Wife is a High School Girl.
Asami Onohara is a seventeen-year old high-school student with a secret which has not been revealed to anyone: She is already married. Her husband, Kyosuke Ichimaru, is a Physics teacher in the same high school as her. However, even though they are officially a married couple, Asami's father forbids them to have any sexual contact until after Asami has graduated. Asami has to hide the fact that she is married to Kyosuke while trying desperately to further their relationship, and it does not help when there are so many interferences and obstacles from her father and other third parties. (Source: Anime News Network)
Inu X Boku Secret Service
Inu x Boku SS | The usual cliche of the client and the landlord is next on our list and it is a hilarious romantic ride for many shoujo fans to follow. Once again, we'll be getting some Black Butler vibes here but on a lighter note.
The Shirakiin house's daughter, Shirakiin Ririchiyo, who has a complex about being unable to live independently and unprotected, feels the need to move out and live on her own under the condition of residing in the mansion named "Ayakashi Kan." In this mansion, only those who have cleared a very strict examination could reside in it, and for each resident, they are accompanied with one agent of the Secret Service (S.S.). Although Riricho has rejected the company of the S.S., while residing in the mansion she finds out that the agent dedicated to protecting her is actually the Fox Spirit.
Ristorante Paradiso
This is a mature story with both the main characters being adults but touches on some key societal issues. Will you go and married a soon-to-be-divorced man? That is a question posed by this anime, Ristorante Paradiso follows the story of a young adult and her life which will be entangled in a romantic affair with a person who is twice her age.
When Nicoletta was a little girl, her mother, Olga, abandoned her and ran off to Rome to remarry. Now, 15 years later and a young woman, she travels to Rome with the intention of ruining her mother's life. She tracks Olga down to a restaurant called Casetta dell'Orso, but the second Nicoletta steps through its door, everything changes. It's a peculiar place staffed entirely by mature gentlemen wearing spectacles, and like their clientele, she is helpless against their wise smiles and warm voices. Before Nicoletta realizes it, her plans for vengeance start to fade, and she's swept up in the sweet romance of everyday Italian life. (Source: Right Stuf)
Alright, so these are the top 9 romance anime with an age gap that we would like to recommend to fans out there who enjoy this cliche. Incidentally, most of these anime can be also identified as romance manga with an age gap since they are adapted from the media.
If you wish to read more about the interesting anime list, why not check our recommendation page and subscribe to our newsletter to get updates from us.
Last Updated on October 7, 2022 by Yu Alexius