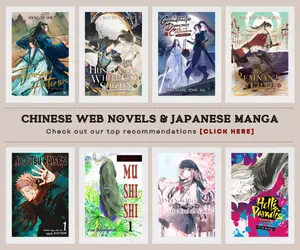 Action and mecha had always been together as a genre and Armored Gull is the manhua that gave us a perfect example of that. As an anime blogger, Armored Gull: The Exoskeleton Frame is among the topic that I often encountered from my readers as fans of the manhua reached my blog in search of news if Armored Gull gets an anime adaptation. Although what I only posted here a few years ago is a short animated trailer for the manhua which was released by its production committee. You may check it here: Armored Gull Animated Trailer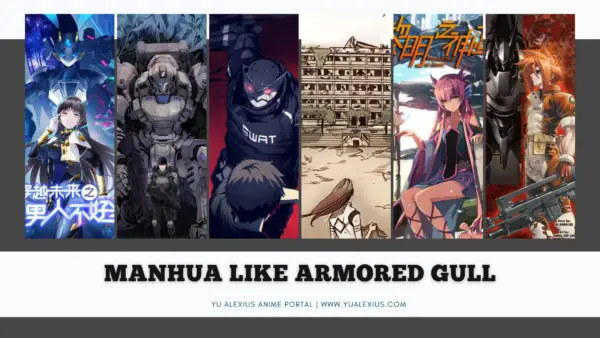 Armored Gull is a chinese webcomic by LAS that covers a wide section of the mecha genre, from mechanical limbs, killer androids, the titular power armor Armored Gull, transforming vehicle robots, wanzer mechs and exoskeletons to put your exoskeltons in all fighting alongside or against each other in the seafaring corporate owned mega fleet of Sigma City. Falsely accused of corporate espionage and treason to the state Gwen Pullan a gifted roboticist is rescued/kidnapped by an anti-corporate terrorist group. Caught up in the bloody slum wars between the group and andorid augmented police, Gwen is given an opportunity to fight back by a mysterious third faction in the form of the Exoskeleton Frame Armored Gull.
Whether it'll have an anime or donghua adaptation or not, the manhua itself is a good ride for any fans who are craving for a good read filled with actions and a whole lot more. Armored Gull: The Exoskeleton Frame is written by author LAS and is an ongoing series from Weibo Manhua with over 163 chapters available right now in full-color long strip webcomic format. The manhua was available in English translations by T-rex Scan, The London, and Underground Scans.
However, fans might be excited to discover some more stories, therefore we have listed here 10 manhua like Armored Gull that you can check and read at your own pace. So let's start the list as follows:
10 Manga/Manhua Like Armored Gull: The Exoskeleton Frame
Close Up the World
Author: Goyo
Publisher: Comico Korea
Synopsis
Goyo, the girl who can hide any trace of herself. Even air raids fail to kill Goyo, who is always the lone survivor. Goyo survived for 10 years on her own after being ostracized when thought to be an evil child. What fate awaits Goyo at the end of her journeys?

Source: Tapas
SiNNa 1905
Author: Kitoh Mohiro
Publisher: N/A
Providence at Dawn
Alternative Title: Li Ming Zhi Shen Yi
Author: D51
Illustrator: Ac
Publisher: Tencent Comics
Synopsis
This world has been destroyed once before. In the year 2060, a huge meteor landed in the center of the North Pole causing global disasters, but also bringing opportunities for evolution through "The Crystal From Other Side". Now, humans make their home in the sky in the city of Utopia. But the sky is filled with endless crusades. The Number 85 District, the largest of the sky fortresses, slowly repels the attacks from invading alien forces and terrorists in the shadows. Lu, a young orphan, joins the crew of the Flying Dolphin at the right time. The "Original Impact of Doomsday" symbolizes the beginning of a new world. This is the best and the most beautiful time in history – until he appears…

Source: MU
Kangtawoo
Author: Shin Hyung-wook
Illustrator: Yang Kyungil
Publisher: Naver Webtoon
Synopsis
Hyeon Kang, a self-centered high school kid, has to bear the burdening fate of being the master of 'KANGTAWOO', the only robot that can stand against 'Spelta Empire', which seeks to conquer Earth.

Source: MU
Flower War
Publisher: Kakao Page
Synopsis
In the near future, the Earth is slowly collapsing due to environmental pollution. To defend itself, flower-like biological weapons called Guardians emerge, attacking the source of its decay: Mankind. In the ensuing Nature vs Human war, society crumbles, and the population is reduced to a tenth of what it was – but the remnants of humanity won't go down without a fight. A new robot pilot from the slums, Kay, is assigned to the Luna Fox unit and encounters a different type of Guardian during his first battle.

Source: MU
It's Not Easy to Be a Man After Travelling to the Future
Publisher: Tencent Comics, bilibili Manhua
Synopsis
After dying from a strange terminal illness, Ling Lan was reborn into a world 10,000 years into the future. Although she dearly wished she could live a peaceful and uneventful life in her new healthy body, fate had other plans… Force to disguised herself as a boy just so she could inherit her deceased father's premium military benefits, Ling Lan's journey to adulthood was full of challenges. After much difficulty, she finally turned sixteen when she could drop the charade. But before she could grasp her newfound freedom to get married and start her own family, her resurrected father decided to go ahead and throw her into the Federation's top military boys' school. With these twists of fate, Ling Lan had little choice but to walk further and further down the path of no return, one of cold and aloof dominance…

Source: NU
Linebarrels of Iron
Alternative Title: Kurogane no Linebarrels
Author: Shimizu Eiichi
Illustrator: Shimoguchi Tomohiro
Publisher: Champion Red
Synopsis
Fourteen-year-old Kouichi Hayase's life has always been a mediocre one, if not dismal. However, those days of being bullied by classmates and escaping to a fantasy of being a hero are put to an end when a certain "accident" bestows him a girl and a gigantic humanoid robot called "LINEBARREL". The extraordinary power that Kouichi obtains puts him and everything around him on a sudden rollercoaster ride of battles, intrigues, and friendship. During the course of his adventure, the boy starts to learn what life has to offer; he meets new friends, bids farewell to the old ones, but most of all he now has considerable responsibilities and is forced to confront the world around him.

Source: MU
Boku no Tsuma wa Kanjou ga nai
Author: Sugiura Jiro
Publisher: Comic Flapper
Synopsis
Takuma is a single guy who does nothing but goes to work and comes home. Too tired to do chores, he decides to get a robot to cook and keep the house. "Mina-chan" is such a good housekeeper, Takuma jokes that she should become his wife. Mina takes Takuma's joke seriously, and slowly the two start doing more things together, like having a picnic outside. As time goes by, Takuma starts to fall for Mina but can a human and a robot ever have an equal loving relationship?

Source: Seven Seas
Phantom
Author: Lee Ki-Hoon
Illustrator: Jo Seung-yeop
Synopsis
K – an agile mech pilot in Neo Seoul police's high-speed mobile unit – specializes in chasing down and eradicating terrorists. His duty has always been to protect the citizens, and he's given little thought to the mega-corporations that run the city. But when an ordinary arrest explodes into a nightmarish battle, K is painfully forced to question his convictions. Stripped of all sense of right and wrong, K must make a terrible choice – either join his enemies or lose all sense of justice!

Source: Tokyopop
Beast 9
Author: Yoon Jae-ho
Illustrator: Park Jin-Hwan, Jo Seung-yeop
Synopsis
Eraser, the mysterious enemy that invaded Earth 13 years ago!! Before their overwhelming power, the entire Earth neared the verge of collapse. But at the last moment there suddenly appeared Earth's lone savior. The Beast: an ultimate weapon uniquely equipped to counter the Eraser's power!! The Beast is part of the MAGIC Brigade, whose commander-in-chief is also the founder of the Le Prince Academy.

Source: MU
Alright, so these are only a few of the manga and manhua like Armored Gull that fans can enjoy from a different perspective. Is there any other manhua that you can share or add to this list? Please let us know your thoughts in the comment section below.
If you wish to read or get a copy of your favorite manga or manhua, you can check Alibris wide arrays of collections that you can order and delivered to your home. Check their archives of manga here.
Last Updated on November 9, 2022 by Yu Alexius