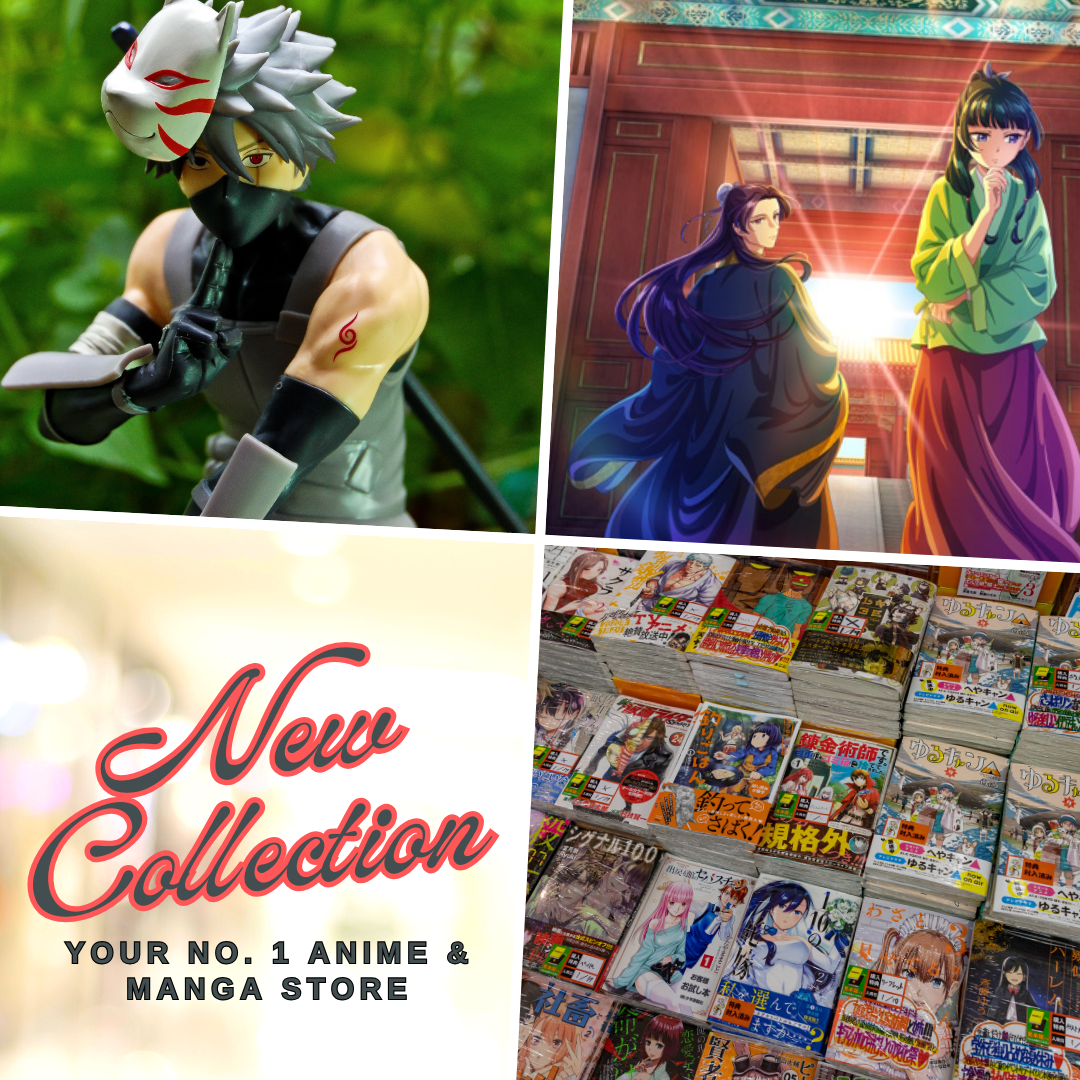 Senku and the Kingdom of Science is returning for Dr. Stone Season 2, otherwise known as Dr. Stone: Stone Wars which is slated for release on January 2021. Yes, Senku together with his Kingdom of Science with the Ishigami Village at its foundation will have their highly anticipated clash against the Tsukasa's Empire of Might and we're simply excited for it to happen so soon.
The Kingdom of Science will finally go on full strength too as Senku's friends Taiju and Yuzuriha will be joining them after spending the whole first season at exile as spies at Tsukasa's side.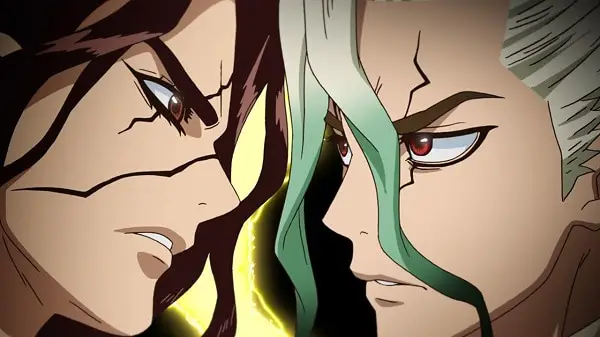 Dr. Stone: Stone Wars Key Visual
On Friday – July 3, 2020 a new key visual for Dr. Stone Season 2 has been revealed as shown below. The poster simply shown Senku and Tsukasa in the front with Dr. Stone: Stone Wars in the background together with the faces of several characters that we should look forward to see in the next season.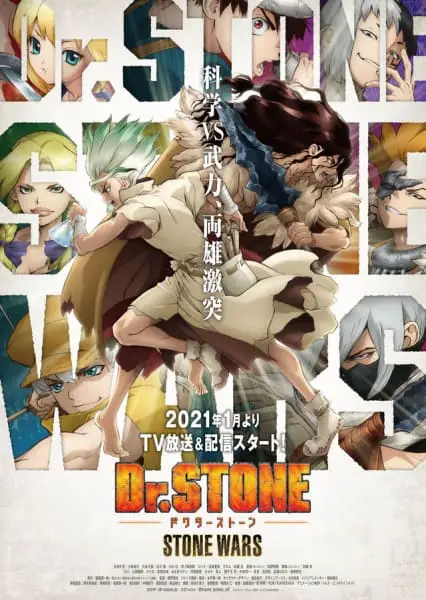 Dr. Stone: Stone Wars Promotional Video
Furthermore, Dr. Stone: Stone Wars new promotional video has been unveiled, giving us a glimpse at the new and returning characters of the anime next season. In particular, it highlights the two forces which will fight in the imminent 'stone wars' – the Kingdom of Science and the Tsukasa Empire. A short refresher for everyone is that the Kingdom of Science is led by Senku Ishigami who aspire to awaken humanity from the petrification and built a new scientific civilization while the Tsukasa Empire is spearheaded by Tsukasa Shishio who wants to start a new world order based on power and strength.As you can see in this Dr. Stone Season 2 trailer, we've got a glimpse of the characters from each side that we should look forward as they'll have an integral part to play in the upcoming war.
Dr. Stone Season 2 Release Date
This is what everyone is really wanting to know, when is the release date of Dr. Stone Season 2 (Stone Wars)?There's no specific date yet as of now but it was announced that Dr. Stone Season 2 will premiere on January 2021 as part of its winter lineup. We'll post more updates here once we finally get the exact date for its release.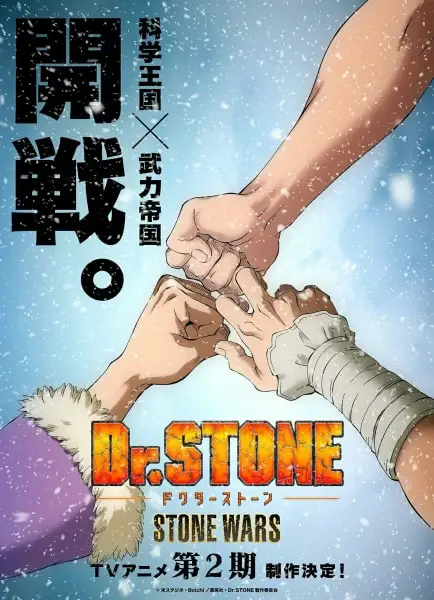 While we still don't have the release date of Dr Stone Season 2 yet, I am quite pretty confident that the anime will be coming out on Funimation once it is out. If you wish to watch Dr. Stone season 1 to refresh your memories of what happened, you may check it out at Crunchyroll and Funimation.
Dr. Stone: Stone Wars Plot
Dr. Stone Season 2 will cover the Stone Wars Saga which has been divided into 2 parts, the vs. Hyoga Arc, and the Communication Warfare Arc. The first season ended at chapter 61 of the manga which is the beginning of the Stone Wars, then the succeeding chapters should cover the plot of Dr. Stone Season 2. So, what's in the story? What should we expect from Dr. Stone: Stone Wars plot?
Warning: SPOILER AHEAD!
There are various events that will take place in Dr. Stone Season 2 story and that includes the following:
Senku invents the phone
Senku reunites with Taiju and Yuzuriha
Tsukasa's younger sister, Mirai will be introduced.
Senku's Kingdom of Science defeated Tsukasa's Empire
Senku awakened Tsukasa's sister from petrification
Hyoga betrays Tsukasa
Tsukasa enters cryosleep
The Kingdom of Science witness the depetrification for the first time.
Dr. Stone Season 2 News & Updates
We're still several months away from Dr.Stone Season 2 premiere, but if you wish to get more updates and news about the anime, you may visit the community page of Dr. Stone in Reddit:
We will also post the latest news and updates about Dr. Stone Season 2 in this blog.
Dr. Stone was one of the biggest anime last year and eventually landed at our4th spot of the best anime of 2019. The anime was based on the manga of the same title by author Riichiro Inagaki and illustrator Boichi, and first premiered on July 2019 as part of the summer lineupand then concluded last December. It was animated by TMS Entertainment and run for a total of 24 episodes. The anime was directed by Shinya Iino and written by Yuichiro Kidowhile the music is composed by Tatsuya Kato, Hiroaki Tsutsumi, andYuki Kanesaka.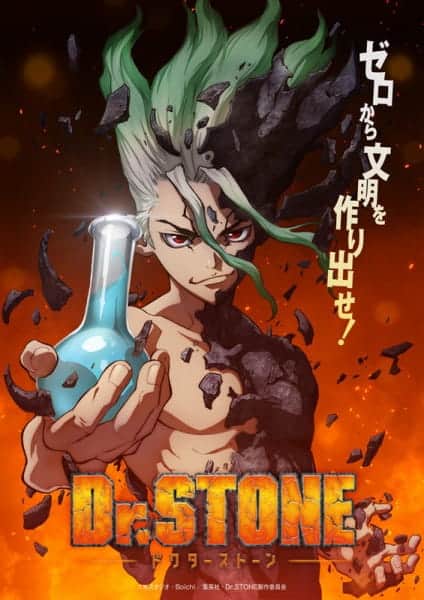 Dr. Stone Synopsis
After five years of harboring unspoken feelings, high-schooler Taiju Ooki is finally ready to confess his love to Yuzuriha Ogawa. Just when Taiju begins his confession however, a blinding green light strikes the Earth and petrifies mankind around the world—turning every single human into stone. Several millennia later, Taiju awakens to find the modern world completely nonexistent, as nature has flourished in the years humanity stood still. Among a stone world of statues, Taiju encounters one other living human: his science-loving friend Senkuu, who has been active for a few months. Taiju learns that Senkuu has developed a grand scheme—to launch the complete revival of civilization with science. Taiju's brawn and Senkuu's brains combine to forge a formidable partnership, and they soon uncover a method to revive those petrified. However, Senkuu's master plan is threatened when his ideologies are challenged by those who awaken. All the while, the reason for mankind's petrification remains unknown. [Written by MAL Rewrite]
The manga was serialized in Weekly Shounen Jumpsince March 6, 2017, the individual chapters were collected and published into thirteen tankoubon volumes by Shueisha as of November 2019. Dr. Stone won the 64th Shogakukan Manga Award for the shōnen category in 2019.
With Dr. Stone Season 2 release slated next year, the anime will join the rank of The Promised Neverland Season 2, The Quintessential Quintuplets Season 2, That Time I Got Reincarnated as a Slime Season 2, Log Horizon Season 3, The Rising of the Shield Hero Season 2, Yuru Camp Season 2, Non Non Biyori Season 3, Shaman King (2021) reboot, and Re:Zero Season 2 Part 2 as the biggest and most anticipated anime of 2021. To get more updates about Dr. Stone Season 2 and your other favorite anime series & movies as well as Chinese anime, subscribe to our newsletter and have our latest news right to your email immediately.
Last Updated on March 5, 2022 by Yu Alexius