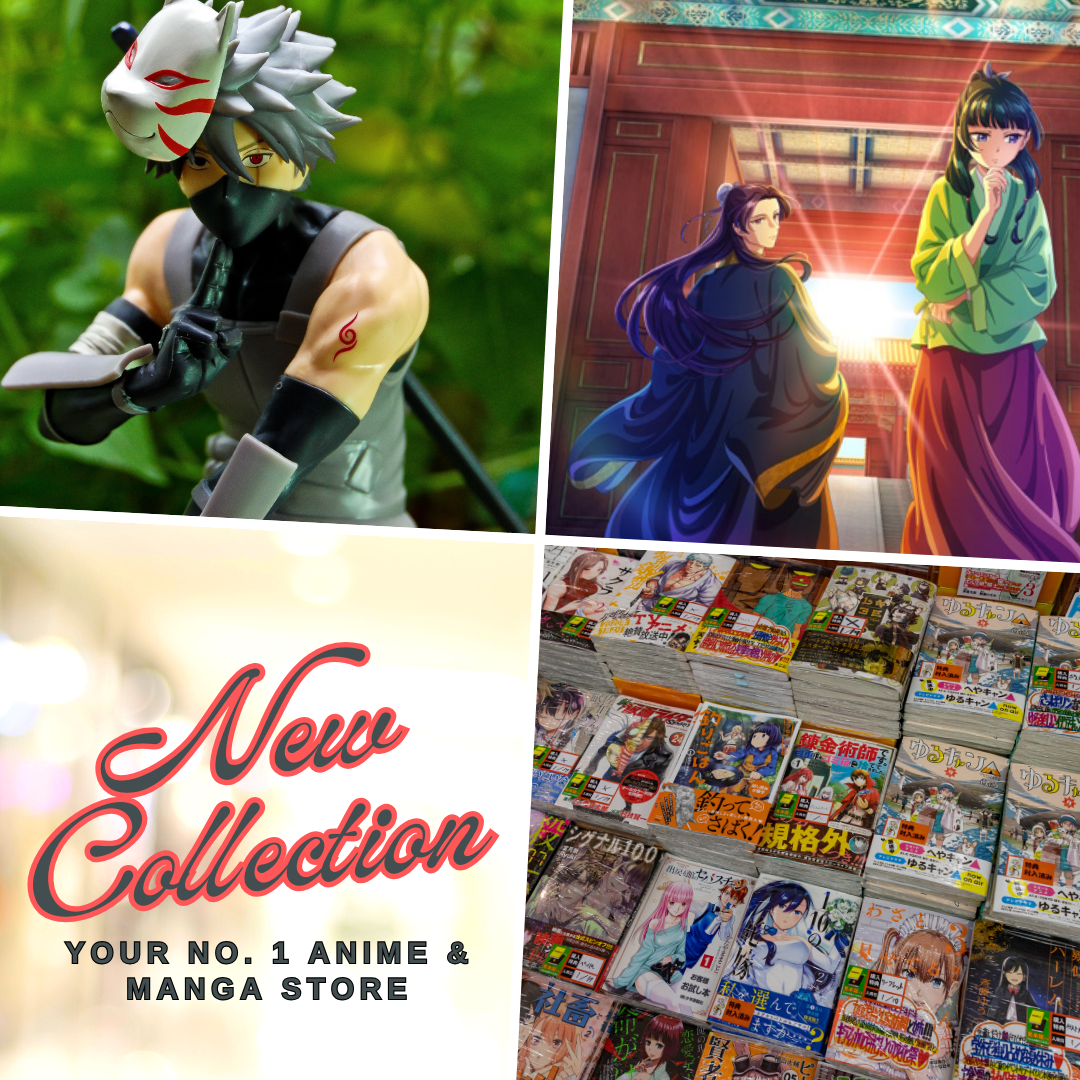 Biao Ren: Blades of the Guardians has garnered acclaim for its enthralling storytelling, exhilarating sword-fighting, and epic adventures. If you're a fan of Blades of the Guardians and seeking more of its captivating action and immersive narratives, you're in the right place.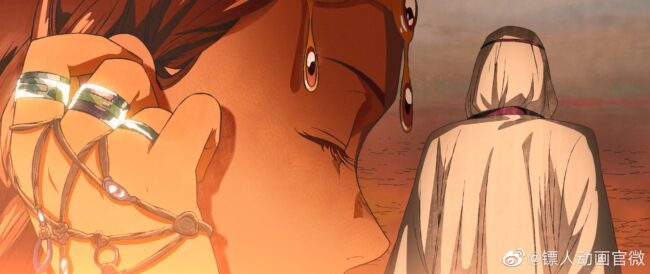 We meticulously curate a selection of anime series that share thematic elements and qualities reminiscent of Blades of the Guardians. Get ready to be transported to a world of samurais, historical settings, and masterful swordplay as we embark on an exciting journey through these captivating anime offerings. But first, let us talk about Biao Ren: Blades of the Guardians.
Background of Blades of the Guardians: Biao Ren
Blades of the Guardians is set during the period of transition between the Sui Dynasty and the Tang Dynasty (618-907 AD) in Ancient China. The series follows the journey of Dāo Ma, a skilled and honorable warrior who earns a living as a mercenary, relying on his exceptional swordsmanship.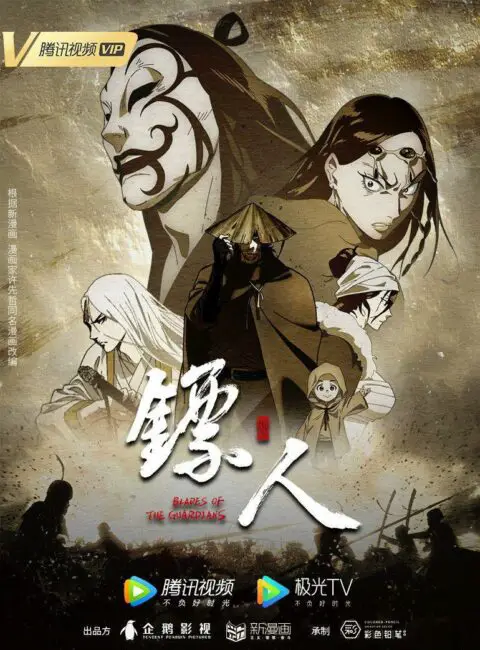 One fateful day, Dao Ma accepts a seemingly straightforward paid escort mission that will lead him to the ancient city of Chang'an. However, what initially appeared to be a routine job quickly takes an unexpected turn. Dao Ma finds himself thrust into a complex and perilous situation, far beyond his initial expectations.
Blades of the Guardians explores the rich and vibrant landscapes of Ancient China as Dao Ma traverses the land, encountering various factions, conflicts, and enigmatic individuals along the way. The series combines breathtaking action sequences, showcasing Dao Ma's exceptional combat skills, with an engrossing narrative that unfolds with surprising twists and turns.
Top Recommended Donghua and Anime Like Blades of the Guardians: Biao Ren
Samurai Champloo
Samurai Champloo is a stylish series that seamlessly blends elements of samurai culture with a hip-hop-inspired soundtrack. The story follows Mugen, a freestyle fighter with a unique fighting style, and Jin, a traditional samurai.
Bound together by a promise to a girl named Fuu, they embark on a journey across Edo-era Japan, encountering battles and comedic situations along the way. Like Blades of the Guardians, Samurai Champloo features captivating swordplay, a blend of historical and modern influences, and an engaging quest-driven narrative.
Blade of the Immortal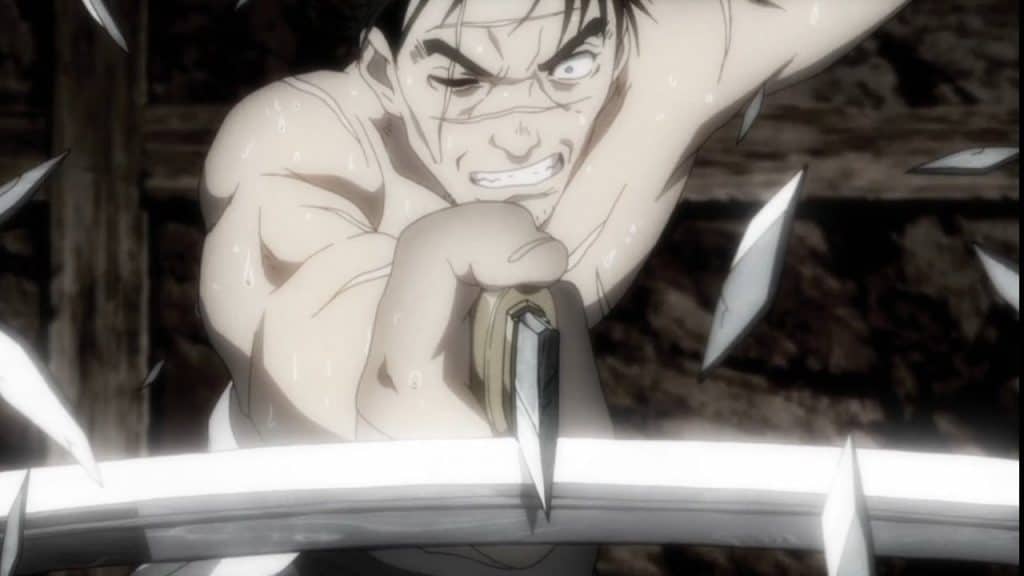 Blade of the Immortal follows the story of Manji, a skilled swordsman who is cursed with immortality after a legendary battle. He becomes a bodyguard to Rin, a young girl seeking vengeance for her family's murder. Together, they face countless adversaries as Manji battles with his immortality and his past.
This anime shares similarities with Blades of the Guardians through its intense sword fighting, the journey of the protagonist seeking justice, and the exploration of complex themes such as revenge and redemption.
Song of the Broadsword (Pillow Knife Song)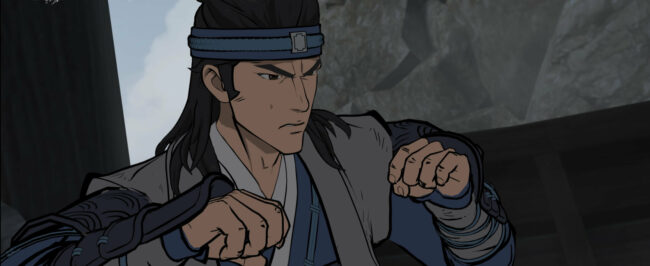 Song of the Broadsword, also known as Zhen Dao Ge, tells a gripping revenge story centered around He Fangzhi, a young man who finds himself homeless after his family is betrayed and brutally murdered during their migration. The male protagonist, He Fangzhi, manages to escape the scene by pretending to be dead. Driven by a thirst for vengeance, he embarks on a journey to avenge his family and seek justice.
Song of the Broadsword explores themes of betrayal, survival, and the relentless pursuit of retribution. Fans of Blades of the Guardians will appreciate this series for its intense narrative and the protagonist's quest for vengeance.
Nine Songs of the Moving Heavens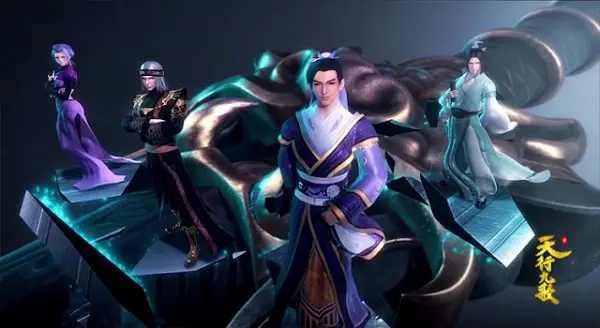 Set in the tumultuous Warring States period of China, Nine Songs of the Moving Heavens delves into a world where the Han State, perceived as the weakest among the Seven States, faces imminent danger. The powerful Qin State poses a significant threat while internal power struggles cause the aging Han King to lose his grip on power.
Against this backdrop, the series explores political intrigue, strategic warfare, and the quest for survival. Fans of Blades of the Guardians will appreciate the historical setting, the portrayal of power dynamics, and the thrilling storyline that unfolds amidst the chaos of ancient China.
Sword of a Stranger
Sword of a Stranger tells the captivating story of a skilled swordsman who finds himself entangled in a moral and righteous struggle after agreeing to accompany a raggedy boy and his dog to a Buddhist temple. As their journey unfolds, the swordsman is confronted with questions of loyalty, duty, and personal redemption.
This anime masterfully combines intense sword-fighting sequences with deep character exploration, highlighting themes of honor, sacrifice, and the bonds formed in unexpected circumstances. Fans of Blades of the Guardians will appreciate the compelling narrative, dynamic action, and exploration of moral dilemmas in Sword of a Stranger.
Shigurui: Death Frenzy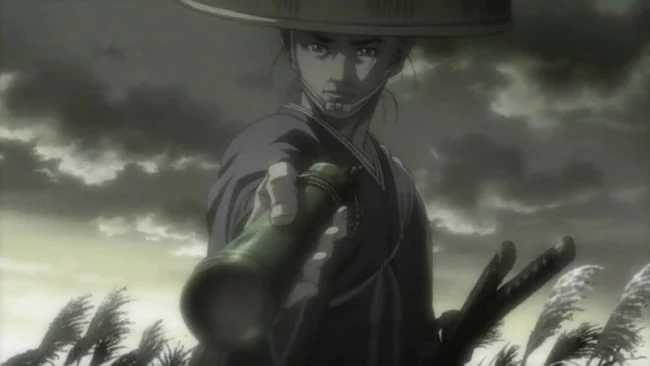 Set at the beginning of the Edo Era, a time of relative peace, Shigurui: Death Frenzy explores a dark and brutal world. Lord Tokugawa Tadanaga organizes a fighting tournament, where participants will use real swords instead of the traditional wooden ones. The match between one-armed Fujiki Gennosuke and blind Irako Seigen takes center stage, showcasing a clash of extraordinary skill and unyielding determination.
Shigurui: Death Frenzy delves into the psychological depths of its characters, highlighting their inner struggles, personal vendettas, and the price they are willing to pay for power. Fans of Blades of the Guardians will appreciate the intense and visceral nature of the series, as well as its exploration of the dark aspects of human nature.
Ninja Scroll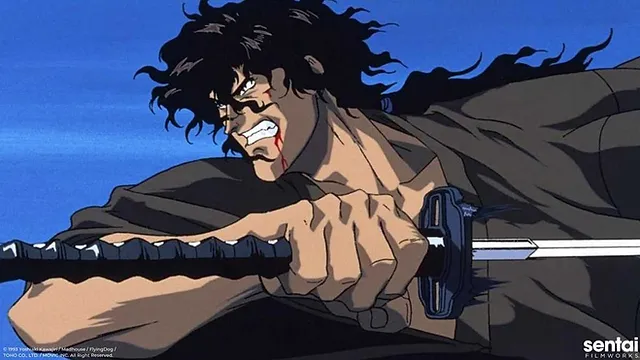 Ninja Scroll is an action-packed anime film that follows the story of Jubei, a highly skilled ninja who finds himself forced to eliminate his own clan of warriors. Becoming a wandering assassin, he embarks on a perilous journey where he must confront the nefarious Devils of Kimon, a demonic ninja organization plotting to seize control Japan's government.
With the ability to annihilate entire villages, the Devils pose a grave threat to the land. Only Jubei, aided by a shogun spy named Dakuan, can stand against them. Ninja Scroll enthralls viewers with its intense combat sequences, dark themes, and riveting tale of vengeance and survival.
Samurai 7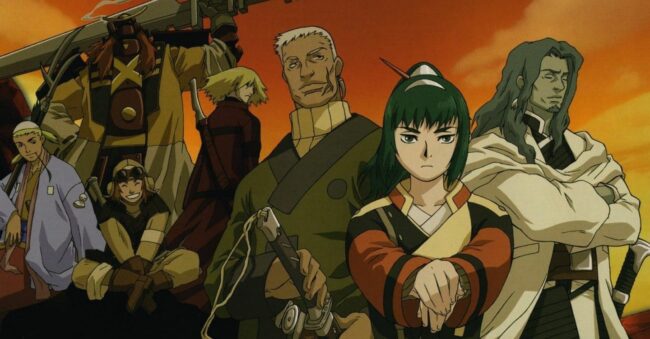 In a future reminiscent of Earth, Samurai 7 is set in a world recovering from a war where samurai fused with machinery. The farmers of Kanna Village, facing starvation and abductions by mechanized bandits called Nobuseri, recruit a group of seven skilled samurai for protection. Inspired by Kurosawa Akira's "Seven Samurai," this thrilling anime combines futuristic elements with traditional samurai themes.
Intrigue in the Bakumatsu: Irohanihoheto
Intrigue in the Bakumatsu: Irohanihoheto follows the journey of Yojiro Akizuki, the wielder of the legendary Moon Tear Sword. Tasked with sealing the supernatural artifact known as the Head of the Conqueror, which emerges during the Boshin War, Yojiro embarks on a relentless mission. Nothing will deter him from fulfilling his duty, regardless of the obstacles or adversaries he encounters along the way.
This captivating anime weaves a tale of political unrest, historical conflict, and the indomitable spirit of a determined swordsman. Fans of Blades of the Guardians will appreciate the intricate plot, the supernatural elements, and the unwavering resolve of the protagonist in Intrigue in the Bakumatsu: Irohanihoheto.
Qin's Moon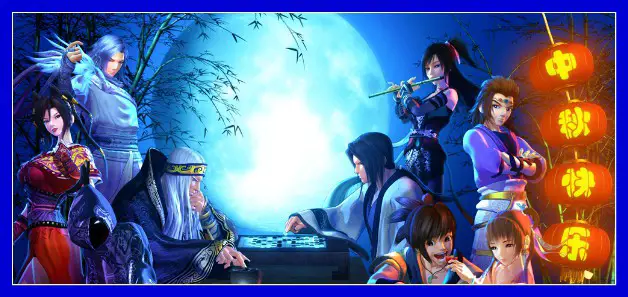 Qin's Moon follows Jing Tianming, a young hero, as he undergoes a transformative journey. Teaming up with master swordsman Ge Nie, they join forces with the Mohists in Machinery City and seek aid from the Confucianists in Shanghai. Battling against the Qin forces and embarking on extraordinary quests, including the construction of a defense wall and a voyage to obtain immortality, Qin's Moon offers a captivating blend of adventure and power struggles. Perfect for Blades of the Guardians fans.
These anime series recommended for fans of Blades of the Guardians: Biao Ren offer a captivating blend of action, adventure, and compelling narratives. Samurai Champloo and Samurai 7 provide stylish samurai clashes and futuristic battles, while Intrigue in the Bakumatsu: Irohanihoheto and Nine Songs of the Moving Heavens offer historical-themed intrigue and journeys through ancient China. Whether you crave epic battles, supernatural encounters, or intricate plotlines, these anime series have it all. Immerse yourself in their captivating worlds and prepare for an exhilarating experience of action and adventure.