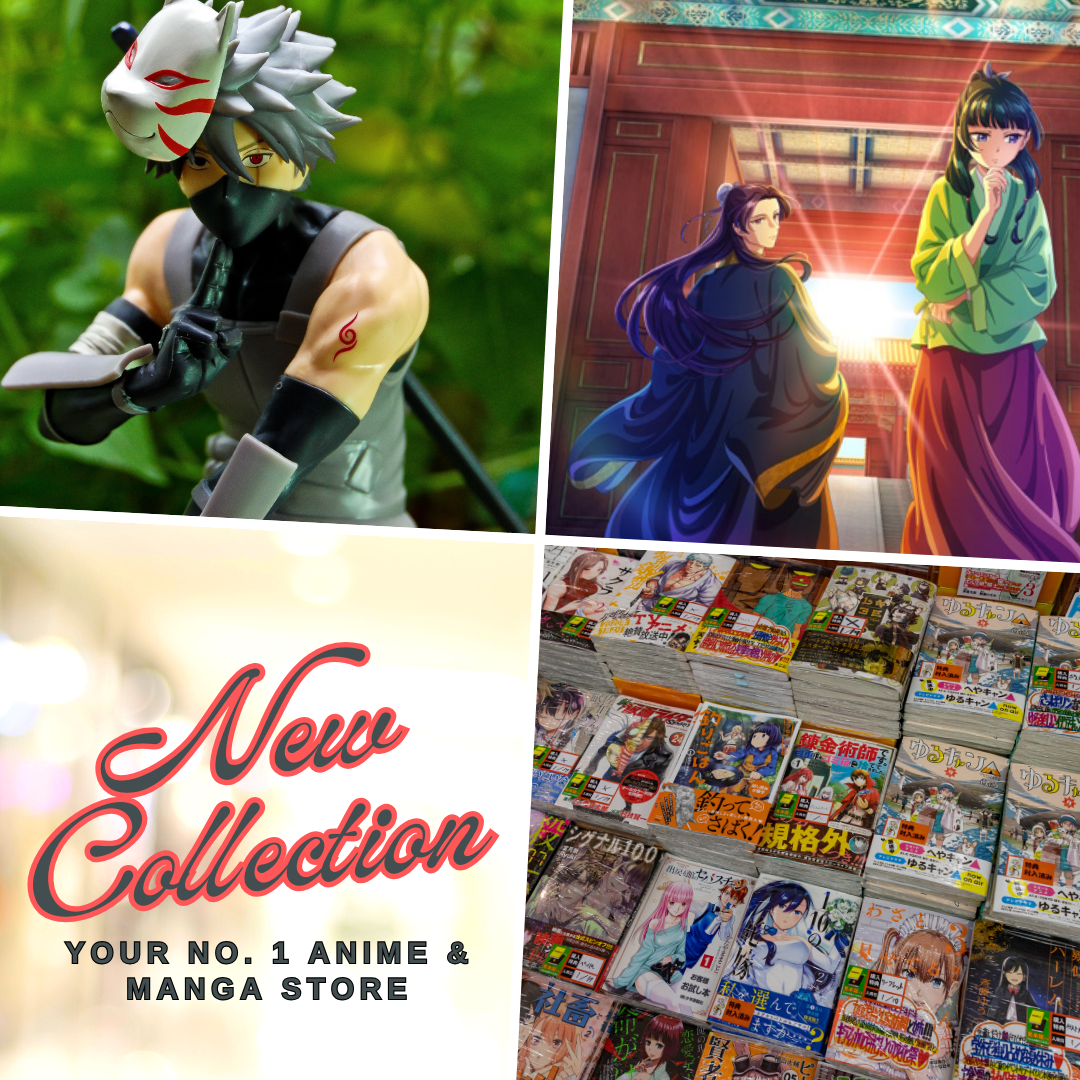 One of the most adorable romance anime of 2023 that we had so far is The Ice Guy and His Cool Female Colleague which gives off a different flavor from our usual romantic story despite having an MC who is a simp but at the same time a cinnamon roll.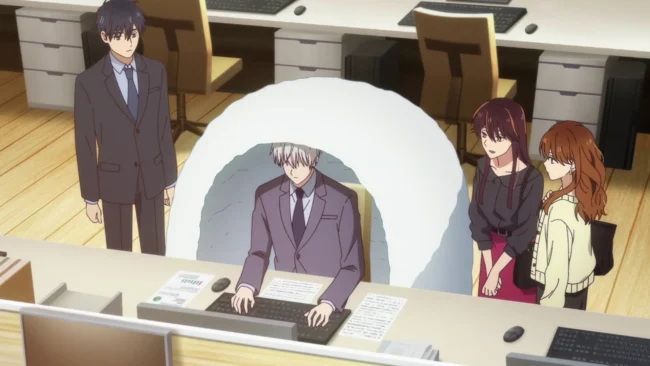 Also known as Koori Zokusei Danshi to Cool na Douryou Joshi, The Ice Guy, and his Cool Female Colleague follows the daily working life of Himuro who belongs to a race with stranger powers. Contrary to his special power that usually rendered his surrounding in a cold environment, Himuro has a warm and caring heart.
He had a soft spot for one of his coworkers Fuyutsuki, and whenever they interact, a snowstorm of emotions rampages inside of him which typically gives signals to his coworkers about what he truly feels about how he feels toward Fuyutsuki.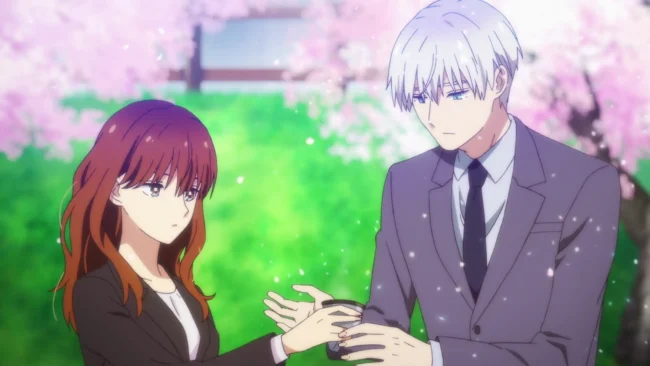 The anime will feature how he will do whatever it takes and face many hurdles to capture Fuyutsuki's heart and eventually show that a warm heart resides deep within him and his icy-cold ability.
The Ice Guy and His Cool Female Colleague are animated by studios Zero-G and Liber, with Crunchyroll as its official licensor. The anime is adapted from a manga of the same title by Miyuki Tonogaya, Mankyuu and Miyako Kanou are also helming the anime adaptation as directors along with Tomoko Konparu in the series composition.
Now, if you wish to watch more anime like The Ice Guy and His Cool Female Colleague to make the winter season even more exciting, romantic, and warm, we made this special list of our top recommendations for you.
Fruits Basket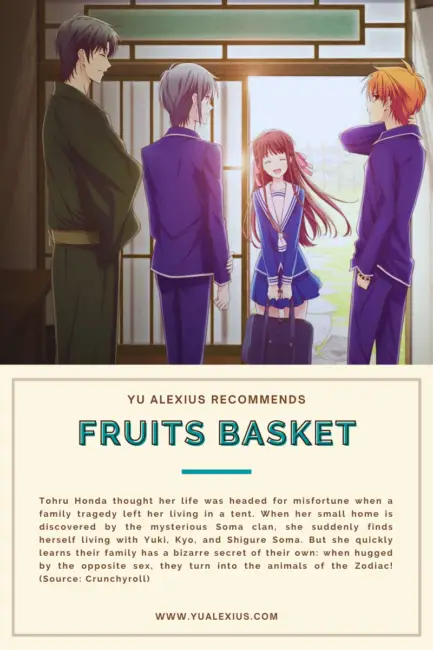 The first thing that comes to my head upon watching both anime is that Himuro and Tohru from Fruits Basket are furballs of sunshine. They can be both clueless at times, but they sure bring the people around them closer together and exudes that positive feeling of hope and inspiration.
My Senpai is Annoying
Similar to The Ice Guy and His Cool Female Colleague, My Senpai is Annoying is another anime set in the office environment. One of the main characters, Takeda-san can be quite annoying but so much like Himuro in a sense that people often get the wrong impression of them because of their external appearance. But deep inside they both have caring hearts and souls.
Wotakoi: Love is Hard for Otaku
This may not be our typical love story but this is about an otaku who meets a childhood friend who is also an otaku in the most unexpected scenario – as coworkers. Our female lead tries her best to hide her otaku side but things won't be easy for her. This is how her dating life with a fellow otaku and coworker started. This anime promises a hilarious and fun ride that every romance anime fan will truly enjoy as it offers a perfect combination of an adult storyline and otaku culture.
Adults Dunno How to Love!
Two adults meet at the crossroads of fate, this anime is about two singles who hadn't been in a relationship for so long, but when destiny knocks in front of them, how these two souls connect with each other is both hilarious and adorable, especially with how things turn out to be later on – a wildfire.
Horimiya
How amazing it is to be young! You must be exhilarated but Horimiya is an anime that truly brings forth the story of youthful romance and how wild, rebellious, and adorable it can be. In this anime, we follow several characters and the different sides of romantic situations and the relationships they shared with each other.
Science Fell in Love, So I Tried to Prove It
Alright, here we have characters who can be as clueless as Himuro and Fuyutsuki from The Ice Guy and His Cool Female Colleague but this anime offers more than the romantic flair as it gets to the brainy side of things too because of its science-related elements. Two science-inclined characters will passionately solve the case of falling in love and in the process, who would expect they'll experience it firsthand?
Nodame Cantabile
Talk about romance in the same field, if we have two office workers in The Ice Guy and His Female Colleague, Nodame Cantabile shows a story between two musically-inclined individuals and how their passion for their craft builds their bonds even stronger. Nodame Cantabile is an anime like The Ice Guy and His Cool Female Colleague but with a different flavor of its own.
Monthly Girls' Nozaki-kun
Hilarious and satirical, this exciting romance anime that showcase otaku culture from a normal perspective makes the story enjoyable and relatable. Here, we have a high school girl who courageously asks her crush for a date but gets declined only to be dragged into his life later on as his assistant because he is a shojo manga artist.
Ojisan and Marshmallow
A love story unfolds in the office as we have an older man who loves marshmallows and an office lady who loves him. A blend of comedy and romance is what this anime promises to deliver to its viewers.
XL Joushi
This mature josei anime is hilarious at its best but may not be everyone's cup of tea. With an office environment and a plot about side jobs, XL Joushi is a story that typically targets ecchi fans. A story about an office worker and her "demon boss", well, on the surface that looks like any other romance anime but there's more to it especially if you're looking for something fiery.
Well, in fact, there are other anime that shares similar plot and vibes to The Ice Guy and His Female Colleague, and those shows that were outside of our top 10 also include some of my favorite anime such as Remake Our Life!, Kaguya-sama: Love is War!, Crazy Over His Fingers, and Simple yet Sexy to name a few of them.
Last Updated on January 29, 2023 by Yu Alexius