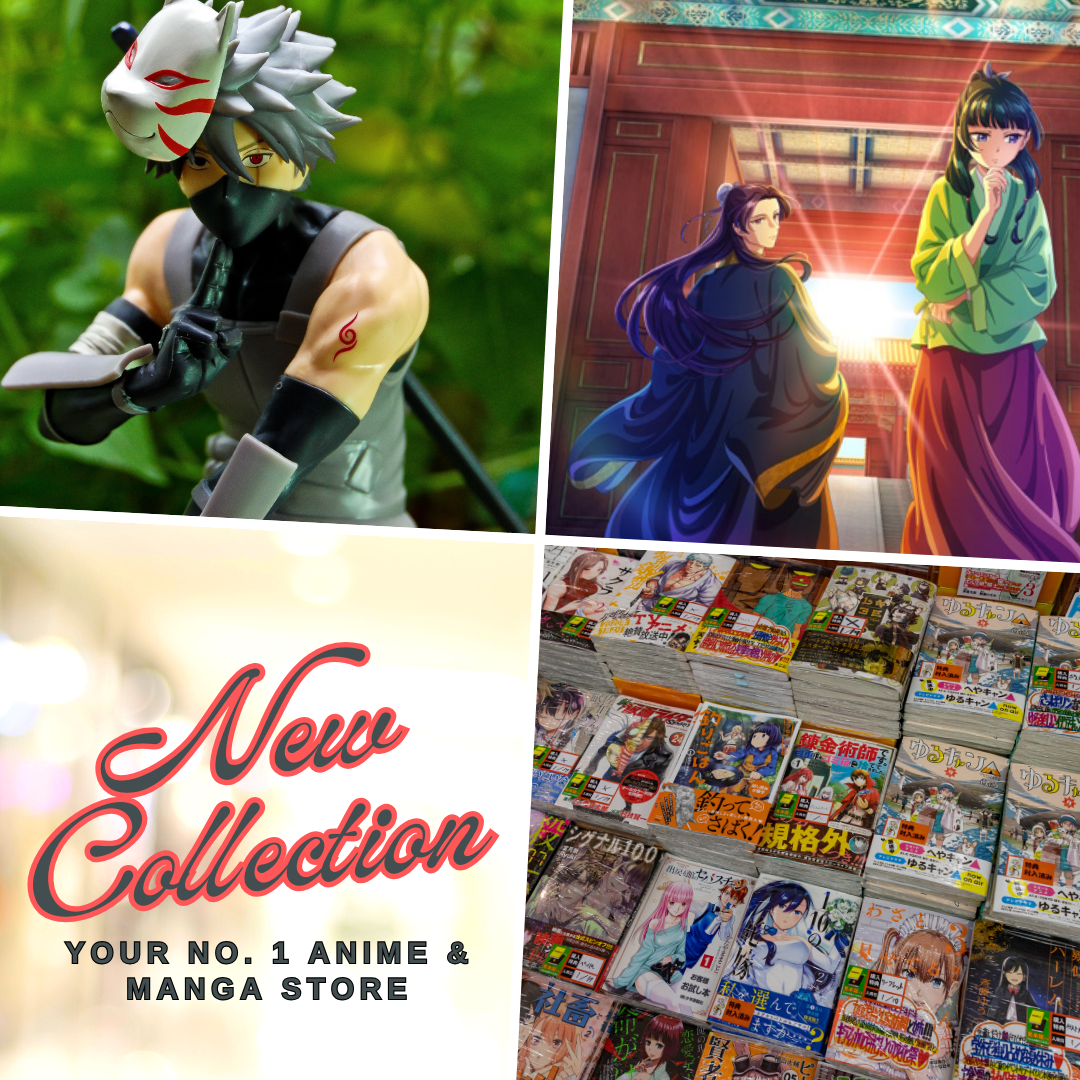 MAPPA is undeniably one of the most popular and successful anime studios in recent years, all thanks to its well-received series such as Jujutsu Kaisen, Dororo, and their works in the last installment of Attack on Titan anime adaptation – The Final Season which further solidifies their reputation in creating god-tier animation quality.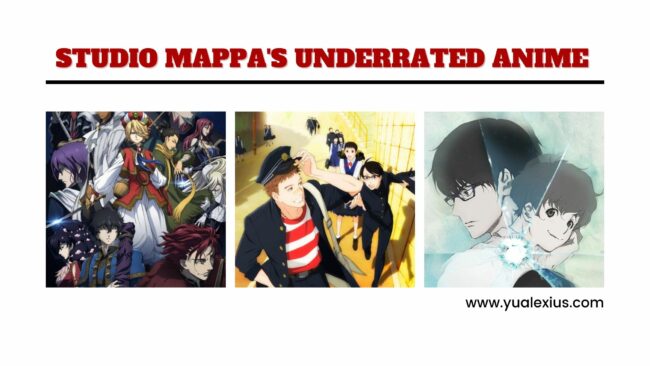 The studio has gained notoriety in producing fast-paced and high-quality animation in recent years especially with their works on several popular shounen titles such as the 2020's breakthrough series Jujutsu Kaisen, the highly anticipated anime adaptation of the Korean webtoon God of High School, and the remake of Osamu Tezuka's classic Dororo in 2019.
However, MAPPA is not only all about those great flashy scenes and explosive fights, they can also produce heartwrenching drama and inspiring stories that can uplift one's heart and also bring relevant social issues to the surface.
10 Underrated Anime by MAPPA
In this post, we would like to give homage to some of Studio MAPPA's underrated anime that deserves more attention. These are all quality works that had gone off the radar of many anime fans and we do believe, that these works have also contributed to the growth of MAPPA as an anime studio and have elevated it to the new height it enjoys today.
Kids on the Slope
Sakamichi no Apollon | These seinen anime will always have a special place in my heart and I do think that it's one of MAPPA's best works of all time. There's a certain appeal in this coming-of-age story that brings so much nostalgia to the atmosphere. Just like Dororo, this is a collaboration between MAPPA and Tezuka Productions and adapted from a manga of the same title by Yuki Kodama. Kids on the Slope is the pinnacle of what a drama and music anime should be, a perfect medley that honors life as shown from a different perspective.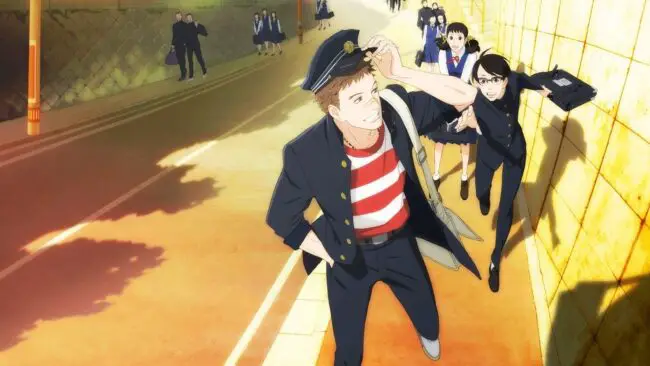 Synopsis
The beginning of summer, 1966. Because of his father's job situation, freshman high school student Kaoru Nishimi moves by himself from Yokosuka to Kyushu to live with relatives. Until then, Kaoru was an honor roll student who tended to keep to himself, but meeting notorious bad boy Sentaro Kawabuchi starts to change him. Through his devil-may-care classmate, Kaoru learns the attractions of jazz and finds the first person he can call a "friend". He also discovers how much fun it is to play music with a pal. Other characters include Sentaro's kind childhood chum, Ritsuko, who is the daughter of a record shop owner; the mysterious upperclassman, Yurika; and Brother Jun, the much-admired leader among their peers. Set against the backdrop of a seaside town with a scent of American culture, this series is a drama about young people coming into their own, crossing each other's paths, and finding friendship, love, and music!

Souce: Official Website
Terror in Resonance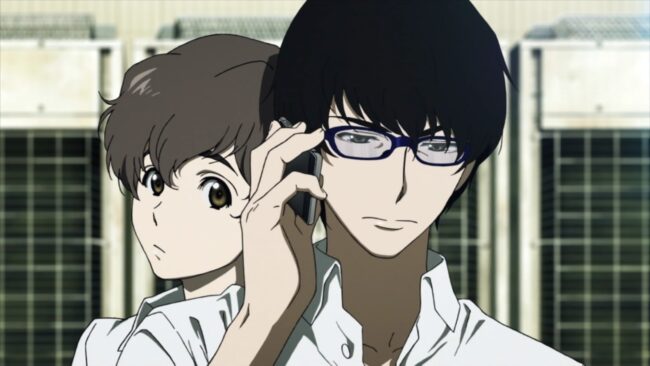 Zankyou no Terror | I remember that this anime is not as underrated as it may seem upon its release, it's quite popular in 2014 actually but I felt like it needs more attention as it went hidden behind the popularity of other works of MAPPA. While it portrays terrorism in a different light, it also highlights a heartwrenching story that touches every layer of human emotions. With exceptional, story-telling, it became a once-in-a-lifetime ride for every anime viewer to witness such a masterpiece in an unprecedented way. Plus, the soundtrack is absolutely great.
Synopsis
Zankyou no Terror tells the story of Nine and Twelve, the two boys behind the masked figures of Sphinx. They should not exist, yet they stand strong in a world of deception and secrets while they make the city fall around them, all in the hopes of burying their own tragic truth.

Source: MAL Rewrite
Altair: A Record of Battles
Shoukoku no Altair | This is one of the series in this list that got me emotionally invested like no other as if I am one of the characters in the story and I walked side by side with the characters in it. Altair: A Record of Battles had been one of the best historical and drama anime I've ever seen. The character and story development was presented in a slow yet well-narrated experience.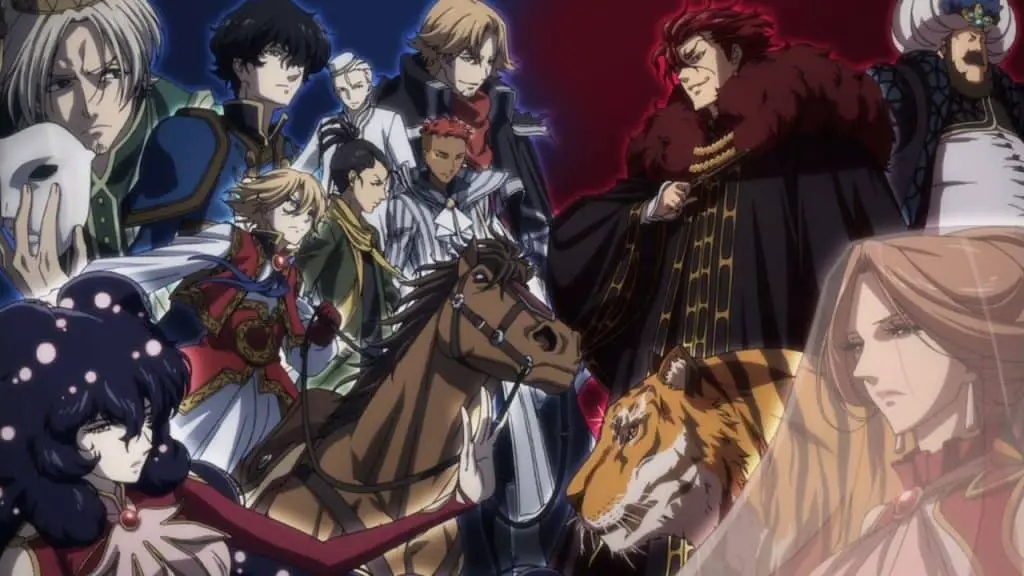 Synopsis
For generations, the Türkiye Devleti and the Balt-Rhein Empire have stood in stern opposition to each other. Then one night, when an imperial minister is found assassinated, the two nations are plunged into a potentially explosive situation. As the generals of Turkiye's council cry for war, Mahmut comes to discover the devious truth behind the assassination. Thus the young pasha's battle for his country, peace, and trust in his fellow man begin!

Source: Kodansha
Inuyashiki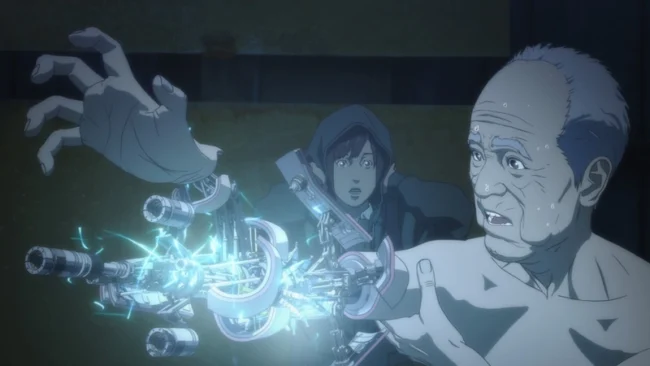 INUYASHIKI LAST HERO | An unexpected hit in 2017, Inuyashiki is another story that will remind you of Death Note. This is a fantastic journey of finding purpose in a neglectful world as it tackles social issues in Japan such as ageism, a story about an old man who seems to have lost his purpose in life as a superhero.
Synopsis
Ichiro Inuyashiki is down on his luck. While only 58 years old, his geriatric looks often have him written off as a pathetic old man by the world around him and he's constantly ignored and disrespected by his family despite all that he's done to support them. On top of everything else, his doctor has revealed that he has cancer and it appears that he has little time left in this world. But just when it seems things couldn't get any worse, a blinding light in the night sky strikes the earth where Ichiro stands. He later wakes up to find himself unscathed, but he soon starts to notice that there's something…different about himself.

Source: Crunchyroll
DAYS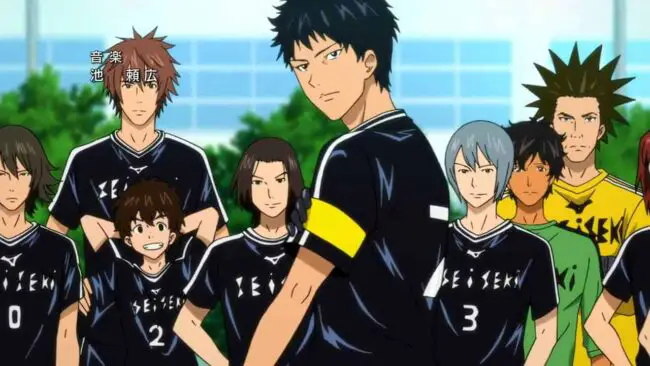 A comedy and sports anime about soccer. On the surface, it seems to be our generic sports anime but it thrives on the amusing and intricate bond between the main characters.
Synopsis
The manga centers on two boys who were never meant to meet: Tsukushi Tsukamoto, who has no special skills but secretly hides a passionate heart, and Jin Kazama, an isolated soccer genius. On a stormy night, the two meet, and that meeting creates a whirlwind in the world of high school soccer.

Source: Anime News Network
The Gymnastics Samurai
Taisou Zamurai | An exciting sports and drama story about an athlete who felt that he had passed his prime but still have the passion to fight more, to give more, all for the sake of gymnastics, a passion that he had given all his life. This is a story of redemption, moving forward, and passing the baton to the next generation.
Synopsis
Joutarou Aragaki, a former member of the national team, had given his whole life to gymnastics and was fighting against his age and physical strength. However, one day he is told by his coach to start thinking of his next career. Joutarou struggles, but his daughter, Rei, is always there by his side. But with one fateful encounter, the Aragakis' lives change drastically.

Source: Funimation
Ushio and Tora
Ushio to Tora | If you love stories like Inuyasha and anything with supernatural cliches, Ushio and Tora is a delightful ride for everyone who enjoys themes that involve fighting against monsters and demons.
Synopsis
Long ago, a ferocious monster terrorized the land, until a samurai, wielding the legendary "Beast Spear", sealed him away. 500 years later, a middle school student named Ushio Aotsuki accidentally uncovers the monster in a hidden cellar under his family's temple. The unsealed monster and the spear attract many other supernatural creatures to the temple and Ushio is forced to release the monster to defeat them. Ushio names the monster "Tora" and unwillingly works together to battle other spirits and demons.

Source: Crunchyroll
Banana Fish
A surprise hit from 2018, Banana Fish has all the recipes for a fantastic and action-packed journey. It revolves around the intricate friendship made from unexpected meetings. This is a ride like no other as it drives you into its psychological and thrilling adventure that involves mafia, gangsters, and the politics of the criminal world.
Synopsis
Nature made Ash Lynx beautiful; nurture made him a cold ruthless killer. A runaway brought up as the adopted heir and sex toy of "Papa" Dino Golzine, Ash, now at the rebellious age of seventeen, forsakes the kingdom held out by the devil who raised him. But the hideous secret that drove Ash's older brother mad in Iraq has suddenly fallen into Papa's insatiably ambitious hands–and it's exactly the wrong time for Eiji Okamura, a pure-hearted young photographer from Japan, to make Ash Lynx's acquaintance…

Source: Viz Media
Sarazanmai
With so much visual aesthetics, Sarazanmai is an epitome of a gorgeous Japanese story. It has a beautiful take on Japanese culture through a psychological narrative with supernatural elements. It is bizarre and may not be everyone's cup of tea but behind the surface, it has a powerful message that tackles human hearts and connections.
Synopsis
The stage is Asakusa. One day, three 2nd-year middle school students — Kazuki Yasaka, Tooi Kuji, and Enta Jinnai — meet a mysterious kappa-like creature named Keppi, who forcibly takes their shirikodama (a mythical organ kappa steal through a person's anus) and transforms the boys into kappa. Keppi informs them, "If you wish to return to your former selves, you must connect in 'that way and bring me the shirikodama of zombies." Will the three boys be able to connect as they steal shirikodama from zombies?! Meanwhile, two policemen — Reo Niiboshi and Mabu Akutsu — are up to something at the police box where they are stationed.

Source: Official Website
Dorohedoro
Peculiar as it may seem on the surface, Dorohedoro is a journey filled with bizarre elements and absolute yet wonderful chaos in many ways. The manga itself is a beautiful and outrageous story and sometimes, it feels like it is an adaptation, however, MAPPA did a splendid job in this series despite some minor flaws. It is hilarious and addicting, with almost every character having their own magic that makes them shine individually.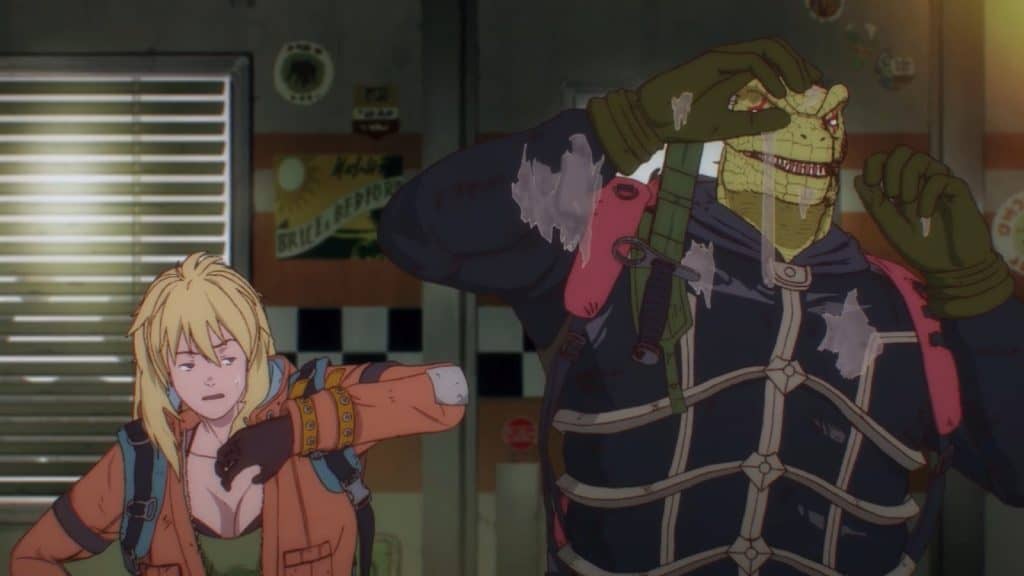 Synopsis
The story revolves around Kaiman, who does not remember who he was before he was transfigured by a Magic-user. This transformation left him with a reptile's head, and a desire to find out the truth about who he really is. Accompanied by Nikaido, his female companion, he tracks down Magic Users in "The Hole" and unceremoniously chomps down on their heads, hoping to find out who it was that put him in this state. One by one, they witness this "second man" inside the head of Kaiman, and after pulling them back out of his mouth he asks them all a question… "What did the guy inside my head say?"
Further Recommendations
These are my top 10 underrated anime by MAPPA, and if you're looking for more shows that you might want to check from the studio, here are some more titles that should also watch:
GARO -VANISHING LINE-
Shingeki no Bahamut: GENESIS
RE-MAIN
Dance Dance Danseur
Last Updated on October 7, 2022 by Yu Alexius