Hey guys, Natsume's Book of Friends had returned with an over 50-minute length movie that features two stories from the manga, and once again, it delivered another heartwarming story with drama that left me teary-eyed and with so many thoughts to ponder upon. It was an amazing ride that brought back the feels and reminded me why Natsume's Book of Friends is my favorite anime of all time.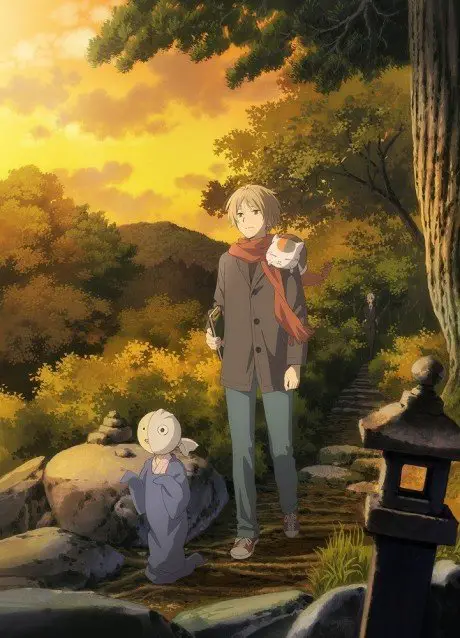 In this post, I will be sharing my thoughts and reaction to the film. What I love about it, the symbolism and the character development of Natsume Takashi as he learns to expand his horizon and get to spend special bonds with both youkai and humans. Meanwhile, before we proceed to the review, I have here the synopsis for the film.
Natsume's Book of Friends: Ishi Okoshi and Ayashiki Raihousha
The film was made up of two stories – Ishi Okoshi, and Ayashiki Raihousha or also known as Natsume's Book of Friends: The Waking Rock and the Strange Visitor. In Ishi Okoshi, Natsume meets a small youkai called Mitsumi in a forest. Mitsumi is entrusted to wake up the divine youkai, Iwatetsu from its deep slumber. Mitsumi weighs on Natsume's mind, so he sets out to help Mitsumi with his task. In Ayashiki Raihousha, a mysterious visitor appears in front of Tanuma. Nearly every day, the visitor visits Tanuma, talks to him a little, and then leaves. Natsume, who knows the visitor is a youkai, worries for Tanuma, but Tanuma enjoys these exchanges with the youkai. The youkai means no harm, but Tanuma's health slowly starts to deteriorate. [Source: Anime News Network, via My Anime List]
Ishi Okoshi
The first part of the film is Ishi Okoshi which revolves around Natsume's encounter with Mitsumi, a tiny youkai who considered himself to be ugly and insignificant but is determined to fulfill the role given to him by his savior, the divine youkai Iwatetsu. Many youkai in the vicinity are looking for Mitsumi who is the Ishi Okoshi, the one who was tasked to wake Iwatetsu up. However, other youkai wants to get the map from him and wake up Iwatetsu instead for the sake of getting the reward from the divine youkai. This is where Natsume joined Mitsumi and helped him after learning his determination to fulfill the tasked entrusted to him by someone who he looks up to.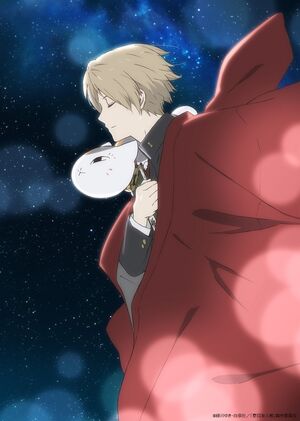 I thought that this is one of the most visually stunning stories that we had from the entire series. I love the scene where Natsume and Mitsumi walked in the tunnel, which was only illuminated by the lights from somewhat bizarre things in the walls and ceilings of the tunnel. It reminded me of those starry scenes from the film The Greatest Showman. Furthermore, Ishi Okoshi had shown Natsume inspired by Mitsumi's determination and the faces of his new adopted guardians had flashed before his eyes. This chapter of the story had given him the realization to appreciate the Fujiwara couple and the new family that they had given him.
Ayashiki Raihousha
The second part of the film started right away after the first part ended. Please be warned, I can't ensure that this part is spoiler-free, so please proceed at your own risk of getting spoiled.
This part revolves around Tanuma and the suspicious visitor that came to him every day. They visited several places together, had a short conversation; and due to the mysterious ambiance around this visitor, Natsume had been wary of him and worries for Tanuma. It was later revealed that the mysterious visitor is actually Misuzu who visited Tanuma who got possessed by a youkai who had quite a history with Misuzu in the past.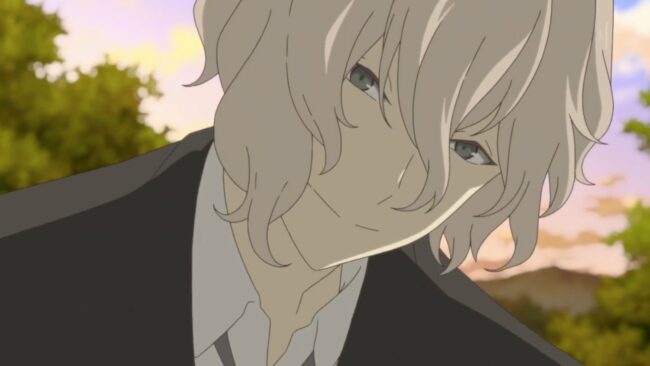 First of all, this must have been a huge treat for all the fans who had been shipping Natsume and Tanuma, and I am one of them, this is more like an affirmation of the great friendship that the two characters had shared. Tanuma had truly become engulfed into the world that Natsume's been moving and I am glad that our MC won't have to walk this road alone anymore. Though, it also gives him the realization that what if one day, Tanuma will be gone and he'll be left alone again. After all, Tanuma was his first friend that he can share about his experience involving youkai. Tanuma was one of the people that he treasured the most and had always been there for him throughout the series, and cared for him genuinely, up to the point he often risked his own safety just to help Natsume.
With Natsume getting worried for Tanuma, thinking that his friend might get entangled to further danger again that involves youkai, he became overly protective, thus sometimes he loses sight of the message that is right in front of him. Nevertheless, this story had simply deepened the bonds and trust between the two friends.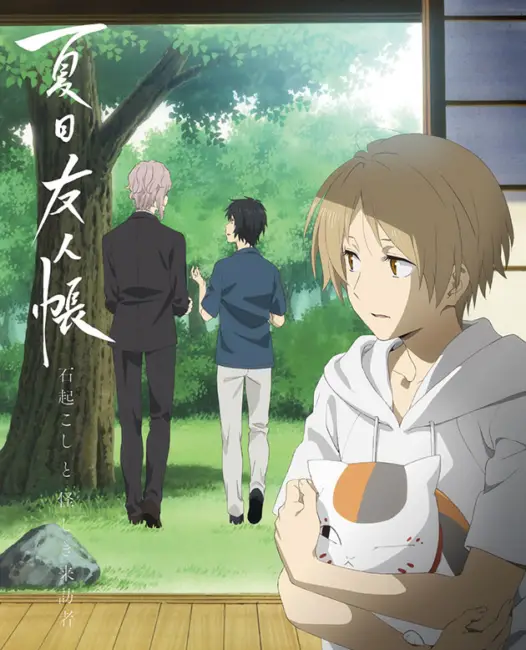 We also got to learn about Misuzu's past, his connection to the youkai that resides in the pond near Tanuma's house. Natsume and Misuzu were also able to have some short yet insightful conversations. When Natsume asked Misuzu why he was coming to Natsume but the latter won't answer him but told him that if he wants to know, Natsume can use the Book of Friends instead. However, Natsume told Misuzu that he respected the latter's decision and won't use the Book of Friends for such matters. Natsume then rides at the back of Misuzu as they went to Tanuma's house, with Misuzu telling him that he took Tanuma to several places that had reminded him of special memories. As they fly in the sky, Misuzu told Natsume about the youkai that possessed Tanuma.
Misuzu also mentioned a foreboding message, he said that the current moment that a human is riding behind his back under the moonlight of such a beautiful night will become a memory soon. In youkai's time, the human lifespan is just so short and denotes that his time with Natsume will be over soon when our human MC's life will come to an end. Now, that actually made me a bit sentimental because what he said is a fact.
Nevertheless, these are my thoughts about Natsume's Book of Friends 2021 film, Ishi Okoshi, and Ayashiki Raihousha. Have you guys watched it too? Would you like to share your thoughts about the film with us in the comment section below? We would like to hear more from the fans of Natsume's Book of Friends, after all, it is the comfort anime of many of us.
Last Updated on November 9, 2022 by Yu Alexius