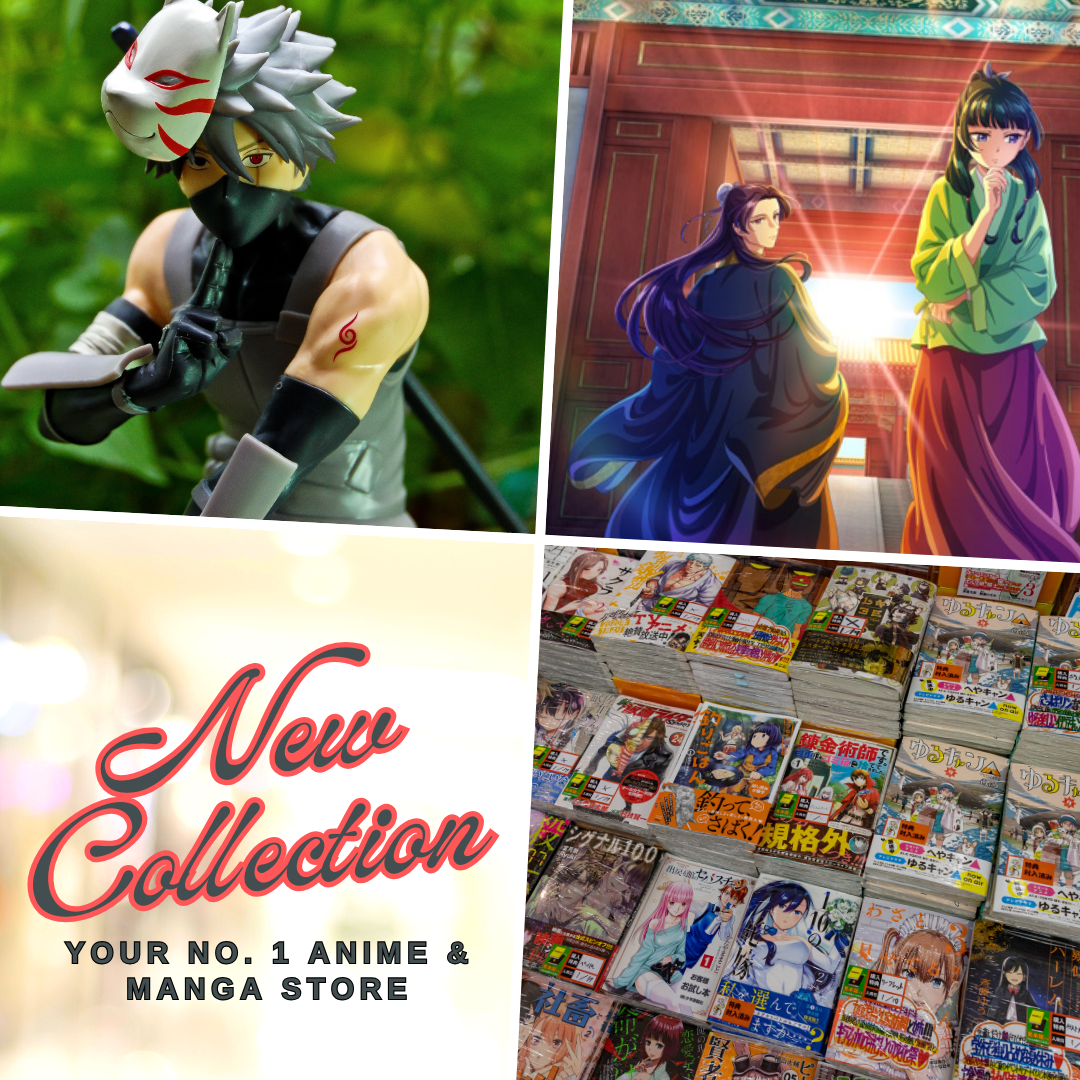 The most heated anime lineup in recent years officially concluded and it is time to give my thoughts and final impression about it and thus, I hereby give you the Winter 2021 anime review from your Yu-senpai.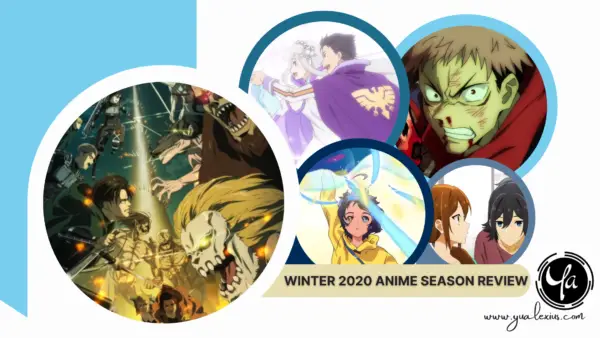 Before I proceed, I would like to share my thoughts about the Winter 2021 anime lineup as a whole. To be honest, this season seriously blown me. I know it is strong but there's just so many good titles this season that even those mediocre at best still manage to deliver a satisfying run and decent enough when it comes to entertainment value. Albeit, we also had the biggest disappointment in recent years this time and that is from the sequel of The Promised Neverland which has been my best anime of 2019.
Without further ado, let's navigate through the Winter 2021 anime lineup and see which series dominated the season, which one gives us a satisfying ride, and which one turns out to be truly frustrated. Althought, I have also published my first impression of the season several weeks ago: The Winter 2021 Anime Lineup – My First Impression
My Winter 2021 Anime Review
The Best Anime of the Season [Winter 2021]
The first section of our post is the best anime of the Winter 2021 lineup. They dominated the season in one way or another, keep the hyped from start till the end, and were able to deliver more than what the fans had expected.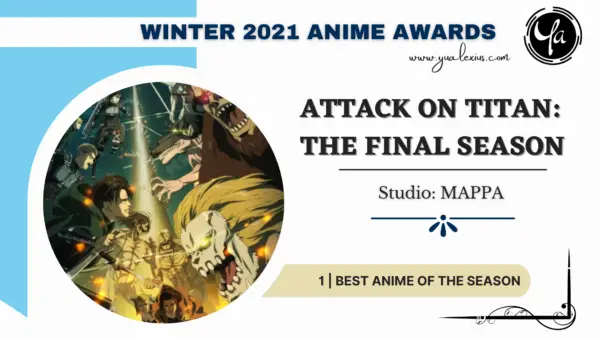 Attack on Titan: The Final Season
It's the King of the Season itself, Attack on Titan: The Final Season had dominated the Winter 2021 lineup with its great storytelling with so many conflicting emotions and principles leaving the fans to argue which side should they turn to. MAPPA did a great job animating the final chapter in the story of the most hyped and beloved anime of all time.
Reviews from other bloggers
Re: Zero Season 2 Part 2
What a great ride indeed! This was such a huge turn-on from its confusing and lackluster predecessor last year. It was concluded in a satisfying way and we had seen how much the characters in the series had grown and developed into dependable individuals. There's just so much drama with great and heroic monologues from Subaru Natsuki, and we had seen Emilia grown so much. Plus, Beatrice shines more than anyone else this time too.
Reviews from other bloggers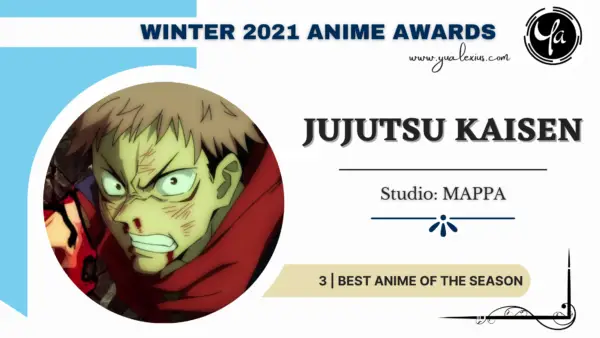 Jujutsu Kaisen
Here's another project animated by MAPPA, it's our best action anime of the season (probably of the year 2021 too). Intense, hilarious, outrageously overwhelming. Jujutsu Kaisen has proven time and time again that it is the new big thing in anime, at least in the shounen genre. I could see it following the path of 2019's phenomenal hit anime Demon Slayer.
Reviews from the other bloggers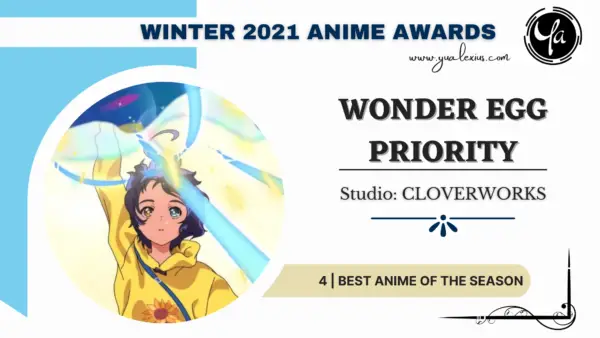 Wonder Egg Priority
Surprisingly great. I know it's pretty unique and beautiful when I first started watching Wonder Egg Priority but it has since evolved into a cult following in its own right. It's deep, touching so many key issues and elements that can't be easily tackled in anime, and delivered it perfectly that resonates to the hearts of its viewers. With an interesting progressive story and many plot twists along the way, it made the Winter 2021 lineup the season of breaking eggs and people's expectations.
Reviews from other bloggers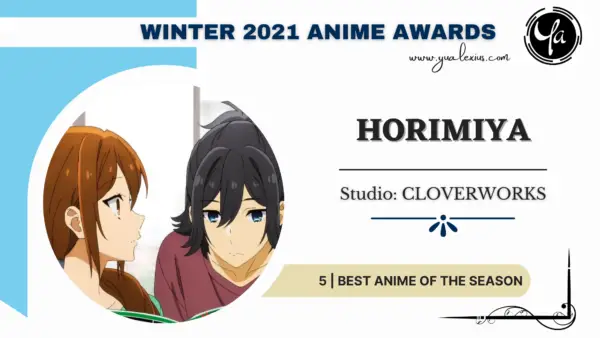 Horimiya
What can I say? It's the best romance anime we had in recent years. It is casual and thrives in that simplicity that never ceased to amaze us and give us that smile at the end of every episode. It is funny and hilarious, it is romantic and delicate while also showing a bit of darkness and loneliness that blended into its lighter story.
Reviews from other bloggers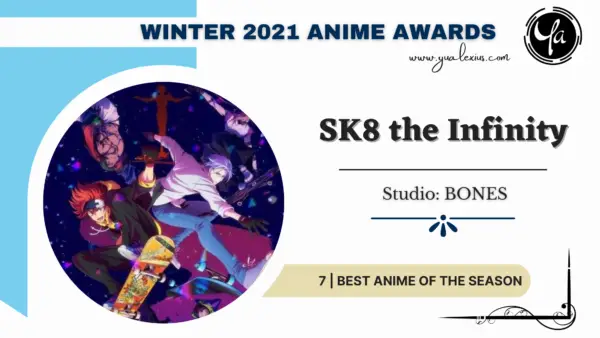 Sk8 the Infinity
At first, I am not expecting too much but it took my breath away immediately. Sk8 the Infinity is the anime that you'll get addicted to as your dive deeper into its story and the adorable yet intricate relationships and interactions of its precious characters. We even had several of the best shippable characters in the entire season from this anime.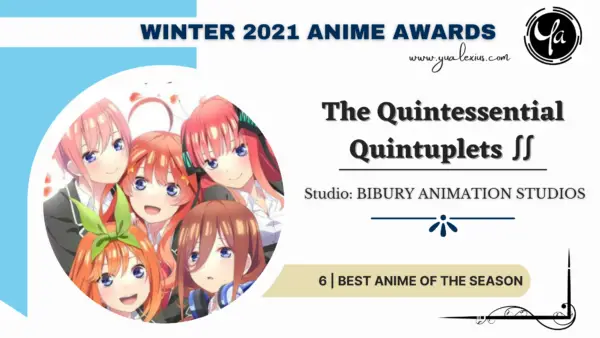 The Quintessential Quintuplets Season 2
Intense and reflective, The Quintessential Quintuples truly upscale its drama and romantic flair this season and still having the hilarious humor in it. We had the girls confessing their feelings, some great character developments, and the story also progress in a romantic yet funny way and we're just excited to see how the story unfolds from here onwards.
Reviews from other bloggers
Black Clover
Alright, here's not a part of the winter 2021 anime lineup but I think I'll give a short shoutout to this anime in this post since Black Clover initially concluded its anime adaptation this season with so much hyped, nostalgia, feels and promised. Now that I look back on how Black Clover started as one of the most hated anime of 2017, it has then evolved into such a promising and entertaining shounen anime that carry on the legacy that was left behind by the series that went before it and put them all together, the same old antics to make it appealing to modern viewers and a new generation of shounen fans.
Surprisingly Good [Winter 2021]
A little bit inconsistent at some point but still managed to take our breath away in different stages of its story. This anime was still able to give us that WOW factor especially when they delivered their climax which has been some of the best this season.
Beastars Season 2
Legosi, Haru, and Louis returned for the second season of Beastars and it did deliver a spectacular run from start to end. The dialogues are outrageously deep and powerful, the story could be reflective too and carry so much when it comes to humanity's moral standard. It is both connotative and denotative in many sense that directly appeals to our humanity.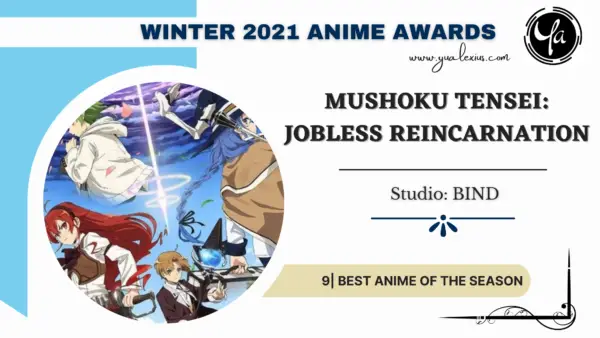 Mushoku Tensei: Jobless Reincarnation
Beautiful visuals and fantastic world-building. Been a while since the last time I enjoyed watching an anime with a great story building up and introducing the viewers to its unique world just like Made in Abyss and Shinsekai Yori. The animation is absolutely gorgeous, if there's anything that I could complain about Jobless Reincarnation, it's probably the lewd scenes that sometimes I felt a bit inappropriate or overkill. It's an isekai where a sore loser from the real world got transported to a fantasy world where magic exists. There, he must strive to make the best out of his new life while also being reflective of his past self and embracing his new adventure.
Reviews from other bloggers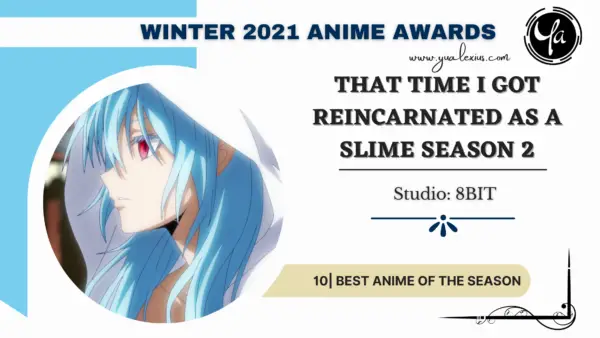 That Time I Got Reincarnated as a Slime Season 2
All hail the new Demon Lord, Rimuru Tempest return with so much hyped in That Time I Got Reincarnated as a Slime Season 2. I felt like the first part of the season was quite boring, or I mean revolved on too many dialogues and build up which leaves some viewers to lose interest. However, it did catch up later on and even came back stronger than ever as Rimuru reevaluate his perspective towards humanity, their weakness, and tendencies, while also becoming the hero that every monster wishes to have.
Dr. Stone Season 2
The war of the Kingdom of Science and the Tsukasa Empire has reached its conclusion in the winter 2021 anime lineup but it also left with another space to fill in as Dr. Stone returns for another season soon. While I think that the animation quality loses its shine, the story was still catchy as ever with its hilarious humor and amazing character interactions which are the real core of the story.
Reviews from other bloggers
World Trigger Season 2
Kuga, Mikumo, and Chika returned and made a consistent run throughout its whole stint this season. World Trigger Season 2 started the season with an amazing and steady infiltration of a neighboring country which gives us delightful moments to savor the other characters in actions aside from our main trio. I did enjoy seeing the top fighters of Border in those moments especially my dear Konami-senpai. Then, we were treated to the usual rank wars that showed us how Tamakoma-2 did improve.
Reviews from other bloggers
Cells at Work Black
Now, here's a real surprise in this list. Cells at Work Black even surpassed the main series and gave us a ride filled with drama in the Code Black environment where the cells had been pushed through their limits. Now, this reminds me of those stressful days at work and sometimes you think it feels like there's no remedy anymore when things got worse.
Bottom-Tier Character Tomozaki
I have mixed feelings for this but this anime did surprise me a bit. Bottom-tier Character Tomozaki packed some punch if we simply stick to life lessons that can be learned from it and the simple interactions of its characters that made the viewers feel nostalgic.
Pretty Consistent
Here we have the anime that give us what we expected from them. It doesn't have that surprising factor anymore but still, it does good in things they specialized with, especially in their respective genres and stories.
Kemono Jihen
Laid-back Camp Season 2 (ps, this one is seriously one of the most relaxing anime out there)
Cells at Work Season 2
Log Horizon Season 2
Hortensia Saga (pretty decent but hoping I can get more)
Non-Non Biyori
Yashahime: Princess Half-Demon
Higurashi: When They Cry GOU
Redo of Healer (not my cup of tea but I did managed)
King's Raid
Seven Deadly Sins (not expecting too much so I think I enjoyed it as usual)
A Piece of Disappointment
The next section is where I have listed the anime that started a bit promising but that turns into frustration as the excitement subsided and the story went downhill by miles, or we just don't see any developments at all.
The Promised Neverland Season 2
So I'm a Spider, So What?
2:43 Seiin Volleyball High School Team
Otherside Picnic
Dropped
These are the anime that I had dropped along the way, albeit I might continue watching them again soon. With my busy schedule, these are the anime that didn't inspire me enough to invest some of my time to continue watching them at the moment.
Back arrow
Heaven's Design Team
Praeter no Kizu
Wave!! Surfing Yappe!!
The Hidden Dungeon Only I Can Enter
Supposed a Kid from the Last Dungeon Boonies Moved to a Starter Town
Scott from the Mechanical Anime Reviews also published his thoughts about the Winter 2021 Anime Lineup as a whole in his post: Winter 2021 Anime in Review
I have also listed here my favorites from the respective categories of the anime seasonal lineup. Here are some of the winners from my Winter 2021 Anime Seasonal Awards: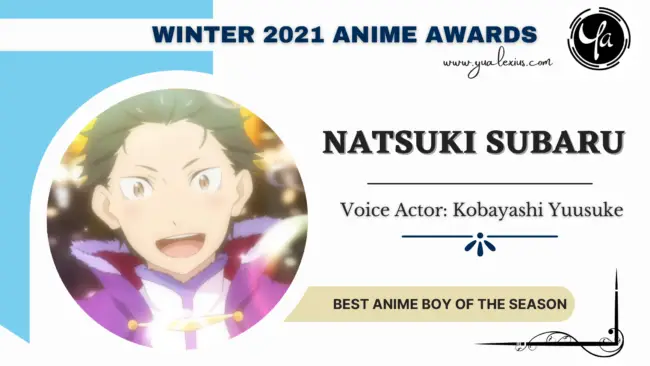 Best Animation: Jujutsu Kaisen
Best Character Designs: Jujutsu Kaisen
Best in Visual Designs: Jobless Reincarnation
Best in Original Screenplay: Wonder Egg Priority
Best in Adapted Screenplay: Attack on Titan: The Final Season
Best Boy: Natsuki Subaru
Best Girl: Emilia
Best Couple/Duo: Natsuki Subaru and Emilia
Best Opening Theme Song: Kaibutsu by YOASOBI (Beastars Season 2)
Best Ending Theme Song: Infinity by YUURI (Sk8 the Infinity)
Best Action Anime: Jujutsu Kaisen
Best Adventure Anime: Dr. Stone Season 2
Best Comedy Anime: Horimiya
Best Drama Anime: Re: Zero Season 2 Part 2
Best Fantasy Anime: Re: Zero Season 2 Part 2
Best Romance Anime: Horimiya
Best Slice of Life Anime: Laid-back Camp Season 2
Best Sports Anime: Sk8 the Infinity
Alright, now that the winter 2021 anime lineup is over, we should look forward to the spring lineup which looks promising too. So, I shall end my review of the winter 2021 anime season here and let me know your top 10 anime from the previous season by leaving a comment below.
Last Updated on November 9, 2022 by Yu Alexius