Vasoon Animation is back to bring Kuiba Zhi Shu Tu, the TV anime adaptation in ONA format of the Kuiba donghua film series as part of Tencent Video Animation Chinese anime lineup for 2021. However, there's a tea in the adaptation, this follow a different route of the story, thus, it is also called Kuiba: The Different Ways (or Path).
This is a fresh take on the Kuiba film franchise which has been in production for several years from Vasoon Animation. The film's last movie Kuiba IV: Mei Lingluo is originally scheduled for release in 2021 but was later moved to 2022. It will be a join project of Vasoon and Coloroom Pictures.
Kuiba 4 Release Date
The announcement that Kuiba Zhi Shu Tu is coming in 2021 was first unveiled during the Tencent Video Animation Conference last August 8, 2020, where the Chinese giant conglomerate had unveiled their lineup of Chinese anime for the remaining months of 2020 and the next year, 2021.
When Tencent Video Animation unveiled its Winter 2021 guide, Kuiba Zhi Shu Tu was listed as one of its upcoming releases. Furthermore, it was revealed that the Kuiba Zhi Shu Tu release date is slated for January 17, 2021.
Synopsis
The story takes place in Lingshan, where a group of "hopeless" people are gathered on the earth. Most of them are poor, vicious, or extremely evil, abandoned by the society in Lingshan. This is where the fourth generation of Kuiba Mi Lin was born. The Heavens struggled to find Kuiba to no avail. In order to eliminate Kuiba, the Heavens determined to blast Lingshan into the ground. Mi Lin rose from the predicament, and his spirit gradually awakened souls with flesh and blood in Lingshan. Mi Lin led the Lingshan Army to sweep across the world, against the Heavens, and became the overlord of the world. (Source: Tencent, translated)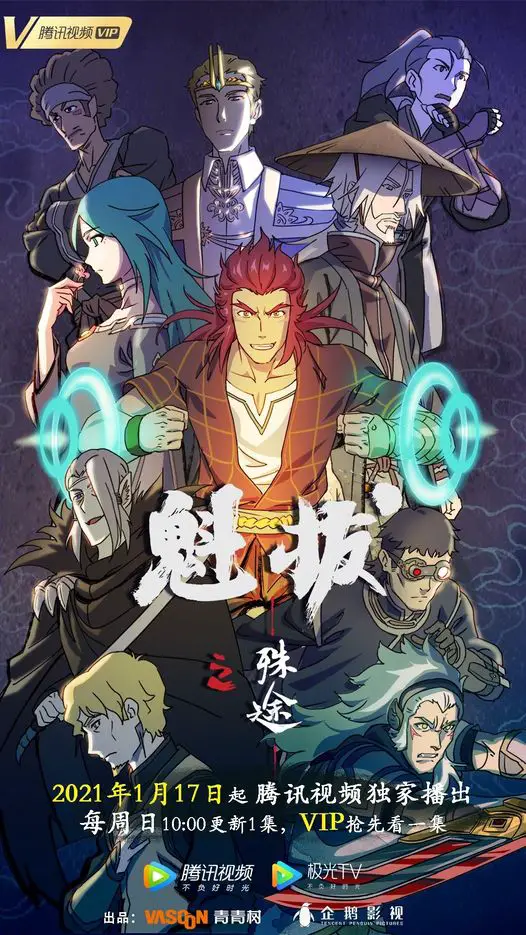 The Weibo page of donghua also released a set of countdown posters for the film 8 days before its opening date in Chinese cinemas.
Characters Poster & Screenshots
The following are the characters poster for Kuiba Zhi Shu Tu and some screenshots
This slideshow requires JavaScript.
Kuiba Zhi Shu Tu Trailer
Here, we have the trailers and various promotional videos which have been released for Kuiba Zhi Shu Tu.
Kuiba Donghua Series Overview
Kuiba or translated in English as Greatbug is a Chinese anime that was first released on July 8, 2011, and animated by Vasoon Animation, one of China's leading animation studios.
It was then followed by Kuiba 2 which was released in 2013 and then by Kuiba 3 in 2014.
Synopsis
Every 333 years the ultimate universal devil known as Kuiba is reborn. With each rebirth, Kuiba brings absolute destruction. In order to battle Kuiba, deities and people team up to assassinate him just before his revival. In 1664, the year of Kuiba's rebirth, the assassination attempt failed and it was reborn as the child Manji. Manji is unaware of his true identity and is adopted by Man Xiaoman, a mediocre Spirit Warrior, and he is trained in Pulsecraft. When Manji is physically prevented from joining the armies of Earth because of his poor skills, Kuiba's pulse beast is released from within and they merge. The beast controlled by Manji attacks the combined forces of the Spirit Warriors, but Man Xiaoman rallies them and they destroy the beast. This releases Manji who then joins him and the Earth forces to destroy Kuiba. [Source: Wikipedia]
With the donghua's release, it serves as one of the openers of Chinese animation in the year 2021. If you wish to watch the ONA series, I also urge you to check the first three (3) donghua movies to fully enjoy the experience.
References:
Code name: Yu Alexius is an ambiguous entity who loves to talk about anime and Chinese animation in general. An insatiable soul from the Pearl of the Orient, a frustrated writer and a Houtarou Oreki wanna-be. He is a piece of a lunatic and everything crazy.