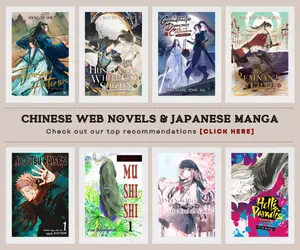 Horimiya anime adaptation had been making a wave this season. It sure is leading the pack among romance and comedy anime from the winter 2021 lineup and I couldn't be happier knowing that it gets all the love it deserved. As a fan of the Horimiya manga, this has given me so much delight and I am sincerely satisfied with how the anime adaptation unfolds.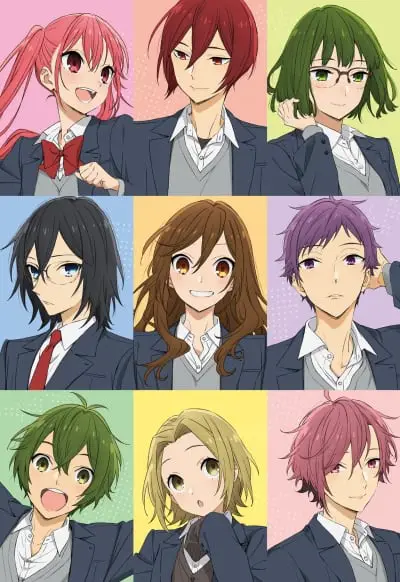 Now, back to the title of this post – What do you need to know about Horimiya? – this is a short faq that I decided on a whim as I saw that many people still have plenty of questions about this beloved anime. I usually check Quora and Reddit as well as Twitter to see the buzz in the anime community and I have come up with a list of questions about Horimiya both for the anime and manga that I think I could answer in this post and hoping that could help the people who are asking the same of questions.
Let's get started but first let me share that I shall start discussing anime and donghua stuff in this format and I shall name it: All About Anime/Donghua (FAQ) section. Without further ado, this is All about Horimiya for all my fellow romance-comedy anime fans out there.
What is Horimiya?
Horimiya is the shortened title for the manga series Hori-san to Miyamura-kun, literally, that is Hori and Miyamura. It is a shounen web manga series by author and illustrator Hiroki Adachi who goes by the pseudonym Hero from 2007 until 2011. The manga gets a 4-episode OVA in 2012 but was adapted into a TV anime series in 2021 by Cloverworks.
In 2011, Daisuke Hagiwara had adapted Horimiya into a manga and supervised by Hero. The manga was serialized in Monthly G Fantasy and published by Yen Press in English. Furthermore, Horimiya is also slated to get live-action and TV drama adaptation, both are slated to premiere on February 5 and February 16, 2021, respectively.
What is Horimiya about?
Horimiya follows the story of Hori Kyoko and Miyamura Izumi, two high school students who shared similar secrets about each other until they realized that their feelings for each other are more than just friendship.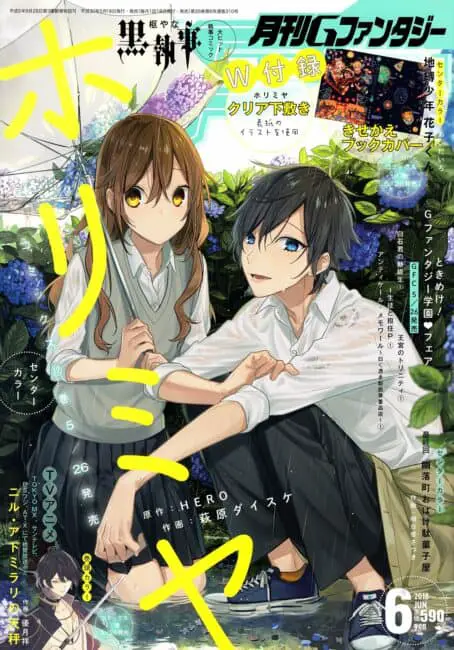 Synopsis
Kyoko Hori is a bright and popular high school girl, contrasting with her classmate, the gloomy and nerdy glasses-wearing boy Izumi Miyamura. Outside of school, Hori is a homebody who dresses down and takes care of the household and her younger brother Souta. She tries to keep this a secret from her classmates. One day when Souta returned home with a nosebleed, he was helped by someone sporting multiple earrings and tattoos as well as a punk-styled appearance. The person recognizes her and reveals himself to be Miyamura. The two agree to keep their real personas a secret from their schoolmates, but start relating to each other as friends and later as a couple.
Horimiya Anime
Here, we have some of the related questions the people often asked about Horimiya anime adaptation.
What time is Horimiya coming out?
Want to learn what is the schedule for every new episode of Horimiya anime? The answer is that it airs at 12:30 AM JST every Sunday, which is roughly past midnight in the Asia Pacific area, and the anime premiered on January 10, 2021.
How many episodes will Horimiya anime have?
The anime is slated to get 13 episodes. While we want to have more, I simply wish that we'll get the anticipated Horimiya season 2 announcement right when the ongoing anime reaches its finale.
Where to Watch Horimiya anime?
Now, these questions could also ask this way – "Where Horimiya is airing?"In this case, we can always check on its official airing schedule, Horimiya anime is airing on the following Japanese TV channels:
Furthermore, Horimiya is also streamed and licensed for distribution by the following companies:
Funimation (North America and Brazil)
Wakanim (Europe)
AnimeLab (Australia and New Zealand)
Medialink (Southeast Asia through bilibili)
Hopefully, I also wish that if possible, we can have Horimiya on Netflix, Crunchyroll, Hulu, and some more streaming service providers to further the reach of this awesome romcom anime.
Who are the characters of Horimiya and their voice actors?
Most of the characters of Horimiya are high school students, thus fans of high school anime would love this series and they have some interesting names in the lineup of their voice actors as follows: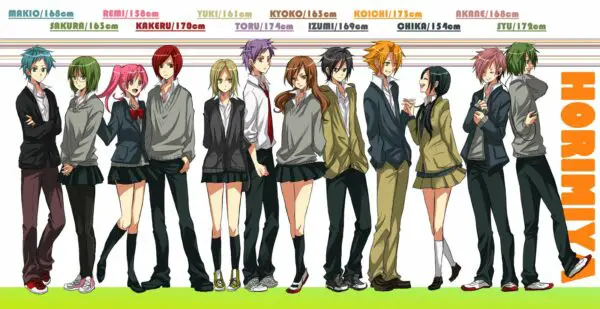 Haruka Tomatsu as Kyoko Hori
Kouki Uchiyama as Izumi Miyamura
Seiichirou Yamashita as Toru Ishikawa
Yurie Kozakai as Yuki Yoshikawa
Nobuhiko Okamoto as Kakeru Sengoku
A.O. as Remi Ayasaki
Reina Kondou as Sakura Kono
Daiki Yamashita as Shu Iura
Momo Asakura as Honoka Sawada
Yuka Terasaki as Souta Hori
Ai Kayano as Yuriko Hori
Daisuke Ono as Kyosuke Hori
Jun Fukuyama as Akane Yanagi
Taku Yashiro as Kouichi Shindo
Shouya Chiba as Makio Tanihara
Hisako Kanemoto as Motoko Iura
Horimiya OVA vs TV Anime
Hori-san to Miyamura-kun vs Horimiya | Not all viewers of the current Horimiya anime might know this but the manga was first adapted as an original video animation (OVA) and this is actually the first media where I discovered the manga. The OVA is scheduled to have 6 episodes in total and animated by various studios. This shouldn't be confused with Horimiya TV anime which was animated by Cloverworks and premiered in 2021.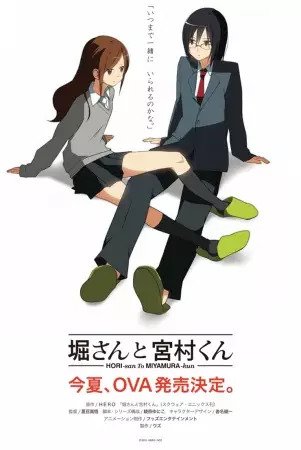 The first episode of the OVA premiered in 2012, then followed by the second episode in 2014, and the third one in 2015, lastly the fourth episode aired in 2018. There are still two more remaining episodes for the OVA which are scheduled for release in May 2021.
The OVA is written by Yuniko Ayana and animated by Hoods Entertainment, Marone, and Gonzo with various directors for each episode such as:
Shingo Natsume
Erukin Kawabata
Tetsuo Hirakawa
Kazuya Aiura
So what is the difference between Horimiya's OVA and the TV anime? First of all, the OVA was quite rough especially in terms of animation. However, I like the character designs though, I felt like it's more loyal to the original designs provided by Hero. What makes the TV anime an exciting one is the solid animation, and the slightly fast-progressive pacing, and the effectively written story. It feels like fresh off from the manga, and as a viewer, I could definitely feel the romance in the air. So, I have to give the director a thumbs up for that. Nevertheless, both have their own edge and what truly matters is that they were both able to capture the attention of the viewers and deliver the romance that we are expecting from it wholeheartedly. Plus, both have fantastic music, I simply enjoyed the theme songs from the OVA, while the TV anime did have a splendid opening and ending theme.
Manga
Now, let me share a bit of frequently asked questions about the manga series of Horimiya and if possible, I would like to urge everyone too to try reading the manga itself.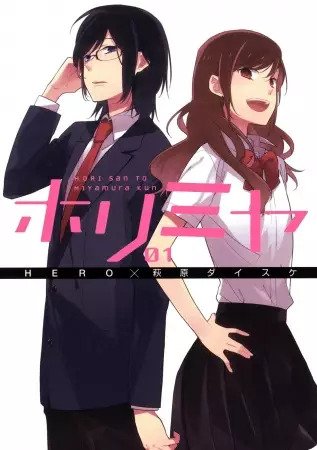 How many chapters and volume does Horimiya manga have?
First of all, there is 3 installment of the manga, the first one is Hori-san to Miyamura-Kun, it is the original manga written by its creator and self-published from 207-2011. It has 10 volumes in total. It was then followed by Daisuke Hagiwara's Horimiya manga which was published by Square Enix and Yen Press. It began serialization in 2011 and still updating now, currently, it has a total of 15 volumes. Next, we have Hori-san to Miyamura-Kun Omake by Hero and has a total of 14 volumes and still updating from 2012 until today.
Summary
Hori-san to Miyamura-kun (10 volumes from 2007-2011)
Horimiya (15 volumes from 2012-present)
Hori-san to Miyamura-kun Omake (14 volumes from 2012-present)
Where to Read Horimiya manga?
If you wish to read the webcomic or the manga, you may directly check it at Yen Press.
Furthermore, there are available online stores where the Horimiya manga is for sale. To my fellow Filipinos, you may order the Horimiya via Shopee. I have listed here some shops where you can order it so it'll be easy for your to navigate it. I also included some Horimiya merchandise that you may want to order.
Disclaimer: These are affiliate links, I might get small commissions whenever your order through these links!
For our readers in the USA, you may also order Horimiya manga through Amazon in the link below:
Alright, so I might end this post here yet this is an open discussion and anyone can drop their questions in the comment section and we will try to answer that. You may add your own answer to some questions too. Furthermore, I shall update this post whenever I find that some questions arise about this topic.
Further Reading: Anime Shows Like Horimiya
Here, I would like to share some Horimiya like anime that fans might try checking out.
Toradora
Nisekoi
Tsuki ga Kirei
Rascal Does Not Dream of Bunny Girl-senpai
TONIKAWA: Over the Moon For You
Tsurezure Children
His and Her Circumstances
Kimi ni Todoke
Maid-sama!!
Before I end this post, what are your thoughts about Horimiya's anime adaptation so far? If I have to speak my opinion, it was splendid and a forerunner for my anime of the season, albeit Attack on Titan: The Final Season is the biggest hindrance for that. Nonetheless, I have high hopes for Horimiya and it may become my best romance anime of 2021. To get more updates about anime and donghua, please subscribe to my newsletter and get a notification right in your inbox whenever a new post is published.
Last Updated on September 25, 2022 by Yu Alexius