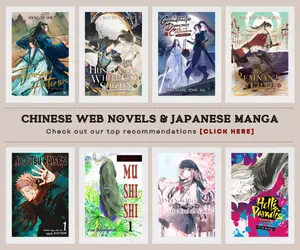 Is anyone here a sucker for mystery anime? If yes, the upcoming TV anime Kyokou Suiri or known in English as In/Spectre is something that you have to add in your anime watchlist for 2020. Upon reading its synopsis, there are several anime titles that came up into my head that resembles its plot just like Hyouka, The Mystic Archives of Dantalian, Natsume's Book of Friends, and several other mystery-supernatural anime.
Are you still here with me? If In/Spectre animeadaptation sounds appealing to your preference, then let's check some of the details that you may find interesting about it in a short discussion below.
In/Spectre TV Anime Overview:
Synopsis

Source Material

Release Date

Cast & Staff

Posters

Trailers & PVs

Similar Anime Series & Stories
In/Spectre (Kyokou Suiri) Anime
If you're interested to learn more about those details of In/Spectre, then grab some pop corns or any snacks you have as we discuss it. On my end, I always have my cup of coffee beside me while writing.
SYNOPSIS
At the young age of 11, Kotoko Iwanaga was abducted by youkai for two weeks and asked to become their "God of Wisdom," a mediator between the spirit and human worlds, to which the girl quickly agreed but at the cost of her right eye and left leg. Now, six years later, whenever youkai wish for their problems to be solved, they make their way to Kotoko for consultation. Meanwhile, Kurou Sakuragawa, a 22-year-old university student, has just broken up with his girlfriend after he fled alone when the two encountered a kappa. Seeing this as her chance to become closer to him, Kotoko immediately makes her move, hoping to get married to Kurou one day. However, she quickly realizes there is something more to Kurou. With this knowledge, she asks for his help in solving the various issues presented by the supernatural, all the while wishing her newfound partner will eventually reciprocate her feelings. [Written by MAL Rewrite]
SOURCE MATERIAL
Alright, let's start with the source material of In/Spectre here. The upcoming 2020 mystery anime is based on a novel series titled Kyokou Suiri by Kyou Shirodaira, and cover illustration by Hiro Kiyohara. The novel was serialized in 2011 in the Kodansha novels imprint. Later on, the novel also started serializing in Kodansha Taiga imprint, while the original novel from Kodansha Novels imprint will be released on January 23, 2020, via Kodansha Taiga. In 2012, Kyokou Suiri novel won the 12th Annual Honkaku Mystery Award. The novel is also known by another name which is Invented Inference.
Kyokou Suiri novel by Kyou Shirodaira
In April 2015, the novel inspired a manga adaptation illustrated by Chashiba Kataseat Shounen Magazine R, as well as on Monthly Shounen Magazine since October 2019. As of October 2018, there are a total of nine manga volumes that have been released. The manga adaptation also placed 7th in the Sixth Annual Next Break Manga Ranking Best 50 last 2016. It was also nominated to the shounen section during the 42nd Kodansha Awards in 2018.
RELEASE DATE
In/Spectre (Kyokou Suiri) anime characters poster
CAST & STAFF
Among the confirmed cast members of In/Spectre anime adaptation are as follows:
Akari Kito and Mamoru Miyano are the lead cast for In/Spectre anime adaptation
Akari Kitou as Kotoko Iwanaga

Mamoru Miyano as Kuro Sakuragawa

Misato Fukuen as Saki Mihara

Sumire Uesaka as Karin Nanase

Kenji Hamada as Detective Terada

Mayumi Sako as Rikka Sakuragawa

Yoshimitsu Shimoyama as Kappa, Ochimusha, & Ushi no Ayakashi

Kaori Motoyama, and Rena Maeda as Yama no Ayakashi

Manami Hanawa as Komainu

Kaori Motoyama, and Manami Nawa as Youko

Hiroki Gotou as Bake-danuki

Kouki Miyata as Nushi no Orochi

Rena Maeda as Yosuzume

Nobuo Tobita as Kodama no Genichirou

Haruka Ouminami as Bakeneko
Meanwhile, the following are the staff and members of the production team:
Director: Keiji Gotou
Series Composition: Noboru Takagi (he previously worked on Golden Kamuy series)
Character Design & Chief Animation Director: Takatoshi Honda

Studio: Brain's Base

Production: Nihon Ad Systems

Opening Theme Song: Mononoke in the Fiction by Uso to Chameleon
Ending Theme Song: (song titled not revealed yet) to be performed by Mamoru Miyano
Trailers & Posters
In/Spectre (Kyokou Suiri) TV Anime Key Visual
SIMILAR ANIME SERIES & STORIES
Upon reading the plot of In/Spectre, it is quite easy to come up with anime titles that have the same vibes or stories. However, I always take into consideration that no anime have the same absolute story in any sense and that they're unique in one way or another. However, if you're looking for anime series on which you can relate In/Spectre with, in order to clear your minds about what to expect from it and help you judge whether you'll add it in your watchlist or not. I have here several anime series that runs on a similar path as In/Spectre.
Natsume's Book of Friends (supernatural, slice-of-life anime)
Hyouka (school-mystery anime, a slice of life)
The Morose Mononokean (slice of life, supernatural anime)
Mushishi (supernatural, mystery anime)
Hozuki's Coolheadedness (comedy, supernatural)
The Mystic Archives of Dantalian (mystery, slice of life, supernatural anime)
Dusk Maiden of Amnesia (mystery, horror, romance)
xxxHolic (comedy, mystery, psychological, supernatural)
In the end, it is still up to anyone of us if we shall have In/Spectre anime adaptation in our watchlist for the winter 2020 season. However, I am seriously having it in my own list, and will gladly follow how the story unfolds since the genre of mystery, supernatural anime were among my personal favorites.
Last Updated on March 29, 2021 by Yu Alexius