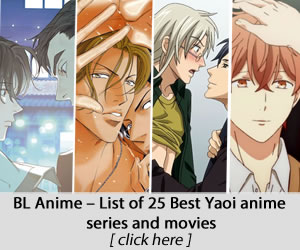 Spring is almost here and we could definitely smell the fresh winter feels leaving in the atmosphere. Thus, this only means a very competitive set of anime shows are about to ignite some fire on our watching habit as we enter the spring season this April.
Tokyo Ghoul:re
The third season of Tokyo Ghoul anime franchise and this looks pretty intriguing as well as this smells nostalgia and spells too much drama.
Boku no Hero Academia 3
Another 3, yes this is the third season of the one of the best shounen anime of today and we're definitely looking forward to see Midoriya and the rest of the students from Class 1-A facing off the League of Villains.
Steins;Gate 0
Definitely, one of the most undisputed best sci-fi anime in the history. We'll be having an awesome ride from the upcoming Steins;Gate 0 anime this spring.
Persona 5 the Animation
A game franchise that we all love, Persona is going to rock our watching habit with this pretty impressive animation and interesting story.
Tada-kun wa Koi wo Shinai
Spring is the season for love and yes, we will all fall in love with this romantic comedy anime with the English title of Tada-kun Will Not Fall in Love which sounds truly cheesy.
Full Metal Panic! Invisible Victory
A mecha-military-scifi anime that break records in the early 2000s is back to bring once again another exciting action-packed story.
Golden Kamuy
I believe this is a truly golden show this season, literally staying true to its title. It looks pretty impressive with elusive plot.
Piano no Mori
I'd seen the original movie of this and I'll say it is awe-inspiring. Definitely looking forward for a flashy and relaxing animation for this.
Devil's Line
Thinking this to be your ordinary vampire story? You could be right but it definitely have a vampiric aura that you won't dare to ignore.
Wotaku ni Koi wa Muzukashii
A relaxing and fun romance-comedy anime that will lighten up your mood from a busy day, you'll seriously enjoy its flick.
Sword Art Online Alternative: Gun Gale Online
If you believe that you only have the Sword Art Online Alicization anime to watch out for this year, here's another interesting anime from the same source material that will give you the same delight.
High School DxD Hero
Ooh the gang is back, which means we'll have tons of seriously hardcore ecchi moments mixed beautifully with school-romance plot.
Shokugeki no Souma: San no Sara – Toutsuki Ressha-hen
It's not summer yet but this anime will really make our spring an intense and sizzling ride.
Jikken-hin Kazoku: Creatures Family Days
This anime looks both creepy and adorable at the same time.
3D Kanojo: Real Girl
A romance story that will make this season even more interesting and enjoyable.
Dorei-ku The Animation
One of our highly anticipated psychological anime of the season, this will make you crave exquisite insanely stuffs.
Mahou Shoujo Site
May sound creepy but this is just about cute girls in a suspense-thrilling story, does it ring a bell?
Amanchu! Advance
The gang is back and hey, it's going to be funny as usual.
Lostorage conflated WIXOSS
We're up for another exciting mind games this time and everybody is invited to join.
Caligula
The plot may sound cliche but it may eventually turn out to be a surprise.
Hinamatsuri
Coming from studio feel., this is will surely be amazing.
Saredo Tsumibito wa Ryuu to Odoru: Dances with the Dragons
It really looks promising, and may become a big surprise for everyone.
We also have tons of interesting and truly fantastic leftover shows this season as follows:
Nanatsu no Taizai: Imashime no Fukkatsu
Darling in the FranXX
Grancrest Senki
Beatless
Toji no Miko
Cardcaptor Sakura: Clear Card-hen
Hitori no Shita: The Outcast 2
Basilisk: Ouka Ninpouchou
Hakyuu Houshin Engi
Which are your favorites that you badly want to see this April? Let us know about your thoughts.
Last Updated on January 8, 2021 by Yu Alexius