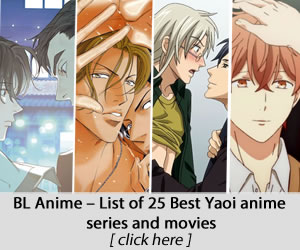 We're back for a new
weekly anime chart from Anime Trending
. This time it's the 5
th
week of the chart and everybody simply waited for this moment. The very moment where Attack on Titan finally get the number 1 spot after an awesome fight scenes in the latest episode of the anime.  The phenomenal anime had been struggling on making it to the top in the first 4 weeks due to the tough competition against the super romantic original anime The Moonlight is Beautiful and the 6
th
season of the king of slice-of-life, Natsume Yuujinchou. The two anime series eventually gets the 2
nd
and 3
rd
place in this week's chart respectively with The Moonlight is Beautiful slows down after the 2 consecutive weeks in top spot. Everyone in the
Anime Trendingcommunity
speculated that it will be a battle between Attack on Titan and The Moonlight is Beautiful next week for the top spot. Meanwhile, the reigning Anime of the Year "Natsume's Book of Friends" is taking a slows down after reaching the top spot in the 1
st
and 2
nd
week respectively, now it's on number 3 while it seems that it wasn't over yet as fans should expect another top 1 for the anime in the coming weeks.
The Grimoire of Zero ranked down this time on the 4th place as we are still on the world building of the story and it seems that it may take few more episodes before we finally get engulf by its magic. In the 5th place and still struggling to get higher but somehow consistent in the middle of the Top 10 weekly chart is the 2ndseason of My Hero Academy. Somehow, the hype is still there and it may not be too long until we see it on the top spot. Reaching number 6 this week is the 2ndseason of How to Raise a Boring Girlfriend and fans are simply glad that that anime is staying in the chart after it missed to reach the Top 10 on the 2ndweek.  The 7th place goes to SukaSuka, on the same pace as with Grimoire of Zero, we're still on the world building although fans can expect for something from the series in the coming weeks.
The 8th place this week had been the greatest surprise for some if not to many as The Royal Tutor finally entered the Top 10. Yes, it finally happened as the adorable and cute chibi-sensei gained the love of many anime fans despite of its low standing in the beginning of the chart. Re-entering the Top 10 Anime Chart this week is GranBlue Fantasy the Animation and Rage of Bahamut: Virgin soul on rank 9 and 10 respectively.
The biggest surprise this week is Re:Creators on which it missed out to reach the Top 10 after 4 straight weeks in the chart. On the other hand, Sakura Quest and Sagrada Reset also got kicked out of the chat once again finishing in the 11th and 12thplace respectively.
Last Updated on May 22, 2021 by Yu Alexius