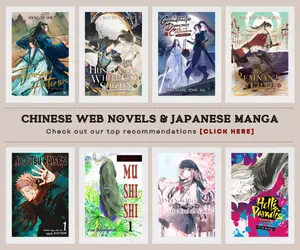 Studio DEEN website posted that the company will produce a new TV anime series in January and it was titled Reikenzan: Hoshikuzu-tachi no Utage (Mt. Reizan: Stardust's Banquet or alternately, Sacred Sword Mountain: Stardust's Banquet). It will premiere in January of 2016 on several TV channels such as Tokyo MX, KBS Kyoto, TV Aichi, Sun TV, and AT-X. Furthermore, a key visual for the new anime has been feature by Studio DEEN following the announcement.
Reikenzan anime key visual
In addition, a teaser website for
Reikenzan anime series
has been created by the studio together with the following background image.
Reikenzan anime series is based on the popular Chinese online novel and comic. The online novel was launched in August 2013, while the online comic was launched in August of 2014.
Reikenzan Anime Story:
In the anime's story, a comet falling will bring about a great calamity, and in order to choose a child fated by the falling comet, the family of the "Reiken" clan with a long storied history is once again resuming its entrance examination process to find disciples. The protagonist, who possesses a special soul that is only available once in a thousand years, decides to take the exam, and he starts down the path toward becoming an exceptional sage. Studio DEEN notes that the anime will be full of gags.
Starring as the protagonist in the story is Tsubasa Yonaga who will portray the rare genius character whose IQ and impudence are both unparalleled in the story.
Directing the new anime series is Iku Suzuki at Studio DEEN while handling the character design for the show is Makoto Iino. Serving as the chief animation director is Yumiko Ishii with Hirofune Hane as the art director. Handling the color key is Kazuhisa Yamabu and the sound director is Kazuya Tanaka. Producing the sound for the upcoming anime is Half HP Studio.
Reikenzan opening theme song
will be perform by
Soraru
and
Mafumafu
. The latter is also the one writing and composing the opening theme song. Meanwhile, performing the ending theme song of the anime is Niconico cover artist
Kakichoco
.
Producing Reikenzan anime series together with Studio DEEN is the Chinese company Shenzhen Tencent Computer System Company Limited. The two companies plans to air the new anime simultaneously both in Japan and China. Furthermore, they're planning to produce the show in both Japanese-language version, and Mandarin Chinese-language version.
If you're excited for this new anime series with Chinese inspired theme, then tell us what you think about it by dropping a comment below.
Images © Reikenzan Production Committee
Last Updated on March 18, 2021 by Yu Alexius