The newest Gundam anime got a new commercial and it began airing in Japan. Mobile Suit Gundam: Iron-Blooded Orphans (Kidō Senshi Gundam: Tekketsu no Orphans) is the latest Gundam anime that fans should look forward to watch and it will premiere on October 4 in Japan.
Tatsuyuki Nagai is helming the new anime in Sunrise together with Mari Okada handling the series composition. The original character designs were drawn by Yu Ito while Michinori Chiba designed the characters for animation. The mechas for the show are designed by Naohiro Washio,Kanetake Ebikawa, Ippei Gyōbu, Kenji Teraoka, and Tamotsu Shinohara. Kusanagi is in charge of the art design while the music will be composed by Masaru Yokoyama.
Nagai and Okada have worked together on various projects before including Toradora! and Anohana The Flower We Saw That Day, both the TV anime and the film as well as the upcoming anime film The Anthem of the Heart.
The opening theme song of the Mobile Suit Gundam: Iron-Blooded Orphans (Kidō Senshi Gundam: Tekketsu no Orphans) will be perform by rock band MAN WITH A MISSION while the ending theme will be perform by Misia.
The show is set 300 years after a great conflict between Earth and Mars known as the "Calamity War." A woman named Cordelia sets out on a journey to Earth to speak for the independence of the Martian city of Chryse, which is under the control of the Earth government. Escorting her is the private security company CGS, which protagonists Mikazuki Augus and Orga Itsuka are members of. When a group named Gjallarhorn attacks CGS and Cordelia, Orga sees this as a chance to rebel against CGS and launch a coup. Mikazuki and Orga are thrust into a new conflict. To fend off Gjallarhorn, Mikazuki rides an old mobile suit from the Calamity War, powered by a nuclear reactor, the Gundam Barbatos.
The anime's main cast includes:
Kengo Kawanishi as Mikazuki Augus
Yoshimasa Hosoya as Orga Itsuka
Natsuki Hanae as Biscuit Griffon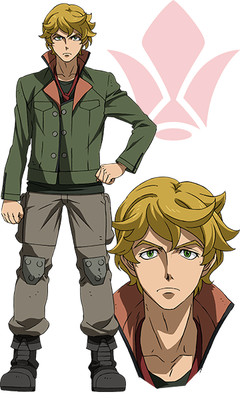 Yuichiro Umehara as Eugene Seven Stark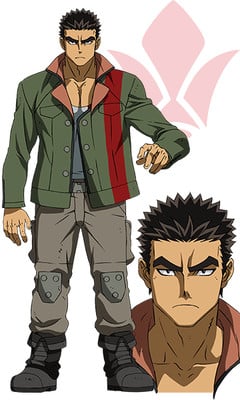 Yasuaki Takumi as Akihiro Artland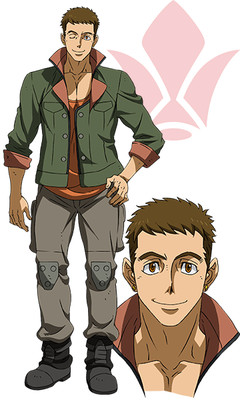 Taishi Murata as Norba Shino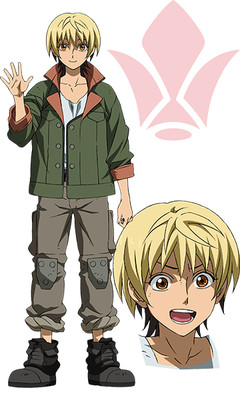 Kōhei Amasaki as Takaki Uno
Sōma Saitō as Yamagi Gilmerton
Mutsumi Tamura as Ride Mass
Yuka Terasaki as Kudelia Aina Bernstein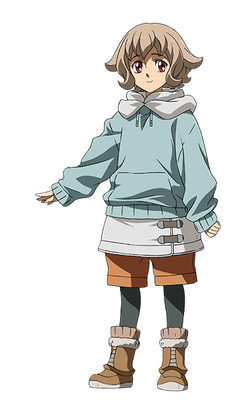 Hisako Kanemoto as Atra Mixta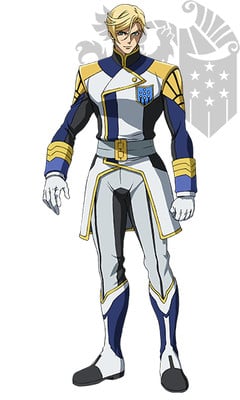 Takahiro Sakurai as McGillis Fareed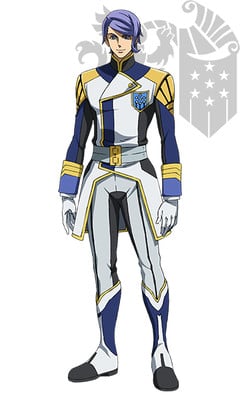 Masaya Matsukaze as Gaelio Bauduin
Other characters include: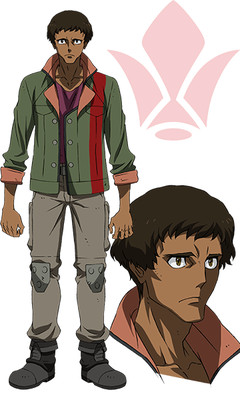 Chad Chadan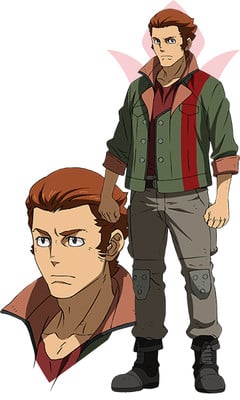 Dante Mogro
Code name: Yu Alexius is an ambiguous entity who loves to talk about anime and Chinese animation in general. An insatiable soul from the Pearl of the Orient, a frustrated writer and a Houtarou Oreki wanna-be. He is a piece of a lunatic and everything crazy.