Do gay ships exist in anime? Yes, it does and it has been one of the most fascinating treats that the fandom had. But does the recently concluded Sk8 the Infinity gay ships exist? Since the entire run had been filled with mixed signals and leave everything to its fans' imaginations.
I have so many thoughts about Sk8 the Infinity and I am sure that many of you do too. So in this post, we shall discuss the gay ships from Sk8 the Infinity that caught the interest of the fans albeit it wasn't officially confirmed other than showing a lot of confusing stuff that stands in between friendship and an intimate relationship.
Sk8 the Infinity is our best sports anime from the Winter 2021 lineup and had been an amazing ride filled with drama, comedy, and action. Shipping is usually left behind for the fans to think about and in the case of Sk8 the Infinity, we're all lucky since there's already a solid layout of characters that we can easily ship with from the start.
SK∞ Synopsis
Reki, a high school sophomore and skater, is addicted to "S," a highly secret and dangerous downhill skateboarding race that takes place in an abandoned mine. The skaters are especially wild about the "beefs," or heated battles that erupt in the races. Reki takes Langa, a transfer student returning to Japan after studying abroad, to the mine where the races are held. Langa, who has no skateboarding experience, finds himself pulled into the world of "S"… (Via: Sk8 Project)
3 Sk8 the Infinity Gay Ships
Reki & Langa
Alright, first on the list is our main characters Reki and Langa on which the fandom is simply called RENGA. While it all started casually – they are classmates, became friends, later on, that friendship had evolved into something – a brotherly love, or maybe more than that. But throughout the series, fans are getting a lot of signals that Reki and Langa might end up in an intimate relationship more than just friendship but it was never confirmed, and always leaving it all for the fans to think about it creatively. Nevertheless, we all know that both characters genuinely care for each other.
Kojiro (Joe) & Kaoru (Cherry Blossom)
The MatchaBlossom is next. Here's my favorite from this list because they seem to be legit no matter where you look at it but they just don't admit it. Who wouldn't fall in love with their hilarious yet genuine friendship? They're both trying to act tough against each other but deep inside we know that they care for each other more than anyone else. They are both famous in S and successful in their career but why are they still single? Are they reserving their heart for someone else despite having many admirers? Or do they both know that they belong to each other from the start? My gay heart just can't handle how special their relationship is.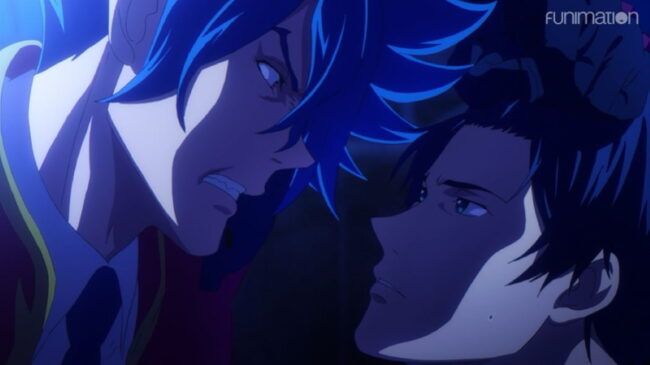 Ainosuke (Adam) & Tadashi
A master and a servant relationship on the surface which fans referred to as LOVEDOG, one is like a raging lunatic who simply aspires for companionship, and one is a faithful friend who stays no matter what. Unlike the two pairs that I had mentioned above, Adam and Tadashi don't look like to have an intricate feeling of friendship (although Tadashi's affection for Adam looks one-sided), we all know that they both share a special connection.
Aside from these 3, there are also other considerable ships that fans made from Sk8 the Infinity, and that includes the following:
Ainosuke (Adam) x Kaoru (Cherry Blossom) = Love BLossom
Ainosuke (Adam) x Langa (Snow) = EDENSK8
Related Post: The Best LGBTQ-Themed Anime That You Should Watch
Alright, so these are my 3 favorite Sk8 the Infinity gay ships and despite it wasn't confirmed, we all know that they truly belong to each other, aren't they? Now, with how the anime concluded last season, I am happy with it but can we have a spin-off series please for Joe and Kaoru, and especially for Adam and Tadashi? We, fans, definitely need it.
References: