Shinzou wo Sasageyo! is the opening theme song for the 2nd season of Attack on Titan. It is a very catchy song with some touch of epicness in its rhythm, a song that will make you think that you're doing something epic if you're listening to it. I am pretty sure that I am not the only one who feels this way while listening to it, in fact, the same thing applies to other opening theme of Attack on Titan such as Guren No Yumiya (1st season OP 1), and Jiyuu no Tsubasa (1st season OP 2). 
"Dedicate your Heart" is the English translation for
Shinzou wo Sasageyo
and it is a phrase that definitely fits the Attack on Titan universe. The mentality of "
no matter what happen, win or lose, dead or alive, you have to keep on fighting, dedicating your heart on every effort and action
" had instilled in our minds throughout the story of Attack on Titan. We had seen so many deaths, some of those characters face death fearlessly, while some succumbed to their fears; at the end of the day, you had seen that they gave their heart on their fight. 
Let's set aside the first 2 opening of Attack on Titan and focus on
Shinzou wo Sasageyo!
or simply known as
Sasageyo!
Do you know there's a certain character in the story who's fond of using "Shinzou wo Sasageyo!" as a salute in both the anime and the manga, where the Corps put a fist on their chest, right on the front of their heart. Yes, Commander Erwin Smith had been dubbed as the
inventor of sasageyo
. It literally suggests that you take your very being and dedicate it to something. And believe us, he's quite insane and the
sasageyo fever
is a proof of his madness but we still love him despite of too many lives that he sacrificed.
Commander Erwin is not happy too if SASAGEYO gets disrespected as seen below (pun intended). 
Nonetheless, this post is more like a little tribute to the commander himself, he definitely gave us one of the most unforgettable craze from one of this decade's biggest anime. Now, let's all give him a grand salute, SHINZOU WO SASAGEYO!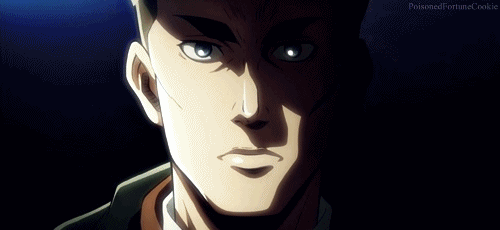 Sasageyo actually became mainstream and there are several AMV in YouTube where it perfectly suits with other anime shows making it kinda universal. This is only a valid proof that Shinzou wo Sasageyo! fever is seriously sick and goes with anything.
Shinzou wo Sasageyo! In Other Anime 
Sasagageyo fitting the ninja world of Naruto.
SASAGEYO invades the magical adventure of Fairy Tail.
Finally, a classic and legendary anime joining the SASAGEYO craze.
Even the pirates joins this madness of epicness.
The heroic spirits of Fate series engaged their battle royale story with this epic craze.
SASAGEYO is not only for fight against titans but also for zombies.
Definitely, the live-action must have this fever.
And here's the real thing with its inventor in the video thumbnail.
Which parody videos about Shinzou wo Sasageyo! did you enjoy the most? Can you name other anime series which this song can be use too? Please let us know of your thoughts by dropping a comment below.
Code name: Yu Alexius is an ambiguous entity who loves to talk about anime and Chinese animation in general. An insatiable soul from the Pearl of the Orient, a frustrated writer and a Houtarou Oreki wanna-be. He is a piece of a lunatic and everything crazy.