The set of anime from spring 2016 season is now reaching to its closing fold but it's not a reason to be sad as there are many amazing shows that waits for us this summer.  Yes, the summer season is filled with many anime from different genre that will surely entice us and keep us excited every week. We can say that this is 2016's most exciting and trending season for anime because there are many sequels of big anime series in it. In addition, some of the anime that will air this summer of 2016 have titles that already made a mark in the anime history such as Berserk. That's why Yu Alexius is back to deliver the list of most anticipated anime for summer of 2016. This list is filled with anime adapted from mangas, novels, light novels, visual novels and there are also several original anime this season that everyone should look forward to see.
If I have to speak my mind, this season will be very exciting as some of the biggest anime of 2015 is returning to continue the story on their sequels. Among these anime are Shokugeki no Souma, Arslan Senki, and Nanatsu no Taizai. Another anime this season that made quite a stir is D.Gray-man Hallow which is the continuation of the epic anime D. Gray-man.
You're most welcome to check out Yu Alexius
summer 2016 anime lineup
and feel free to leave a comment about which of these anime is the one you're looking forward to see.
D. Gray-man Hallow
TMS Entertainment
Darkness is moving in, and young exorcist Allen Walker is humanity's greatest hope against the wicked forces conspiring to bring civilization to its knees. Akuma – cruel spirits born of tragedy and lost souls – lurk in every shadow, willing and eager to do the bidding of their leader, the dread Millennium Earl. With an eye cursed to see evil in its truest form and blessed with an arm to slay soul-devouring demons, Allen stands ready to confront the gathering evil. Should he fail, Innocence will be lost forever. The war to decide the fate of mankind has begun – and the carnage will be endless. (Source: Funimation)
Berserk (2016)
GEMBA x Millepensee
Anime project that will depict Guts in his "Black Swordsman" appearance, which is only revealed in parts of the manga that go beyond any previously animated Berserk story, and is only briefly hinted at in the first and last episode of the 1997 television anime series. (Source: Anime News Network)
Felix Film x LIDEN FILMS
Betrayed from within and overwhelmed by dark sorcery, the valiant armies of Pars are overrun by the warrior-fanatics of Lusitania. Escaping the destruction of his homeland, the heroic Prince Arslan begins to assemble a group of five, extraordinary allies — a priestess, an exiled warrior, a mischievous minstrel, an insightful artist and his attendant — to aid him in his fight against the Lusitanian invaders. Together, they must build an army and defeat 300,000 trained soldiers — including the mysterious Lord Silver Mask — who has also laid claim to the throne of Pars.  (Source: ANN)
Shokugeki no Souma: Ni no Sara
J.C. Staff
Yukihira Souma's dream is to become a full-time chef in his father's restaurant and surpass his father's culinary skill. But just as Yukihira graduates from middle schools his father, Yukihira Jouichirou, closes down the restaurant to cook in Europe. Although downtrodden, Souma's fighting spirit is rekindled by a challenge from Jouichirou which is to survive in an elite culinary school where only 10% of the students graduate. Can Souma survive? (Source: MyAnimeList)
Nanatsu no Taizai: Seisen no Shirushi
A-1 Pictures
Four-part original story by mangaka Nakaba Suzuki.
ReLIFE
TMS Entertainment
Arata Kaizaki (27) quit the job he landed after graduation in only three months. His life did not go well after that. Now his parents are threatening to stop sending money, and want him to come back to the country. He has no friend or girlfriend to share his troubles with…as he hits rock bottom a strange man named Ryo Yoake appears. Yoake invites Kaizaki to join a societal rehabilitation program for NEETs called ReLife. This program uses a mysterious drug to make him look younger, and sends him back to high school for a year… (Source: Crunchyroll)
Orange
Telecom Animation Film
Everyone has regrets in life. So who wouldn't take the chance to change the past if given the opportunity? When sixteen-year-old Takamiya Naho receives a mysterious letter, claiming to be from her twenty-seven-year-old self, her life is suddenly thrown into flux. The letter informs her that a new transfer student by the name of Naruse Kakeru will be joining her class, and to keep her eye on him. What is Naho to make of the letter's contents and its cryptic warning? (Source: Seven Seas Entertainment)
Handa-kun
Diomedea
Handsome teenage calligrapher Sei Handa is worshipped by all his classmates as an aloof superstar–too bad Sei's inherent negativity makes him believe that everyone actually hates him…?! A youthful comedy of misunderstanding and melancholy unfolds. (Source: Yen Press)
Qualidea Code
A-1 Pictures
The story takes place at the world in which people continue their war against the "unknown" – the enemy of humanity. They are children, who have been evacuated to the cold sleep facility during the invasion by the "unknown" several decades ago. When they wake up from their slumber, they learn that their own bodies develop some supernatural forces. In order to protect the country from the "unknown" emerging from the Tokyo bay gate, the boys and girls wage battles in the defense cities of Tokyo, Kanagawa, and Chiba. (Source: official website)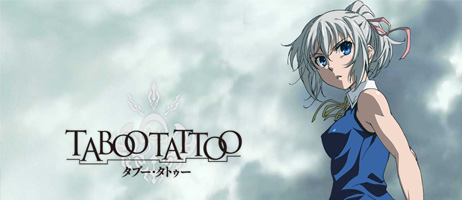 Taboo-Tattoo
J.C. Staff
Seigi, a martial arts trained middle schooler, often feels driven to protect the weaker people around him. One day, he defends a homeless man against some punks, and the man gives him a strange tattoo on his palm in return. The tattoo is a secret weapon produced in the arms race between America and the Serinistan Kingdom. Seigi finds himself in over his head when a powerful girl, using the same secret weapon, violently pursues him in order to retrieve it. His skill at martial arts may not be enough to keep him alive, but will he be able to learn how to trigger the power of his tattoo in time? (Source: MU)
Nejimaki Seirei Senki: Tenkyou no Alderamin
Madhouse
The Katjvarna Empire, in a state of war with the adjacent Kioka Republic. In that region, due to certain circumstances, there was a certain youth unwillingly preparing t take the High Grade Military Officer Exam. His name, Ikta. Disliker of war, lazy, admirer of women. No one predicted that that kind of Ikta would later on become a soldier referred to even as a great commander… Ikta, the one who survived a world embroiled in war with his superior genius. The curtain is raised at last on a splendid fantasy military history illustrating his stormy, dramatic life! (Source: Baka Updates)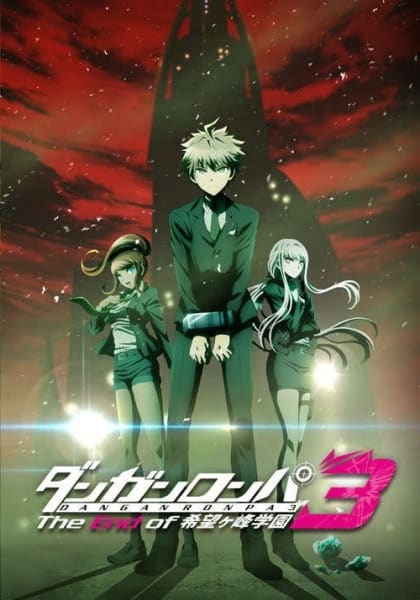 Danganronpa 3: The End of Kibougamine Gakuen – Mirai-hen
Lerche
The world was close to being destroyed by Ultimate Despair, who caused "The Biggest, Most Awful, Most Tragic Event in Human History." In order to save this world from the event's chaos, the Future Foundation was formed. Although the organization continues its activities to restore the world, Makoto Naegi is under suspicion of treason due to him shielding a Remnant of Despair. The Future Foundation members had gathered together to decide on his punishment, but they all end up getting trapped inside the place they were meeting by Monokuma, who demands that they begin the "Final Killing." They have strange bangles put on their wrists, and are given tranquilizers when a certain time arrives. To make things worse, there apparently is a real traitor amongst their ranks who is coming to kill the members of the Future Foundation. In this game where class trials don't exist, the only way to get rid of the traitor is to find him and kill him off. Naegi are forced to face the ultimate death game, where it's kill or be killed. The tale of despair in which hope kills hope begins. (Source: official website via Anime News Network)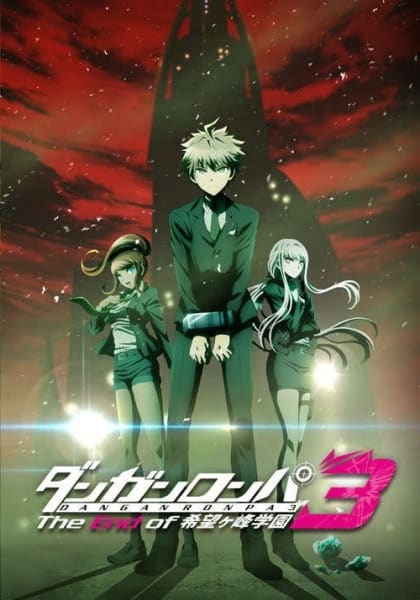 Danganronpa 3: The End of Kibougamine Gakuen – Zetsubou-hen
Lerche
Hope's Peak Academy is a special school, recognized by the government, that was established in order to gather and nurture top-class students who excel in various fields. This school has two courses: The main course, and the preparatory course. Anyone with the money can enter the preparatory course, even if they don't have any special skills. The 77th class of the main course is filled with students who not only have unique abilities, but unique personalities as well. However, the students learned that "Talent isn't the most important thing in life; it's to involve yourself with people and make yourself a better person while making memories." However, little did they know that a mysterious project and discrimination of the courses were happening right under their noses. Hajime Hinata, a boy from the preparatory class who craves for an ability. The fateful meeting he has drives the future of the school into an unimaginable direction. This is the story of what happened up until the "The Biggest, Most Awful, Most Tragic Event in Human History." This is a story of hope that ends in despair. (Source: official website via Anime News Network)
91 Days
Shuka
The time is 1920, 5 years after National Prohibition Law took place at a city called Lorel in the United States. Main character Avolio arrives to join the Vampiro family mafia undercover in order to seek revenge of killers who killed his parents and brother in this mafia. A Killing starts kills. Revenge starts new revenge. A story of vengeance and sorrow starts now. (Source: Shochiku)
Servamp
Brains Base
When a stray black cat named Kuro crosses Mahiru Shirota's path, the high school freshman's life will never be the same again. Kuro is, in fact, no ordinary feline, but a servamp: a servant vampire. While Mahiru's personal philosophy is one of non-intervention, he soon becomes embroiled in an ancient, altogether surreal conflict between vampires and humans. (Source: Seven Seas Entertainment)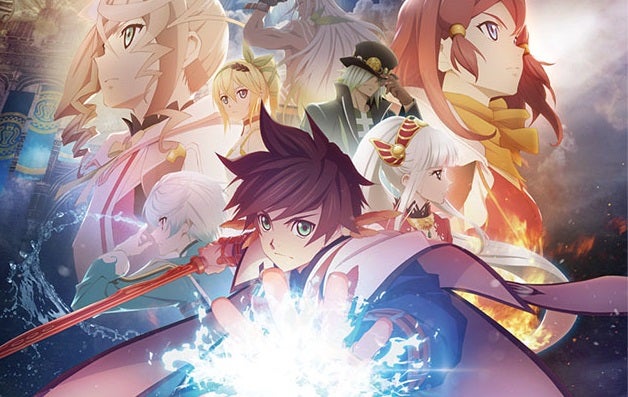 Tales of Zestiria the X
ufotable
Sorey is a human youth who grew up among the "seraphim" (tenzoku), spiritual beings not visible to humans. Sorey believes in the folklore that says "long ago, every human was able to see the seraphim" and dreams of unraveling the ancient mystery to make the world a place where people and seraphim can live together in peace. One day, Sorey visits the human capital for the very first time. He becomes embroiled in an incident during which he pulls out a holy sword imbedded in a rock and ends up becoming a "Shepherd," one who casts away calamity from the world. He begins to realize the gravity of his mission, and his dream of coexistence between mankind and the seraphim becomes more intense— And thus, the Shepherd embarks on an amazing journey with his companions. (Source: official English website)
Mob Psycho 100
Bones
The story revolves around "Mob," a boy who will explode if his emotional capacity reaches 100%. This boy with psychic powers earned his nickname "Mob" because he does not stand out among other people. He keeps his psychic powers bottled up so he can live normally, but if his emotional level reaches 100, something will overwhelm his entire body. (Source: Anime News Network)
Amaama to Inazuma
TMS Entertainment
Having lost his wife, math teacher Kouhei Inuzuka is doing his best to raise his young daughter Tsumugi as a single father. He's pretty bad at cooking and doesn't have a huge appetite to begin with, but chance brings his little family and one of his students, Kotori Iida, together for homemade adventures. With those three cooks in the kitchen, it's no wonder this dinner table drama is so delicious. (Source: Kodansha Comics)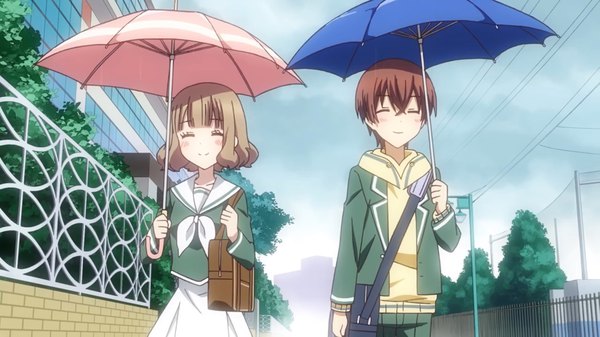 Momokuri (TV)
Satelight
The story revolves around Yuki Kurihara, a girl who has finally been granted her wish of dating her crush Momo. At first glance, she just looks like a normal but very cute girl. However, she is in fact a maniac over Momo, taking notes of his activities and never missing the chance to see him in a cute moment. Momo, on the other hand, is inexperienced in love, and just wants to make Yuki happy. (Source: Anime News Network)
Active Raid: Kidou Kyoushuushitsu Dai Hachi Gakari 2nd
Orange x Production IMS
Second season of Active Raid. Set in a futuristic Tokyo, Active Raid tells the story of "The Eighth," a rash and careless unit of power-armored police called the "5th Special Public Security Section's Mobile Assault Division." After the Third Quicksand Disaster sinks Tokyo into a quagmire, the city's reconstruction efforts are carried out using high-output, reinforced exoskeletons called Willwears. But they can also be misused, and to combat the crimes involving them, the National Police Agency establishes at its Kichioji Branch the Special Public Security Fifth Division Third Mobile Assault Eighth Unit, AKA Unit 8. (Source: Crunchyroll)
Hitori no Shita: The Outcast
Emon
One day, Zhang Chulan is attacked by zombies in a graveyard. In the midst of that situation, he saves the life of a girl, throwing the kitchen knife in his hand in order to kill the enemies. The girl tells Chulan, who is relieved, to face his hardships head on and leaves. However, Chulan later sees that girl again at his university. From that moment, Zhang Chulan's destiny begins to move. There will be strangers with special powers appearing one by one, with battles involving those abilities. Each episode will bring a new mystery to light. (Source: MyAnimeList News)
Fukigen na Mononokean
Pierrot Plus
Ashiya has spent the first seven days of high school stuck in the infirmary because of a "mononoke" attaching itself to him. He ends up asking the owner of a small tearoom – Mononokean – for help. A series of mysterious stories involving the very morose owner of Mononokean, who guides mononoke to pass on to the next world. (Source: Baka-Updates)
Battery
Zero-G
Meet Harada Takumi – not even in junior high and he's the best pitcher in the region, although he's frustrated and ready to give up, because he can't find a catcher who is good enough to keep up with how he pitches in this backwater town his family has just moved to. Then along comes a kid named Nagakura Gou… (Source: MangaUpdates)
8bit
The story will portray a "sixth" route left untold in the game, which will tell the story of "that girl.
Hatsukoi Monster
Studio Deen
When fifteen-year-old Kaho Nikaidou leaves her sheltered home to start life anew in a Tokyo high school dormitory, the last thing she expects is to nearly get hit by a truck! Saved in the nick of time by a handsome stranger, Kaho falls head over heels for him and, after finally tracking him down, boldly confesses her feelings. Turns out Kaho's mystery savior, Kanade, is the son of Kaho's new landlord! The handsome object of Kaho's affection agrees to go out with her, but her newfound bliss is short-lived when it turns out that her new boyfriend…is a fifth-grader?! (Source: Yen Press)
Kono Bijutsubu ni wa Mondai ga Aru!
feel.
The story focuses on an art club in a certain middle school, and its members: Subaru Uchimaki, who is a genius at drawing faces, but only wants to draw the perfect 2D wife; Colette, a rich troublemaker who never stops making mischief; and the club president, who sleeps through sessions and collects sleeping aids. Mizuki Usami is the only person in the club who wants to do art club-like activities, and constantly struggles to do so. (Source: Anime News Network)
Days
MAPPA
The story centers on two boys who were never meant to meet: Tsukushi Tsukamoto, who has no special skills but secretly hides a passionate heart, and Jin Kazama, an isolated soccer genius. On a stormy night, the two meet, and that meeting creates a whirlwind in the world of high school soccer. (Source: Anime News Network)
Ange Vierge
Silver Link
The story of the card game follows what happens when "Hairo" portals suddenly open, fusing three different worlds together. As a result, various mysterious "Exceed" powers are awakened in teenaged girls. An academy for these so-called "Progress" girls is built on the isolated Seiran Island in the Pacific. (Source: Anime News Network)
Love Live! Sunshine!!
Sunrise
Love Live! Sunshine!! follows the nine-member school idol group Aqours (pronounced "aqua") at Uranohoshi Girls' Academy in Numazu, Shizuoka Prefecture. Chika Takami, who is a fan of the Otonokizaka Academy's µ's school idol group, similarly forms Aqours in order to save her school from being closed down. (Source: MyAnimeList News)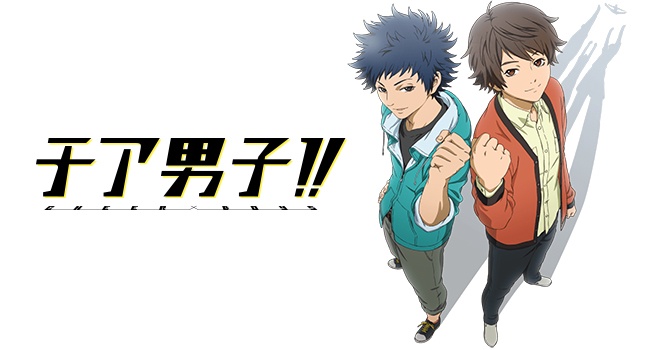 Cheer Danshi!!
Brains Base
The story revolves around the "slightly odd and cute" members of a cheerleading squad at a men's university. (Source: Anime News Network)
Amanchu!
J.C. Staff
Hikari Kohinata is a cheerful 15 year-old girl who lives near the ocean and she spends much of her time diving as a result. On her first day of high school, she meets a teacher who also likes scuba diving. There's also a 16 year-old classmate, Futaba Ooki, who gets dragged along in Hikari's maelstrom as soon as they meet at school. (Source: Baka-Updates)
Scared Rider Xechs
Satelight
A world of godless people was being menaced by Nightfly O'Note, a mysterious alien invader from a crimson world via the crimson barrier Scared. To counter the Nightfly O'Note's threat, the humans establish the LAG defense agency at the Ryukyu Islands. The anti-Nightfly O'Note fighting unit Scared Rider valiantly stood against the threat, but was completely wiped out five times. And so, the sixth and latest unit, Scared Rider Xechs, was assembled from five young men. However, at nearly the same time that SRX was formed, the Nightfly O'Note invasion stopped suddenly. Without the enemy they were supposed to fight, the SRX members spend their restless days dealing with ordinary life. The SRX members establish the musical band Odd-l's to deal with their low spirits and restlessness. Meanwhile, a young woman is assigned to LAG as their instructor and commander. A new life begins for the young woman and the SRX. (Source: Anime News Network)
New Game!
Doga Kobo
Meet Aoba Suzukaze, a fresh high-school graduate easily mistaken for a middle school student who joins the game company that produced her favorite game as a 3D artist, and her cute antics as she gets her way through work and deals with her rather wacky co-workers.
Fudanshi Koukou Seikatsu
EMT²
The comedy depicts the daily life of Sakaguchi, a high school boy and also a "fudanshi" who loves boys-love stories. Fudanshi is a wordplay on fujoshi (literally, "rotten girls") — the slang for women who love boys-love/yaoi stories. (Source: Anime News Network)
Regalia: The Three Sacred Stars
Actas
In the show's story, 12 years ago, in the country of Rimguard, a big incident left an unsolved mystery that has begun to fade from people's memories. Time passes, and sisters Yui and Rena are living peacefully in the Enastria Empire. However, one day, a large mecha attacks Enastria. This day marks the turning point when the two girls get caught in the vortex of fate. (Source: Anime News Network)
Puzzle & Dragons Cross
Studio Pierrot
Anime adaptation of GungHo Online Entertainment's 3DS game of the same name. The game is set on "Dorogoza Island," an island naturally rich in "Drop" energy. Here, players can give the five drop energy attributes (fire, water, wood, light, and darkness) to friendly monsters and engage in puzzle battles against enemy monsters.
Ozmafia!!
Creators in Pack
Fuka is a girl who has lost her memories. While wandering the unfamiliar town she finds herself in, she realizes that she is being chased by someone. One of the mafia syndicates in town called the Oz Family saves her after she runs away in fear. In this town where friendship and conflict are two sides of the same coin, whose hand will Fuka take? And why does she have no memories…? …Is the story of the original OZMAFIA!!, but since it doesn't fit into the format, it's been turned into a school story. Having transferred into Oz Academy, Scarlet finds himself already in trouble. The three boys who save him in his time of need are named Caramia, Kyrie, and Axel. (Source: official website via Anime News Network)
Masou Gakuen HxH
Production IMS
The story centers around Kizuna Hida, who visits the strategic defense academy Ataraxia at his big sister's request. "There, he encounters Aine Chidorigafuchi, a girl piloting the magical armor Zerosu. Aine suddenly pulls off her clothes before Kizuna's eyes. 'Don't look, you pervert—' 'No, you're the one!?' However, a communique about a serious mission arrives from Kizuna's sister. The mission — to rub Aina's chest!? Actually, Kizuna has the power to level up a girl through indecent acts. With a battle against another world, the future depends on this power." (Source: Anime News Network)
B-Project: Kodou*Ambitious
A-1 Pictures
The story follows Tsubaki, a new hire in the A&R department of the major recording company Gandala Music. Tsubaki is immediately assigned to oversee the idol unit "B-PROJECT," which is made up of three idol groups: Kitakore, Thrive, and MooNs. This is Tsubaki's first job, and she gets involved in various incidents and accidents as she deals with this group of young men who each have their own differing personalities. (Source: Anime News Network)
Saiki Kusuo no Ψ Nan
EGG FIRM x J.C. Staff
Saiki Kusuo has a wide array of superpowers at his command, including telepathy and telekinesis. This might sound awesome, but, in Kusuo's experience, superpowers are not all they're cracked up to be. He tries to live a normal life, despite his annoying abilities.
Last Updated on April 9, 2021 by Yu Alexius